Why Jadon Sancho is the solution to Arsenal's Alex Iwobi concerns
Alex Iwobi has been in the ranks of the Arsenal first-team since 2015 and has made 81 appearances for the gunners so far. He has featured multiple times this season, generally starting on the left flank. On other occasions, Unai Emery has preferred to deploy either Pierre-Emerick Aubameyang or Danny Welbeck.
This issue of the 'left-wing' is one that needs to be addressed by the Gunners at the earliest possible opportunity. Henrikh Mkhitaryan has suffered a broken foot and will be out of action for up to 6 weeks. This has further worsened an already existent problem for Emery.
With Monreal also out injured and Mustafi just returning to a full week of training, Arsenal have some defensive woes to deal with as well.
While one signing isn't going to be sufficient to turn this Arsenal outfit around, it would certainly help their cause to bring in a top-quality attack-minded winger. Jadon Sancho of Borrusia Dortmund is the first name that should come to Unai Emery's mind.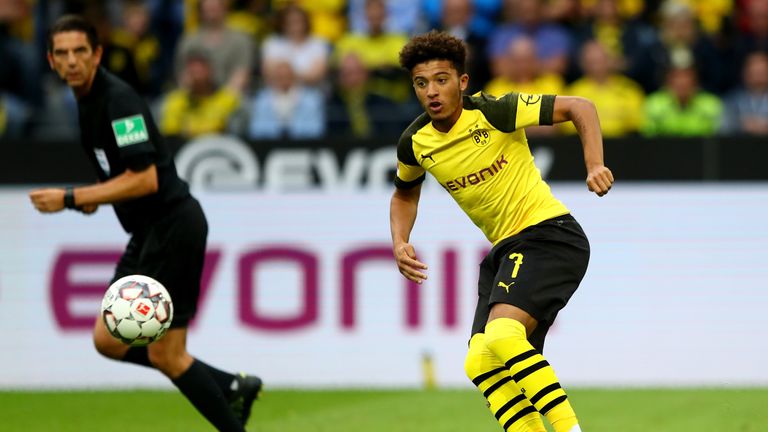 If there was a perfect replacement for the extremely inconsistent and rather underwhelming performances by Iwobi, it would be the brilliance of 18-year-old Englishman Jadon Sancho.
Having begun his youth career at Watford and then developing further at Manchester City, he signed his first professional contract with Borrusia Dortmund. He has already made 3 appearances for the England national side and has been top class for Dortmund this season.
He has already scored 6 goals in the Bundesliga and has 7 assists to his name. With just 0.1 offsides per game, he is almost never caught offside. Astonishingly, he makes almost 2 key passes per game, making him an extremely potent provider for his talented teammates at Dortmund.
Extremely fast on the ball, his low centre of gravity and exceptional dribbling abilities make him extremely hard to stop. He moves the ball like a Brazilian and also shows the composure and collectedness that only a Premier League player will possess.
His passing is also quite sublime and he enjoys setting up goals for his teammates. His tricks on the ball are enough to beat the best defenders in the world. He is also capable of some long-range rockets with his gem of a right foot.
Read More: 41 goals, 73 assists – Unai Emery selling world-class Arsenal star would be nothing short of a suicide
With the likes of Aubameyang, Lacazette and Ozil for company, Jadon Sancho could well turn out to be the best-suited player for Arsenal at this moment in time. Unai Emery should offload Alex Iwobi and replace him with the talented Jadon Sancho.