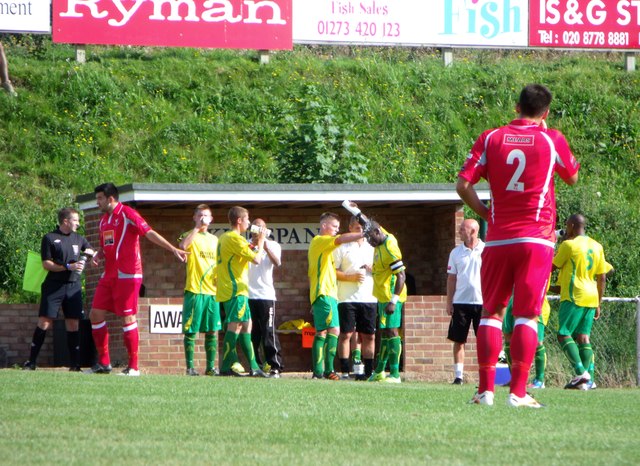 The Court of Arbitration for Sport (CAS) is usually called in to mediate high profile sporting disputes and this season has been involved with the Spanish FA to uphold bans on Rayo Vallecano and Malaga participating in next season's Europa League.
However, CAS is now being called to rule on Thurrock FC's relegation from the Ryman Premier League to the Isthmian Division One North after the FA punished the club with a three-point deduction due to an outstanding £16 fine.
The controversy surrounds striker Joel Barnett, who played for Thurrock four times this season. Barnett had previously played for a Sunday league team in Wakefield before being jailed for crowd violence in 2011, along with his father and brothers, after the League One play-off between Peterborough and Huddersfield Town.
While in prison, his previous club folded and its outstanding debts to the West Riding FA were shared among playing staff, of which Barnett was included and was due to pay £16. The striker says he was unaware of the events and once released thought he was free to play for any club, but was actually banned by the Football Association to play until the fine was sorted.
Since being released he played for Bishop Stortford in pre-season games, Tilbury, Thurrock and Harlow in the league – where his ban was finally realised. Apart from Harlow, all his previous three clubs have been punished for fielding the striker, receiving a fine, three point deductions and 18 point deduction respectively.
The punishment is most severe for Thurrock who finished the Ryman Premier Division in 19th place and one point about the relegation places and after their deduction will be demoted. They lodged an appeal at the end of May but this week learnt that it had been rejected, prompting them to contact the Court of Arbitration for Sport.
Bringing in the court from Lausanne will not be cheap for the Fleet, with CAS stating all parties must pay an initial 1,000 Swiss franc payment as well as footing the bill for all air travel, accommodation, meal allowance, postage and secretarial fees.
It will also cause complications for the non-league divisions as it can take up to 109 days for any decision to be made and the hierarchy at Thurrock have produced an injunction against the FA and Ryman League to prevent any fixtures being released or season to begin until a decision is reached by CAS.
If the club are not supported by the Court of Arbitration for Sport and the punishment is upheld then it will be difficult for Thurrock to pick themselves up from two consecutive relegations, and motivating a squad who fought all season for safety before falling fowl to a situation out of their hands will be the main job for manager Mark Stimson.