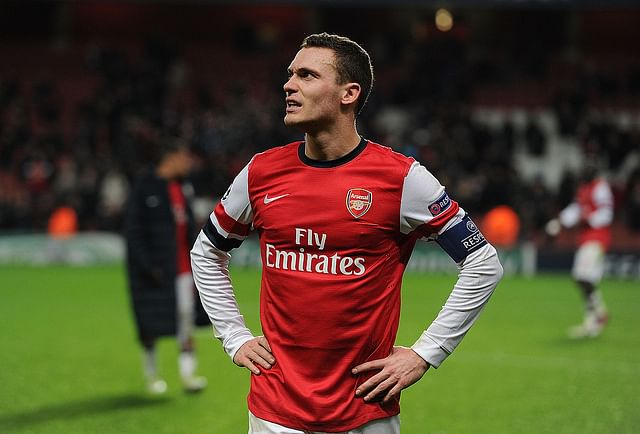 Arsenal's beleaguered captain Thomas Vermaelen has made his move to Barcelona and one wonders whether Arsenal did the correct thing by selling him. He is a proven Premier League performer and had just one season in average form, which is arguably the 12-13 one after which he lost his place to Koscielny. Here are three reasons why he should not have been sold.
1. He is an experienced top class player.
How many central defenders do Arsenal boast of? There is only Mertesacker and Koscielny who are regulars and then young Calum Chambers who is a right back who can cover up as a CB. Sagan's loss means Arsenal don't have an experienced cover up for that position. Vermaelen would have added a top quality central defender for the team and would have replaced any of the CBs in case of a long term injury or lack of form.
After having signed quality players in midfield and have a truck load of abundant talents at midfield, Vermaelen could have justified Arsenal's business. For the first time in recent years, Arsenal could have entered the season with good backups all round the park and now that the Belgian has been sold, it means that Wenger will either buy a quality replacement, or a 30-year old on loan and the latter would mean trouble in the business end of the campaign.
2. He offers a lot of tactical options
Having three quality CBs in a squad, Wenger would have had a lot of tactical options like employing a 5 man defence or play wing backs etc or try Vermaelen in defensive midfield. But, Wenger is a bit tactically simple in comparison to other managers. Unless he buys another good CB, Arsenal would be having only two top ones who are at the risk of being injured or out of form or plain complacent. As it is the club is struggling to bring a defensive midfielder, so Vermaelen could have been a good player for tactics.
3. He had just one unsettled season
He had just one unsettled season and clubs such as Barca came running for him. That shows the quality he possesses. What if Per Metresacker fails to live up in the coming season or Koscielny is injured? Arsenal can be drawn back to square one. If players like Wilshere are getting chance after chance after poor performances, Vermaelen could have been given another chance to fight and contend for the first team position.
Verdict:
Arsenal having sold one of their top players because they couldn't guarantee him playing time is like Chelsea selling Mata, though Mata was sold in his first unsettled season itself. But unlike Chelsea, Arsenal don't have a ready replacement. They need one soon else their team would struggle in defense, which was already torn apart last season by the contenders.