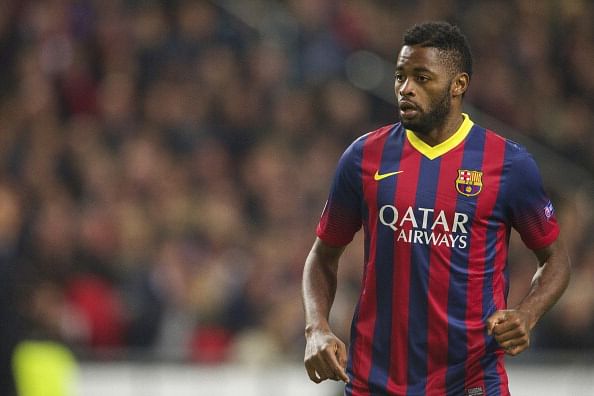 The list of players being linked with Manchester United is getting longer and longer each day. While some names have been doing the rounds quite regularly, others have been put in the frame, either because of their availability or their incredible talent. One player that has both, and has recently been linked with a move to Manchester United is Barcelona midfielder Alex Song.
The 26-year-old Cameroonian defensive midfielder Alex Song is one of the players that are likely to leave Barcelona as a part of the massive summer clear out, boss Luis Enrique is planning. Ever since his move to Barcelona, Song has been unable to establish his place in the side and will be looking for some first-team action elsewhere. Should United provide him with that? Is he worth it? The simple answer is No. While there is no doubt that United need cover in central midfield, Song isn't the player that they will be looking for. Here are three reasons why United should not sign the 26-year-old midfield enforcer.
His stock has gone down since his move to the Catalans
At Arsenal, Song was no doubt one of the best defensive midfielders in the League. He had the ability to not just win the ball at the back, but make good use of it as well. He was one of those few defensive midfielders who could actually play the ball out and could play as not just a defensive option but an offensive one too. But ever since his move to Barcelona, he hasn't fulfilled his potential.
While it is true that he hasn't had a regular run of games, in the time that he has had, he has struggled to make an impact on the side. Song was brought in as a defensive reinforcement, but the simple fact is that, he turned out to be a liability and regressed from his time at the Emirates. Signing him now, would be a big mistake that Van Gaal can't afford to make.
He isn't what the club needs
Midfielder? Check. Can hold his own defensively? Check. Not too old, but with the pertinent experience? Check. Can handle the pressure of playing at a big Club? Check. While it is true that Song checks all of these boxes, he still isn't what the club needs at the moment. What United need right now, is a central midfielder, who is an all-round threat, both defensively and offensively, one who can score and create goals with equal ease.
Unfortunately, the Cameroonian midfielder, doesn't check that last box. He is a defensive midfielder, and needs a more creative outlet beside him, if the midfield is to create something going forward. Unfortunately, United don't have that luxury, and will need someone like a Bastian Schweinsteiger, someone who can play from deep, can act as the engine room for the side going forward.
Doesn't fit into either the Van Gaal or the United

way

?
For two decades, Manchester United have been playing with a 4-4-2 with two wingers and strikers. Although that formation isn't going to win them too much in the next two decades, one of the good things about that formation is that it required both central midfielders to be flexible. To properly function, the system needed two players, who are able to play with and without the ball, without being stereotyped as defensive or offensive players. Van Gaal's preferred formation, a 4-3-3 also requires the midfielders to be the same way.
But, Song isn't someone who fits into that style of play. He is a defensive midfielder, who is very good at his job, but isn't so good when asked to do a more attacking role. He is someone who needs a more creative player beside him to flourish. Although he has the strength to play as even an auxiliary centre back, he doesn't have the tactical or technical nous, to be an all-round midfield player, which would make him an unnecessary and expensive luxury.