The World Cup has seen a lot of Premier League stars perform well or exceed expectations. The tournament has been very competitive and lively with a lot of underdogs punching above their weight while a host of top countries have failed to perform. Last night we saw the Brazilians getting destroyed by the ruthless Germans as the score reached a humiliating 7-1 for the Europeans. Keeping in mind the progress of the tournament so far and the way each team and its Premier League contingent has performed, we present you the Premier League World Cup XI.
Goalkeeper: Tim Howard (USA/Everton)
He has had a brilliant tournament as the United States performed very well despite losing out in the round of 16. Tim Howard created the world record for maximum saves in a single world cup match (16) in their round of 16 match against Belgium. 6 punches, 6 catches and 3.5 saves per goal, Howard, with a total of 21 saves in 4 games has been an absolute beast in the World Cup.
Right Back: Pablo Zabaleta (Argentina/Manchester City)
The Argentine Right Back is the only natural full back in the squad. The team is often criticised for having a weak defence, but the Argentines have conceded only three goals so far and the Man City full back has been a crucial part of the defence. He has had 9 interceptions, 3 blocks, 16 clearances and 89% pass completion to his name, hence proving himself to be a top defensive full back for Argentina.
Centre Back: Vincent Kompany (Belgium/ Manchester City)
He was the defensive stalwart for the Belgians who were termed as the dark horses. Belgium conceded only three goals in the tournament with the help of his top organising skills and also because of Thibaut Courtois' brilliant goalkeeping. 89% pass completion and 9 tackles won, Kompany has been decisive and has been a smart defender.
Centre Back: Gary Cahill (England/ Chelsea)
Cahill carried his club form into the world cup but unfortunately England crashed out of the tournament in the group stages itself due to some world class goals. Cahill played only three games and managed 88% pass completion, won 8 aerial duels with 89% success and 5 interceptions and 23 clearances to his name.
Left Back: Jan Vertonghen (Belgium/ Tottenham Hotspurs)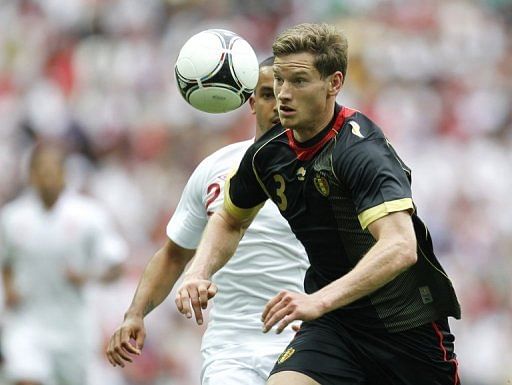 Vertonghen has played like a natural full back even though he is a central defender. Despite conceding a penalty against Algeria, Vertonghen has managed 12 interceptions, 4 blocks and 31 clearances. He has also created 5 chances and has scored 1 goal. He has been a regular tackler as he has won 7 out of 18 tackles attempted. Vertonghen has been all action to say the least.
Click on the next button to continue