There are always players who are under appreciated for their abilities and performances or those who go unnoticed despite top drawer displays. There are those who are expected to do things that are too big and are unfairly judged, so the underrated players of the Premier League always make an interesting list.
Here are 11 players who need to be rated higher and must be given more chances than they have been getting or mere appreciation.
Goalkeeper: Adrian (West Ham)
Adrian was part of last year's West Ham team that took their league position by the scruff of the neck and got them into mid table position with his saves. But unfortunately, he is a forgotten man in the young keepers' scene.
Defender: Kieran Gibbs (Arsenal)
Consistently being the first choice for Arsenal, giving decent performances in the league and in the Champions League, Gibbs deserves to be in the English team. We can still expect Baines to be first choice and Gibbs as second choice. He may not be as effective in the final third as one would like, but he is solid when facing an attacker running down his flank. A little more effort from Gibbs should be enough to secure a permanent spot in the Gunners starting XI.
Defender: Jonny Evans (Man Utd)
The centre back performs well, may not be spectacular but has been effective. He has always been in the shadow of Vidic and Ferdinand. The preseason was testimony to why Evans actually, is going to be a key centre back for the club.
Defender: Rafael (Man Utd)
The Brazilian Right-Back was unlucky to miss out on a world cup berth. He is a decent defender and is  a good attacker but someone who is constantly underrated. Under van Gaal's new formation, Rafael would get opportunities at the wingback position and if he manages to stay away from injuries, this can be a fruitful season for him.
Defender: Jon Flanagan (Liverpool)
The young Liverpool fullback proved himself last season as probably the best defender in their back four. He has aggression and ability to defend and grabbed the left back spot with both hands even though he's a natural right back. Deserves to play ahead of Glen Johnson both for club as well as country.
Midfield: Shinji Kagawa (Man Utd)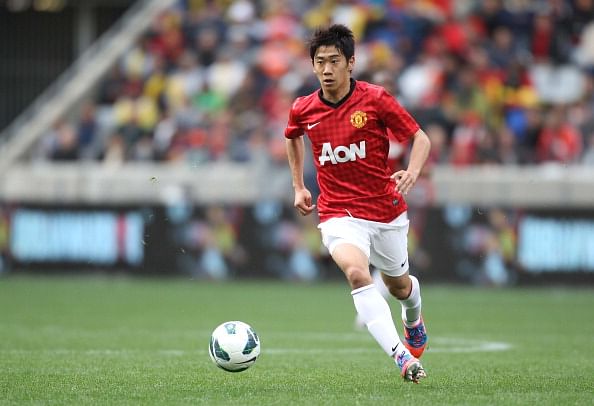 The Japanese playmaker entered the league with hopes of being one of the most important player for the club. He impressed heavily in the beginning showing clearly that he has the talent. Injuries stalled his Man Utd career and David Moyes just didn't seem to have him in his plans when he replaced Sir Alex. A proven talent in Dortmund as one of their best players, Kagawa can do a lot more than just warm the benches.
Midfield: Tom Cleverley (Man Utd)
It is controversial to add underperforming star Cleverely here. But it only seems as if people are judging him too harshly. Talking of him as a player making the replacement of Scholes etc is really demanding especially when he is not that type of player. Cleverely is best suited to hold possession in the heart of the midfield, play with shorter passes and run the play with flair players. Arguably, Man Utd's wingers are too functional and his shorter passes are a waste of time when the team likes to play longer.
Midfield: Moussa Sissokho (Newcastle Utd)
The French engine has really turned the fortunes of the club when they acquired him in the 12-13 season. A club which was languishing near the bottom was consistently mid table last season more because of loss of Cabaye. Sissokho is underrated as a  technical player. Most see him as a workhorse for the team rather than someone whom can lead the line and score goals and assist others.
Midfield: Lucas Leiva (Liverpool)
The dominance of Gerrard in central midfield is so high that Lucas' consistency is barely noticed. Performing in the Premier League since a long time, he at least deserved to have a chance for the national team. Lucas works very hard in defence, is a safe passer and a very important player for Liverpool along with him being a thorough professional.
Forward: Javier Hernandez (Man Utd)
He is a top quality goal poacher who was completely ignored by David Moyes last year. Most of the times his appearances have been from the bench and yet he has scored over 50 goals in all competitions for Man Utd in the last four seasons. Mostly judged as a penalty box striker, Hernandez is barely played.
Forward: Olivier Giroud (Arsenal)
Giroud has scored over 15 goals in both the seasons he has played in the league. From a penalty box poacher, he has adapted to holding the ball and allowing others time and space to move into positions. He has assists, key passes and goals to his name and he didn't even cost a bomb. No, he isn't Robin van Persie, but he does have the capability to lead the Arsenal lineup.