Most Undervalued Player Candidates for the Top 6 EPL Teams 
Ask any knowledgeable football fan which teams they consider to be among the greatest sides of all times and chances are that the discussion will revolve around the greatest players on those teams. Whilst star players such as Zidane, Pele, and Maradona are spoken of with reverence among the fans, hardly do we ever attribute the success of great sides to the contributions of lesser known players. For example, the Czech national team's success at the Euro 2004 is usually attributed to the team's most skilled players.
With Petr Čech in goal, Koller and Baros leading the attack and Pavel Nedved in the center of midfield acting as the heartbeat of the team, players such as Rosicky and Poborsky were hardly recognized at the time despite the fact that it was their industry and hard work in the middle of the field that ensured that the team was never over-run in the middle thus ensuring possession. These unsung heroes were equally responsible for the brief reign the Czech football team had at Euro 2004 as they captured the attention of the football world with the beautiful attacking football.
This phenomenon rings true in the English Premier league and in this article, I aim to identify and discuss two candidates from the teams that finished in the top 6 during the  2012/2013 EPL season that are deserving of their club's Most Undervalued Player [MUP] award. Without these players' contributions, their teams would most likely have missed out on a top 6 position. This article, the first of a three-part series, discusses the MUP candidates for Everton [who finished 6th] and Tottenham Hotspur [who finished 5th]. And now ladies and gentlemen, I present your MUP candidates.
EVERTON F.C.
Candidate #1: Leighton Baines
Let's get the most obvious candidate out of the way. In as much as David Moyes should be credited for transforming Everton into a perennial top 6 contender, much of the club's consistency has been built off the talent and hard work of his effervescent left-back. Baines can officially lay claim to be best left-back title in the EPL. A recognition that is coming too late. In an era where creative players are coveted, you hardly expect Baines to be among the usual such as Messi, Ronaldo and Goetze.
This season, Baines has played in 50+ accurate corners for Everton in the EPL. He is also responsible for 5 goals and 5 assists. Still not impressed by his contribution? The 28-year old Kirby born left-back is the only defender among the top 10 key passers among players across Europe. Averaging 3.1 keys passes per game, Baines presents his team with the opportunity to score goals and it is his offensive threat from a defensive position that makes him his club's leading contender for an MUP award. For almost a decade, Ashley Cole has been regarded as the EPL's best left-back mainly because his pace was devastating in counter-attack and helped him recover ground when defending.
Baines through his cross accuracy [30.5%], number of key passes created [115+ passes throughout the season] and impressive free-kick taking skills is a more holistic player. A quality defender with offensive skills to rival the most creative midfielder—the talent that is Leighton Baines might not remain at Goodison Park for long if the rumors are to be believed. This MUP candidate needs a much bigger stadium to showcase his wide array of talents.
Candidate #2: Steven Pienaar
This South-African attacking midfielder is able to play the center-, left-, or right-midfield position but his preference has been to play on the left where he has formed a devastating partnership with Baines. He has made 35 appearances for the Toffees this and is one of the first names on his manager's starting 11 list.
From his favored left midfield position, Pienaar has chipped in with 6 goals and 6 assists this season for Everton and whiles his offensive contribution is widely appreciated, it is his selfless defensive contribution that makes him a fan favorite and what earns him his manager's respect.
Evertonians generally enjoy watching the diminutive midfielder play. His small size means that he gets fouled whenever he has the ball at his feet. Unfortunately, Pienaar tends to take matters into his own hands and this has earned him 6 yellow cards and 2 red cards.
The Ajax product virtuoso performances have earned him 2 man-of-the-match awards this season and his nomination for the MUP award is because of the passion and consistency he brings to the Everton midfield. At 31, he is in his peak form as a player and the Goodison faithful have been fortunate to have him on their team.
With new changes abound at Everton, awarding Pienaar the teams MUP award is one way for the Goodison faithful to show how much they value the South-African.
Outside Shot: Darron Gibson
A quick fun fact, when Gibson was signed from United for the 2011/2012 season, Everton were unbeaten in all games he played. Their win percentage dropped from 54.55% to 16.67% when he was out of their starting line-up. His inclusion on this list for an outside shot for the MUP award is to honor the young man's ability to bounce back from a disappointing final season at United in 2010/2011.
Many wrote him off but at Everton, he has been positionally astute and technically sound since joining Everton and the former Red Devil boasts an impressive passing range, almost Scholes-esque [the hardcore football fans should get this]. As part of Everton engine, Gibson was a vital clog in the midfield engine that was responsible for Everton being 6th this season and retaining the ambition to challenge for Europe next season.
There is a movement in football to have the pass leading to an assist be recognized as an official statistic. Should this happen, look to Gibson's value sky rocket. He has to shake of his injury-prone tag and play a full, uninterrupted season for Everton to build his case but once he gets his 30+ games in, the Goodison faithful will have a new champion to cheer on.
Tottenham Hotspur F.C.
Candidate #1: Sandro
Absence they say makes the heart grow fonder and Spurs fans surely rue the game against QPR when their defensive midfielder went down clutching his right knee. To fully understand Sandro Ranieri Guimarães Cordeiro's value to Tottenham, his injury resulted in Spurs losing momentum this season as they lost out on a top 4 position and ended up finishing 5th. This season, he was played as part of the deep-lying midfielder duo in the 4-2-3-1 position by the Spurs coach, André Villas-Boas [AVB], who utilized him as the deepest defensive midfielder.
Sandro's role involved intercepting the ball and tacking, both of which he particularly excelled at. In the 22 games he featured in this season before getting injured, Sandro completed 72 tackles [3.3 tackles per game] and 80 interceptions [3.6 per game] and leads his team in both categories. As a defensive midfielder, Sandro has no clear weakness unless we choose to criticize a player for getting injured regularly. From this deep-lying position, the Brazilian midfielder has contributed offensively at White Hart Lane. His lone goal this season which came against Fulham at Craven cottage and he has recorded 2 assists.
Not bad for the guy on the team responsible for making sure that opposing teams do not play their best football. Sandro's effectiveness at breaking-up play is the foundation on which the Spurs' offense, spear-headed by Gareth Bale launches its attack. It is for this reason Sandro is his team's leading candidate for a MUP award.
News reports suggests he should be healthy to play when next season begins and should he stay healthy, other EPL teams should be wary of a Bale-led attack that has been given the license to ravage opposition defenses because of the defensive cover Sandro offers. These are exciting times to be a Spurs fan.
Candidate #2: Jan Vertonghen 
Aside from the ubiquitous 4-2-3-1 formation that has been widely adopted this season by managers in the EPL, it would appear that no self-respecting manager of a top 6 team will be caught dead without a Belgian in their line-up. The only exception is Manchester United and that is only because they lost to Chelsea for the signature of Eden Hazard. Problematic generalization aside, Belgium is currently home to the hottest football talents and Vertonghen has established himself as one of the best center-backs in the league this season. His 6ft2in frame belies his pace and this has seen him scoop up 4 goals with contribute one fewer assists [i.e. 3] this season.
His goal against United at Old Trafford this season came when he played at left-back with the United defense slow to react to his pace resulting in a Johnny Evans own goal. Spurs went on to win that game 3-2. His league-high 5 man-of-the-match awards for a defender only goes to show his value to his team. With 104 tackles [3.1 per game] and 100 interceptions [2.9 per game] coming from 34 appearances this season, the Belgian center-back has exceeded all expectations of him when he was signed by the Spurs coach AVB this season for £10.5million. That figure is looking like a steal right now. Vertonghen has shown his dribbling skills throughout the season, a quality not often associated with center-backs.
He rarely loses concentration and with a passing success rate of 87.1%, it is safe to conclude that re rarely losses the ball. His versatility at playing center-back and left-back should yield exciting tactical changes should AVB decide to experiment with the new football craze of 3 at the back. He has been the model of consistency and among center-backs in the EPL this season, Vertonghen has been head and shoulders above.
His strength, leadership on the field and the quiet manner in which he has carried his duties are the reasons for which this writer nominates him for his clubs MUP award.
Outside Shot: Kyle Walker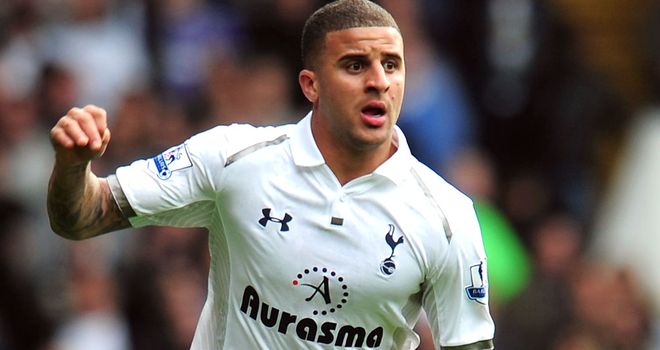 This English 22-year old right-back has quietly been taking care of business for Spurs at the right-back with Lennon playing in front of him. Here are his stats for the season—in 36 appearances, he has contributed 4 assists but has yet to find the back of the net himself. He is the most featured Spurs player. This season produced a total of 83 tackles [2.3 per game] and 87 interceptions [2.7 per game].
Given that Walker is still developing as a player and his numbers are sure to improve, you can be sure he will be a leading contender in for Spur's MUP award in the next decade. One thing he needs to improve immediately is his concentration. He has had 4 defensive errors March 8, 2013 which have resulted in goal opportunities for the opposition teams. He has earned quality playing time and experience this season and he should give Rafael a run for his money for the most exciting right-back to watch in the EPL. Perhaps in
And there you have it, the MUP candidates for Everton and Spurs. Makes sure to leave comments and suggestions for players I might have overlooked. We will continue with 4th and 3rd placed teams Arsenal and Chelsea respectively in the next article.