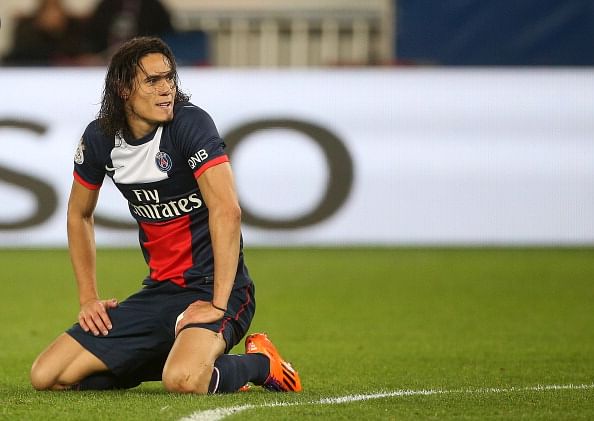 Is too much of anything a good thing or a bad thing? That is precisely the conundrum Manchester United are faced with as Edinson Cavani has told his agent that he wants to move out of Paris and to the Premier League. With United already boasting of the talents of Wayne Rooney, Robin Van Persie, Javier Hernandez and Danny Welbeck, do they really need another striker?
After three successful seasons at Napoli in which scored over 100 goals, he moved to Paris last summer after Paris Saint-Germain spent £55 million to secure his services. Although the 27-year-old did the League and cup double with the Parisien club, the fact that he played most of the season on the wings is one of the reason why he wants out of Paris.
Chelsea and Manchester United are reportedly interested in the Uruguayan centre forward and are monitoring the current situation as it develops. With Manchester United already boasting of four strikers, would they want to add another to their ranks. Would it mean that one if not more are on their way out? These are a few things that must first be answered before going to the question of whether the Red Devils need him or not.
The Uruguayan striker is without a doubt, one of the finest centre forwards in Europe. His pace and technique have been evident for some time now, but his greatest asset is his ability to score from both inside and outside the box and also bring his team-mates into the game by holding the ball with his back to goal.
Out wide, none of this is of any use; as a result, although he has scored some stunning goals, the spectre of Zlatan Ibrahimovic looming in the background has meant that he has regressed on the pitch. At United, he will have not one but two players he will have to overtake if he is to play in his preferred role as a central striker. Not only will he have to usurp the club's second-leading goal scorer of all-time in Wayne Rooney, but he will also have to find a way past a player who has the trust of the coach Van Gaal in Robin Van Persie.
As far as Cavani is concerned, it would be out of the frying pan and into the fire. In purely footballing terms, the Uruguayan striker would certainly be welcome at the club. His ability with his back to goal is far better than any of United's current strikers and he will also provide a physical threat not just in open play but in set-pieces as well.
Another attribute of Cavani that is likely to endear him to the fans and coach alike is his tireless work-ethic. His running off the ball and his endeavour to win back the ball is something that is rarely found in modern strikers and would be well suited to United. The addition of Cavani will finally mean that Van Gaal will have someone to play as the lone central striker.
The dilemma for United and Van Gaal would be the fact that his addition would not only hurt the club's coffers, but would also mean that the other strikers are likely to want out. With plenty of clubs already circling around both Javier Hernandez and Danny Welbeck, the addition of Cavani would almost certainly mean that either one or both of them will be out of the club. While that isn't a problem in itself, their departure means that the club will be left with three world class strikers all fighting for just one spot.
While competition certainly is good, Cavani wouldn't be happy with sitting on the bench for too long, nor would the other two. The addition of Cavani is certain to create some unrest in the striking department and that is certainly the last thing Van Gaal would want as he looks to rebuild United and restore them to their former glory.
While Cavani would certainly be a good addition to the squad, his signing will not only create unrest, but also take up a significant amount of money that could go other areas of the squad that need significant improvement.