I started following football in the 1975-76 season. Like a lot of young kids, Kevin Keegan was my hero. At the end of the following season, he was gone. He left us with a League Championship and European Cup in his final year, and a losing FA Cup Final appearance. He was off to Germany.  There were only a few live games per season, on tv then, so there was no hope of seeing any German football, let alone read about it.
A replacement was found. His name was Kenneth Mathieson Dalglish. He was already a legend at Celtic.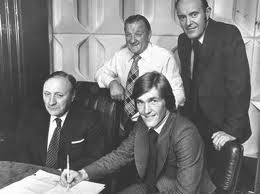 I hadn't heard much about him, hadn't seen much footage, other than his goals for Scotland against England. Liverpool paid £445,000 for him, a British transfer record at the time.
Back then, there was no Soccer Saturday or results service on any channel, so the only way to keep up any scores was on 'ceefax'. For those who don't know, Ceefax was a text service on the tv (a bit like the 'red button') which had pages of news, entertainment and sports information. It would update every few seconds.  There was none of this 'split-screen' nonsense, so if you wanted to read ceefax, everyone else would have to read it too.  We didn't have phones or computers, so the tv was the only way of getting live results. On a Saturday, I had to troll around after my parents as they went shopping. The only highlight would be a browse in an electrical shop, which gave me the opportunity to see the results on screen.
1977-1978 season, and Liverpool's first game was away to Middlesbrough. We drew 1-1, but I was really pleased to read in Dixons that Liverpool's scorer that day was, Dalglish. This could be interesting.
Of course, I had no reason to worry as Dalglish went on to surpass Keegan as a servant of the club. It could be argued that no one has achieved more as a player and a manager with one club as Dalglish has. Other players may have won more medals, other managers may have won more trophies, but no one has done what Dalglish has for Liverpool Football Club.
That last sentence is important. So many articles and comments have been made about Dalglish over the past few months. Most of them from people who have only experienced him since he took over at Anfield in January 2011.
One thing you must understand about Kenny Dalglish, to truly understand Kenny Dalglish, is that he has only ever done what's best for Liverpool Football Club. There is not a decision he has made that has been in the interests of Kenny Dalglish alone. He has made great personal sacrifices all in the name of Liverpool Football Club.
In Dalglish's first season, Liverpool didn't retain their League title, losing out to Brian Clough's Nottingham Forest. They reached their first League Cup Final, again losing to Nottingham Forest in a replay.  But they retained the European Cup. In a fairly tedious match, Belgian champions Bruges, had come to Wembley to 'park the bus'. They were not a fashionable side, although Liverpool had already had a few battles with them in European competition during the '70's. Attack after attack just couldn't break down the stubborn resistance the Belgians were putting up, then midway through the second half, the ball falls to another new signing, Graeme Souness, and as the Belgians pushed up to try and spring the offside trap, Souness dinks a ball through to the right-hand side of the box. Dalglish is there and as the keeper comes out, he has the presence of mind to calmly chip the ball over the keeper and it rests in the corner of the net.
Dalglish then turns and runs towards the crowd. He jumps over the advertising hoardings round the edge of the Wembley pitch. Later he would joke that he wasn't sure he was able to get over them, and that he didn't know where he was going to go after that!  In fact, some of his teammates didn't join him, choosing to turn down the opportunity to make a fools of themselves.
These two goals were significant. Apart from the irony that Souness was in the Middlesbrough team when Dalglish made his debut in the League for Liverpool, and then he lays on the goal to win the European Cup for Liverpool at the end of the season.  They demonstrated Dalglish was a man of cool temperament. He was a winner. He scored 31 goals in all competitions in his debut season. Only 2 players had ever scored more than 20 in a season for Liverpool during the '70's (Keegan twice, Danny Graham). You have to go back to 1967-68 season to find a Liverpool player (Roger Hunt) scoring at least 30 goals.
But Dalglish was more than a goalscorer.  He was clever, could read the game, the play, better than most of his contemporaries.  Imagine the intelligence of Bergkamp and the goalscoring ability of Van Persie.  He was Shearer and Sheringham in one player. Now, he had his faults as a player. He didn't possess a fierce shot, although if he played with todays ball, who knows.  He didn't score many headers or from free-kicks, but he didn't need to.
He made other players become great.  Ian Rush's career wouldn't have been the same without Dalglish, neither would David Johnson's. Peter Beardsley highlights Dalglish as a major influence on his ability to read the game.  Dalglish would bring others into the game, another example of doing what's best for the team. He could hold the ball up, shield it from the defenders, allowing midfield runners to move into the space, and then he'd find them, or he'd use the fact that the defence was now distracted, to take it on himself.
Dalglish scored 118 goals in his career at Liverpool, yet he created so many more. There aren't stats for assists from back then, but Kenny would be very near the top of the pile season after season.
He kept himself fit too. After making his debut in August 1977, he didn't miss a league match until the 1980-81 season.
In 1979 Liverpool broke many records in their League Championship win, including most goals scored in a season, 85.  Dalglish again finished top scorer with 21 league goals.  Liverpool won the league by 8pts in an era when there were just 2pts for a win.
The title was retained a year later as David Johnson became the beneficiary of Dalglish's unselfish approach to the game. Johnson returned a career best 27 goals for the season as the two shared 50 goals between them.
The following season, 1980-81 saw Liverpool win the League Cup for the first time and the European Cup for the 3rd time. Dalglish played his part in the League Cup win when he scored Liverpool's first goal in the replay against West Ham. He wasn't a major influence in the European Cup win over Real Madrid in Paris, and was even substituted 5 minutes before the end, but he certainly played his part. This season wasn't a great one for goals from Dalglish, and Liverpool's league form was poor, but the two cups made up for it.
The 1981 League Cup Final saw the emergence of a young striker who would be the biggest beneficiary of the way Dalglish played the game.  For many Liverpool fans this was our first sighting of Ian Rush.  Through the next few years, Rush and Dalglish would go on to form the partnership that many believe is the best ever seen in the top division in England.
Rush complemented Dalglish perfectly. He had pace, he played high up the pitch off the shoulder of the last defender. The two developed a telepathic understanding.  Dalglish's awareness of those around him made the strikers he played with into better players. Rush was already a fine goalscorer, and Dalglish could find him anywhere.  All Rush had to do was find the space, make the runs and Dalglish would put it there for him. Dalglish had a precious ability to hold the ball up and turn a defender with unerring consistency.
1982 saw the partnership really blossom as the two produced another 50+ goal season. Manager, Bob Paisley, had made some important changes to an ageing side and it paid immediate dividends.  They won the league by 4pts and also retained the League Cup.
1983 then saw Liverpool break their own goalscoring record in a league season. They hit 87 and won the league by 11pts.  They also won the League Cup and the Rush/Dalglish partnership again weighed in with more than 50 goals.
1984 saw an all-conquering Liverpool team win three trophies. They won the league for the third season running.  Dalglish's goal return was disappointing but Ian Rush's wasn't as the Welshman amassed 47 goals. Between them they almost scored 60 for the season, as Liverpool won their 4th European Cup and also the League Cup, for a 4th successive season.
The 1983-84 season saw a change in manager at the club as Bob Paisley stepped down after 9 hugely successful seasons at the club.  6 league titles, 3 European Cups, 1 UEFA Cup, 3 League Cups, 5 Charity Shields and a European Super Cup, would be a tough act to follow.
Paisley's assistant, Joe Fagan stepped into the manager's shoes and so the league, League Cup and European Cup treble in his first season, was an outstanding achievement for a first season in charge.
The 1984-85 season changed many things around Liverpool.  Their neighbours, Everton, had emerged as fierce challengers for silverware.  Everton beat Liverpool to the title by 13pts.  They almost won the FA Cup too, but Man Utd saw to that.  Liverpool reached the Semi-Final stage of the FA Cup, but went out of the League Cup early.  The only opportunity for silverware was the European Cup against Juventus in the Heysel Stadium in Brussels.
Heysel 1985 became one of three events which profoundly changed Dalglish's life forever.  No player or fan can possibly prepare themselves for how they react to people dying at a football ground. A lover of the game, it spelled the end for Joe Fagan. Fagan had announced his retirement just before the match, and what happened on that night was certainly not going to dissuade him.
Suddenly, for a club who meticulously planned so much, Liverpool were in a dilemma as to who to choose to replace Fagan. Two candidates from the coaching staff stood out, Ronnie Moran and Roy Evans, but they both felt they weren't ready for the role. The club needed someone to lead them and Kenny Dalglish accepted the opportunity.  He would take up the position of player-manager.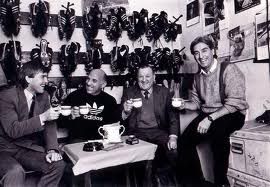 Most people thought Dalglish and Liverpool were mad. How could, such a high profile role, be put in the hands of someone who had to deal with the pressure off and on the pitch, literally?
Dalglish, who had barely even captained the side, made a decision for the good of the club, rather than for his own personal gain. It could be argued, Dalglish's game lost a little of its sparkle, probably brought about by having to juggle the rigours of team selection, media questioning, tactical planning as well as player transfers.  Liverpool appointed Bob Paisley to support Dalglish, and his contribution should never be underestimated.
Used to seeing him for at least 50 times a season, Liverpool fans only saw Dalglish take the pitch for barely 30 times.  Often used as a substitute, Dalglish only scored 3 league goals that season, but he got the most important one.  Liverpool reached another League Cup Semi-Final, losing to QPR, and were in the FA Cup Final too.
May 3rd 1986 at Stamford Bridge, Liverpool secured their 16th league title with a 1-0 win over Chelsea and it was player-manager, Kenny Dalglish, who got the goal.  He remains the only player-manager ever to win the league title in England.
7 days later, he became the first Liverpool manager to win the double, as Liverpool came from behind to beat Everton, 3-1 at Wembley.  Everton had finished runners-up to Liverpool in the league, and had experienced their 2nd successive Cup Final defeat.
Everton bounced back and won the title the following season. The season ended trophy-less for Liverpool, although they did win the Screen Sport Super Cup which was a competition the FA set up to give the bigger clubs something to replace the lack of European football.  Liverpool won the trophy after beating Everton over 2 legs. Liverpool reached another League Cup Final and Ian Rush put them in front, only to see Charlie Nicholas score twice to give Arsenal the trophy.
Never a club to rest, Liverpool made some significant changes at the end of that season. Ian Rush moved to Juventus, and Dalglish bought three players who would be the core of possibly the best team Liverpool has ever put together.  Peter Beardsley, John Aldridge and John Barnes all came to Anfield. The three contributed 75% of the 87 goals Liverpool scored in another title-winning season as they won the league by 9pts. They were expected to claim their 2nd double, and become the first club to ever achieve that honour, but Wimbledon pulled off the shock of the century winning the FA Cup Final, 1-0.
Ian Rush was finding it hard to settle in Turin and was looking for a way back to English football.  Dalglish didn't hesitate in offering him his 'old job' back.  Liverpool reached the FA Cup Final again, and as in 1986, they would meet Everton.  But it was the Semi-Final which became the 2nd major incident to mould Dalglish's life.
You cannot attempt to understand the man without confronting the events of April 15th 1989 at Hillsborough.  96 fans died as a consequence of overcrowding at the Leppings Lane end of the ground just before the start of the FA Cup Semi-Final against Nottingham Forest. The game was abandoned after barely a few minutes. The city was consumed in grief.  Dalglish voluntarily, took on the role of leader and counsellor as he went to every funeral. Many players joined him, and he made it his duty to talk to the families and friends of those who had died.
Again, none of this was for personal gain.  Again, Dalglish considered what was best for others.
Liverpool went on to win the FA Cup in a thrilling all-Merseyside final, beating Everton 3-2.  Ian Rush came off the bench to score twice, after Aldridge had given Liverpool an early lead.
Liverpool almost secured another league title, losing in their final match at home to 2nd placed Arsenal, in one of the most amazing finishes to a league season.
Dalglish and Liverpool bounced back from an unbelievably emotional season, winning their 18th league title the following year. They beat Crystal Palace, 9-0 in John Aldridge's final game for the club. They beat Swansea, 8-0 and Coventry, 6-1 as they won the league by 9pts. They had begun to dream of another league and cup double, only to find Crystal Palace gained revenge winning a thrilling FA Cup Semi-Final after extra time. In May 1990, Dalglish made his final league appearance as a substitute against Derby County.
February 1991. Liverpool were 3pts clear of Arsenal in the league. They were up against Everton in the FA Cup 5th Round at Goodison. Liverpool lead 4 times only to see Everton equalise each time and a classic cup tie ended 4-4.  Two days later, Dalglish had resigned.
The pressure became too much to bear.  Heysel, Hillsborough, talisman, hero, king, manager, hirer & firer. Dalglish had taken on all the roles, all the responsibility which few other managers in history have ever had to bear. He took it all on without complaint. He felt he was making a decision in the best interests of Liverpool Football Club, again.
Those close to Kenny would argue he had finally considered himself for a change.
Liverpool went on to win the FA Cup that season, as Graeme Souness replaced Dalglish.  Dalglish then accepted an offer from Jack Walker at Second Division Blackburn to manage them. He would later take them to a league title in 1995, becoming only the third manager in history to win the league with two different clubs.
In 2003, just 5 months after their 26th wedding anniversary, Marina Dalglish was diagnosed with breast cancer. As you would expect with two honourable people, both Kenny and Marina dealt with it, Marina recovered and they both set about tirelessly raising money for charity.
In 2009 Liverpool came knocking at Dalglish's door again. This time they needed someone to take up a role at the youth academy. He accepted and also became the club's ambassador.  In January 2011, Liverpool needed someone to rescue a dreadful season, and once again Dalglish didn't turn the club down.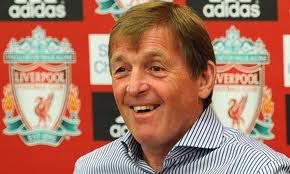 Why did he accept the offer?  There will be a large section of the Anfield crowd who never saw him as a player, let alone watch the team he managed the first time round.  They were desperate for their share of the man, the myth.  The decision to accept the job was never made for Dalglish the man, he only thought of the club he loved.
Two cup finals, the introduction of several young players, the removal of players not good enough for the club, and a lucrative kit deal, can be just some of the entries in the plus column for Dalglish's end of term report.  Some will point to the 8th place league finish as the card which trumps them all.
Dalglish was never there for the long-term, he was there to stabilise, to steady the ship. Personally, I believed he would step aside when the club had found the ideal replacement.  This second term for Dalglish was never about adding to his cv.  It was never about building on his own record, it was fundamentally about Liverpool Football Club.
My one criticism of FSG is that they didn't give him the option to step aside.  He would've held the ropes until a new man came in.  Appointing him in the first place, suggested they understood how much Liverpool meant to Kenny Dalglish.  Firing showed how wide of the mark they really were.
Kenny Dalglish's final act for Liverpool Football Club was to refuse the severance package his contract confirmed he was due. Being sacked mid-way through a 3-year contract would be the signal for most people, especially those who criticise the man, to take what they feel they deserve. Dalglish, believed the money would be better spent on the club rather than him and his family.  It must be stated that this has yet to be proved, and may exist as an apocryphal story.
There has been a lot of criticism of Dalglish, especially from people who would have you believe they know him and are in a position to judge. You often see the word Liverpool fans use to describe Kenny written as 'king', as if there's no reason to laud him like that, or that the man does not deserve the crown.
Many clubs have their heroes. Talk to Wolves fans of a certain age and they will have you believe Steve Bull is the greatest goalscorer to ever put boots on. I couldn't comment on that, I don't understand the club or what it means to support it. There are even some Manchester United fans who believe Eric Cantona is the club's finest ever player. That is not for others to comment on. So if a club's supporters believe one man has given more than is necessary for any club, or more than perhaps it deserves, they are more than entitled to thank the man himself.
Most clubs around the country have one man who they say has done more than any other for that club. I cannot think of another individual, past or present, who has done more for one club in so many capacities than Kenny Dalglish has done for Liverpool Football Club.
It is inconceivable that Dalglish would've ever have found Liverpool if not for the likes of Shankly, Paisley or Fagan. But one thing is for sure, you cannot write the history of Liverpool Football Club without stating the massive contribution Kenny Mathieson Dalglish has made, as a player, player-manager, manager and above all, honourable man.
So, thinking back to August 1977. I had no real idea who Kenny Dalglish was, I was still getting over the loss of my hero, Kevin Keegan, but almost 35 years later, I can safely say that life was never the same again and I needn't have worried.  The king took over the crown and reigned with real dignity.