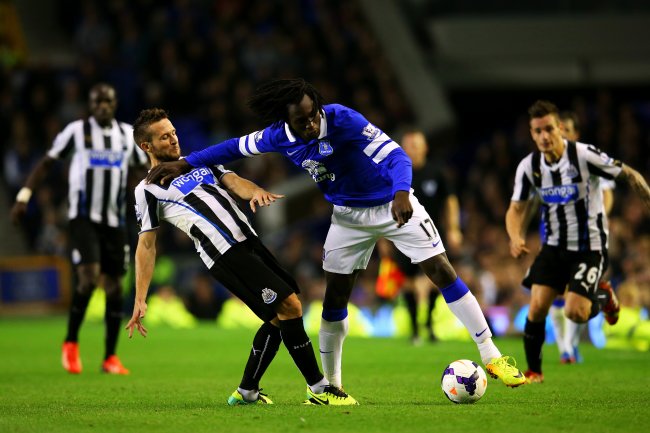 Romelu Lukaku showed Jose Mourinho what he missed this season after scoring twice and registering an assisting during Everton's 3-2 victory over Newcastle United during the Premier League fixture on Monday.
The 20-year-old striker returned to Stamford Bridge after his impressive loan spell during the last season with West Bromwich Albion. Lukaku managed 17 goals and four assists in 35 league appearances for the Baggies and was believed to be a part of the former Real Madrid manager's plan at the west London club.
However, things did not go as he wished after his return to Stamford Bridge. The Portuguese tactician signed Samuel Eto'o from Russian side Anzhi Makhachkala earlier in the summer. Lukaku's stay in London was cut short and he was allowed to join Everton on loan after Eto'o's arrival.
Morurinho was never considering keeping Lukaku at the club and should he had stayed, he would be the third choice striker behind the former Barcelona striker and Fernando Torres.
Mourinho always prefers to play with one striker up front and having three players in the same position could see either one among them being forced to spend more time on the substitute's bench.
The Portuguese boss was keen on signing Wayne Rooney and even made multiple bids for the England international. Should Chelsea manager had believed in Lukaku's talent, he would have never made an approach in signing a striker after having the likes of Demba Ba and Torres as the alternate options.
Lukaku has better shots on target in the Premier League when compared to Torres and Eto'o this season.
Lukaku: PL Games: 2 Shots Taken: 8 Shots on Target 4
Torres: PL Games: 5 Shots Taken: 7 Shots on Target: 2
Eto'o: PL Games: 2 Shots Taken: 9 Shots on Target: 4
However,  Lukaku has already three goals and an assist for Everton while Torres and Eto'o have failed in either finding the back of the net or managing an assist in the league this season.
In terms of performance, Lukaku is better compared to Torres and Eto'o and the former Inter and Madrid manager has made a blunder in allowing the Belgium to go out on loan.
Lukaku is likely to command starting berth at Chelsea for next season and should he be given an opportunity, it is likely that either Torres or Eto'o could spend most of their time on the bench.