It is very early in the season and it has obviously started in a very exciting manner. The league table is fully opened up and the EPL is in its bare competitiveness for everyone to enjoy. There have been some really standout performances from some of the players so far and it is just temporary form. Major teams like Arsenal, Liverpool and Manchester City are still to kick start fully whereas Manchester United just won their first match the other day. Chelsea on the other hand have won all their games and are looking ominous. Here is the best XI based on current form and performances.
Goalkeeper:
Brad Guzan (Aston Villa)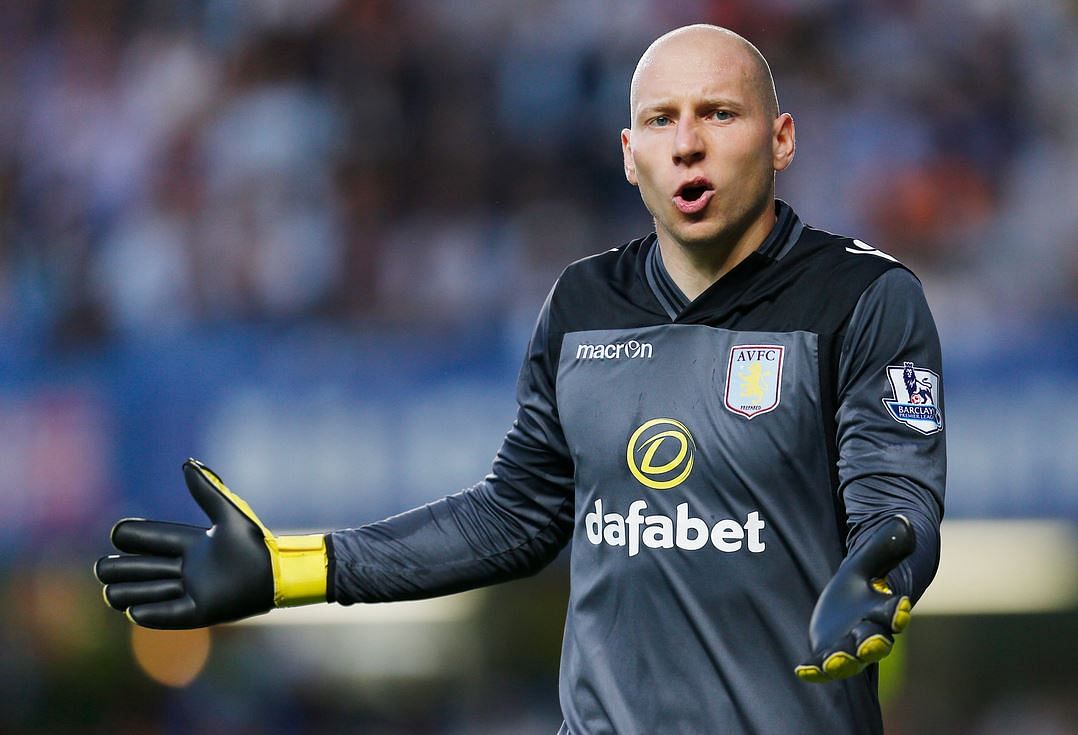 He is one key player for Villa's great beginning to their campaign. He has kept three cleansheets out of four games and has had 9 saves to his credit. Aston Villa sit pretty at second spot, currently being the only unbeaten team in the league along with Chelsea.
Defender:
Branislav Ivanovic (Chelsea)
While Chelsea haven't been registering cleansheets, their right back Ivanovic has been influential in offensive areas for the team. In four matches, he already has two goals and an assist and is very dangerous when he's forward, as he becomes  an instant target for Cesc Fabregas' passes.
Eric Dier (Spurs)
He has been in rampant form for the Spurs after joining them this season from Sporting. He has scored 2 goals already, from the right back position. His first goal was well taken and was a very composed one. Spurs  defensive form overall is dwindling, but the young Englishman has made himself an important part of the set-up.
Nathaniel Clyne (Southampton)
There was a lot of talk about the Saints' summer exodus, but they have started the season pretty well. Clyne seems to be enjoying his football, as he has notched up a goal and an assist along with two clean sheets. He is bossing the Right Back spot with his pace and work-rate. He could soon get a spot in England's team if he maintains his form.
Leighton Baines (Everton)
Everton have conceded an uncharacteristic 10 goals early on in the season, but Baines' offensive play, for which he's best known for, has been superb. He tormented Chelsea with his overlaps and wingplay despite being involved in a high scoring match with lots of defensive errors from both teams. He already has two assists in the league.
Midfield & Attackers:
Cesc Fabregas (Chelsea)
He has been Chelsea's boss in midfield with his passes and vision. He was the play maker that they needed all this while. His work rate is good enough for Jose Mourinho to play him day in and day out, while his partnership with Costa is mouthwatering. He has already racked up 6 assists in the league.
Gylfi Sigurdsson (Swansea City)
The returning star Sigurdsson has been Swansea's main man for this season's brilliant start. The Swans are playing good attacking football and the Iceland playmaker is the one who dictates the play. He has a goal and four assists to his name already.
Eden Hazard (Chelsea)
He has been in great form in the start of the season though not racking up the stats and the figures. His combination play with Fabregas and Costa has been one reason why Chelsea are really looking like the real deal with so many flair players. He still has one goal and an assist in 4 matches, which isn't bad, but he looks hungry to contribute more and win more.
Aaron Ramsey (Arsenal)
It is true Arsenal haven't had the best of starts but their midfield star Ramsey has been consistent. He is playing in the same way he has been playing since the past season and is looking sharp. He already has a couple of goals and an assist and the Gunners would be looking for more as the season progresses.
Morgan Schneiderlin (Southampton)
The midfield enforcer for the Saints was rumored to leave the club in the summer, but he somehow stayed on. He has been in brilliant form and has scored three goals in four games to help the Saints mount another positive start to their campaign after last season. One of his goals was the end product of a scintillating 41-pass move.
Striker:
Diego Costa (Chelsea)
There is no doubt about who the most in-form striker in the league is. With 7 goals in 4 games, Diego Costa is surely the one who is tucking away chances at will. He has been one major reason for Chelsea's great and dominant start to the season as he has scored nearly half of the team's goals. Many teams haven't scored as many goals as he has individually managed till now.