The last promising youngster that came out of Arsenal's academy was Jack Wilshere and it has been a while since the Gunners released their next product. Although Arsene wenger has been miserably failing in his pursuit of silverware, the man is always known for an eye to pick up talented youngsters and while German youngsters Thomas Eisfeld and Serge Gnabry made their first team debuts last season, there are quite number of youngsters who have the potential to make it to the first team this season.
Wenger has always backed his youngsters and that has been one of the primary reasons why many budding footballers want to join the Arsenal academy, amid interest from other top academies across Europe. Not undermining the advantages that this feature of the youngsters brings to the squad, it has its certain disadvantages also. Often the situation arises when Wenger has too much at his disposal and too little space to accommodate all of them. Off late the numbers of talented academy players who are waiting for their chance to burst into the first team are just too high and Wenger must be having a tough time coping up with the pressure.
At the end of last season Arsenal's academy released as much as 10 Scholars and this season has been no difference, having already released more than 12 of their youngsters it is expected that Conor Henderson, Benik Afobe, Chuks Aneke, Sead Hajrovic will find their way out of the club.
Arsenal will also monitor the situation of Sanchez Watt and Craig Eastmond as they have been around the club for a while now without any major progression.
However, here we take a look at three youngsters (Excluding Thomas Eisfeld and Serge Gnabry) who have performed astonishingly for the academy and sooner or later would be inducted into the first team.
Jon Toral
The former La Masia trainee came to Arsenal with the dreams of working with Wenger and he has justified all the attention he has been getting with his performance on the field. He adds a certain flair to the squad, has a creative instinct and his passing is precise. He also has a knack of scoring goals, which make him perfect for the team. The only factor between him and a first team opportunity will be his injury that has kept him sidelined since December, but if fit he will be a youngster to watch out for.
With the futures of Tomas Rosicky, Abou Diaby and Francis Coquelin are in major doubts, expect Jon Toral to get some game time in the Cup ties this season.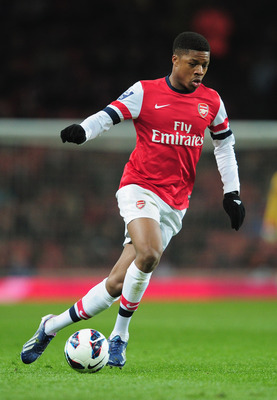 Throughout the whole season Wenger has missed a genuine striker with a neat finish and Akpom has everything that fits the bill for a first team run in. He is a composed striker with an excellent eye for goals and his finishing is way past his age. He has been a prolific performer for the Gunners at every stage of their youth set up and the next gen series where Arsenal reached the semi-finals was the highlight of this career so far. His combinational play with Gnabry and his physical presence may be the telling factor for the 17-year old who can add depth to the striking department.
A 6-month loan to a mid-table Premier league club or even a lower league English club should do the trick for the youngster to get a chance to impress with the first team later on in the second half of the season

Hector Bellerin
Sagna's future at Arsenal is still very much debatable and this may provide Bellerin with the opportunity to get featured into the first team. The full-back, also a La Masia product, has been breathtaking for the under-21 side demonstrating tremendous work rate and a physical aspect of play with a good sense to join his midfielders in the attacking areas. He would not have any trouble to cope up with the first team and this prospect may be too tempting for Wenger not to induct into the first team.
All the three players mentioned above have all the qualities for what it takes to be a part of Arsenal first team, all they need is a decent loan spell with enough number of first team opportunities and come back to London to be a part of some Cup ties this term.