Ajax v Tottenham Report – Tottenham Match Report
Tottenham managed to come back from two goals down to beat Ajax 3-2 at the Johan Cruyff Arena in the second leg of their Champions League semifinal and reach the final on more away goals scored.
Leading by a goal at the start of this game, the Dutch side made a perfect start and scored two goals in the first half through Matthijs de Ligt and Hakim Ziyech. However, a Lucas Moura hattrick in the second half stunned everyone around.
Around the fifth minute mark, the Ajax captain put his side by heading an outswinging corner from Schone into the back of the net. Kieran Trippier was the man supposed to block his run, but the right-back failed to do so.
After that, Spurs had a couple of good chances, though their finishing was not up to the mark. At the other end, Dusan Tadic and Ziyech looked a threat on the break, with the former missing by a whisker to make it 2-0.
It eventually became 2-0 in the 35th minute when Tadic played a lovely ball for Ziyech inside the box. The latter then just put his foot through and scored the goal that looked enough to take his team to the final.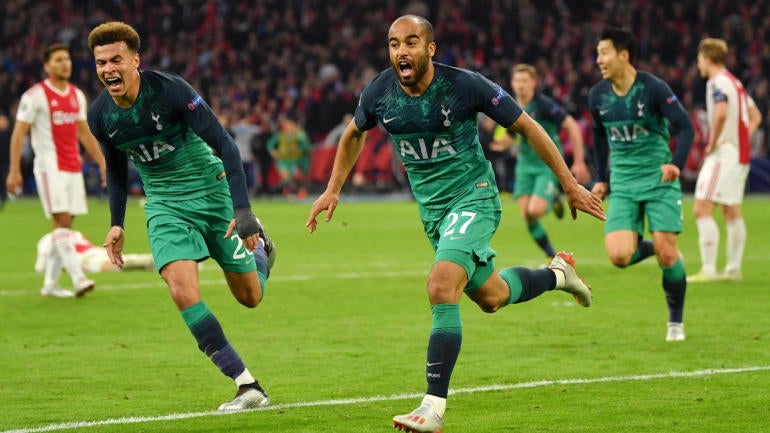 But Mauricio Pochettino's men had other ideas. The manager made a half-time substitution and brought on centre-forward Fernando Llorente. After that, the tide completely changed in favour of the away side.
They pulled one back in the 55th minute when a brilliant skill from Danny Rose freed up Dele Alli, who found the onrushing run of Moura. The latter then did well to get his shot away on target and beat Andre Onana.
Four minutes later, the tie was put on the edge when the Ajax keeper made a stupendous save to deny Llorente. But the ball pinned around the box for Moura to pick up and score his second.
The home side then had plenty of opportunities to kill the game, however, Ziyech struck the post and his other attempt was brilliantly kept out Hugo Lloris.
At the other end, Jan Vertonghen also struck the post from close range.
The comeback was complete in the 95th minute when Moura picked up the loose ball around the box and drove in to score the tie-clinching goal. 
There were scenes to behold in the Cruyff Arena, with a Spurs team seemingly completing a miracle, while the Ajax side blew away a three-goal cushion at home.
Mauricio Pochettino's men are in the final of the Champions League. They will now face Liverpool on the 1st of June in Madrid.
Here's how Spurs fans reacted to this historic game: