Tottenham suffered a major blow in their last fixture against Liverpool as they ended up in a draw. At this very moment, the team cannot afford to lose or draw a single game as they already are 7 points behind the leaders Leicester. If they intend to go for the title, they must beat Manchester United as they welcome the side this Sunday. Pochettino gave a tough fight to Liverpool but it was the hosts who found themselves at front through Philippe Coutinho as the Brazilian finished the ball with a low strike six minutes into the second period.
Spurs responded within 12 minutes as Harry Kane scored a superb goal and became the first Spurs player to score 22 goals in a Barclays Premier League season with a lethal finish. This draw gave Leicester an advantage and they increased their lead to seven points.
At the other end, United will be coming with their heads held high after defeating the city Rivals Manchester City and Everton by 1 goal to nil and will try to stretch their winning run to 3. Tottenham has lost 1 out of their last 6 games whereas United has lost 2 out of their last 6 but have won 4 of them.
Taking a close look at their head to head starts, Tottenham have managed to defeat the Reds only in 2013-14 and 2012-13 season and then long back at 2000-01 season. Counting their 25 games stat, they have defeated the Devils just twice.
Here is the Predicted Lineup for Tottenham that could face Manchester United-
Goalkeeper: Hugo Lloris-
The French shot-stopper made some pretty good save and ensured there were no goals in the first half. But just 6 minutes into the first half, Coutinho made his mark by beating Lloris with a low strike. Spur's keeper is having a great season so far and has played a major role in their conquest to achieve the premier league trophy.
Defenders- Trippier, Wimmer, Alderweireld, Rose-
Pochettino might leave Walker for this game to give him some rest after Liverpool's game and might start with Trippier. The 25-year-old made just 6 appearances for the club in the league but is heavily appreciated. He has one assist to his name so far and averages 7 defensive actions per game. In his 17 tackles, 12 of them have been successful. With Jan Vertonghen's fitness still in doubts, the manager will surely go for the same central defenders that started the game against Liverpool i.e Wimmer and Alderweireld. Rose has developed a lot under Pochettino and has become one of his favourites.
Midfielders: Dier, Dembele, Alli, Eriksen, Chadli-
Pochettino started the game with Son Heung-Min in his last fixture but this time, he might opt to choose this Belgian star instead. Dier and Dembele will as usual be playing as the deep midfielders in the pivot and the striker will be backed by the creativity of Christian Eriksen and the pace of the young Englishman Dele Alli. Ali and Eriksen can combine well with Harry Kane and they have shown it time and time again. These players are considered as one of the lethal trio in the Barclays Premier League this season.
Striker: Harry Kane-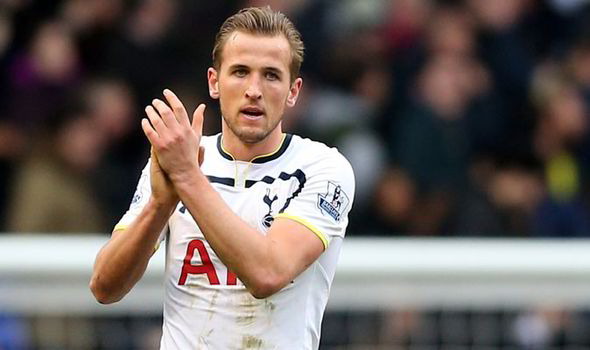 At the age of 22, this young boy has established himself as one of the best in the league. Despite missing some of the games in the initial stages of the league, he leads the goalscoring charts and has become the first Spur's player to score 22 goals in Barclays Premier League. He has the support of the manager, of the fans and of his teammates and this young star has a lot more to achieve. Currently, he is in his prime form due to which his manager can not dare to back him out of the game like this.