Lineups have always presented a dilemma worth pondering upon, ever since Sir Alex Ferguson left Manchester United. There always are changes and tricky selections that a manager has to make but under Sir Alex, United had a specific host of players who were always supposed to start games and deliver. Under David Moyes and Louis van Gaal, the debate surrounding who to give a go ahead for a game, who must start from the bench has been almost unending.
And especially under Louis van Gaal, when players have endured more injuries than fans could've imagined, the contemplation and discourse is sky high. And during a transition period such as this, where players were brought in just for the sake of it, these things are bound to happen.
But, what if United didn't have any player back in the medical department, nursing an injury? What would be the best possible lineup that Louis van Gaal can field? And although, the question may sound hypothetical, but there's nothing wrong with assuming it while your have a read of this:
GK: David de Gea
There's hardly any speck of doubt for as to why the Spaniard has to there between the sticks, with new signing Sergio Romero just good enough for being a second choice. There have been times not just last season, but this season too, when the 25-year-old has come to United's rescue, thanks to some of his baffling reflexes. One way or another, De Gea has to be between the sticks, if Manchester United want to storm back to the top once again.
RB: Matteo Darmian
The Italian has been one of United's most consistent performers this season and has belittled his 12.7 transfer fee. What separates the 25-year-old from Antonio Valencia is tenacity, defensive resilience and more accurate crossing. Crossing is something that has let Valencia down quite a few times in his career and his defensive abilities have come under scrutiny too, due to their clear inconsistency. Darmian is a more committed defender, who knows how to defend in a compact way and win tackles with the help of an exceptional reading of the game.
CB: Chris Smalling
Is there anything that has been left to say in appreciation of this 25-year-old Englishman? The best defender in the Premier League right now, Smalling has been as solid as a shard of diamond for the Red Devils, and a big reason for as to why they've got the meanest defence in the Premier League right now. Alongside Daley Blind, Smalling seemed impenetrable and reminded one of a concoction of Both Nemanja Vidic and Rio Ferdinand during their prime.
CB: Daley Blind 
The Dutchman may be better on the ball than off it as a centre-half, but Blind uses his footballing intelligence and positioning to snuff out dangers that the opposition poses. There were certain doubts for as to whether the former 25-year-old would succeed as a centre-half when he was fielded as one against top six rivals Spurs, but Blind has proved them wrong strongly. A player with a perfect footballing brain who knows what he has to do every time he's on and off the ball, Blind is more composed on the ball than Phil Jones and although not as strong as the former Blackburn starlet, but he makes up for it with the help of his anticipation and intelligence.
LB: Luke Shaw
The teenage sensation made an impressive start to this campaign before falling prey to Hector Moreno's ruthless challenge in the Champions League. He had a hand in most of the things United did- defensively or in terms of attacking. He linked up with Memphis as if they've been playing together for 10 years and is usually seen marauding up and down the pitch, full of pace and energy. He offers more in the attack than Marcos Rojo and is just as sound defensively.
CDM: Morgan Schneiderlin
The well built Frenchman doesn't need any exaggerated praise for conveying anything about his impressive showings of late. After being restored to the first team squad, Schneiderlin has done exceedingly well for the Red Devils, proving why United can be just as effective in the absence of Michael Carrick in the midfield. He offers more than Carrick in the heart of the park and is more quick and strong than the 34-year-old former Spurs star. He made more interceptions than any other Premier League player last season and may come close to doing the same this season too.
CDM: Bastian Schweinsteiger
The 31-year-old German still holds the key for Louis van Gaal's men in the midfield. He's someone who is equally adept in both sectors of the play- attack and defense and circulates the ball forward to the players with precision and incisiveness. He may not the youngest player on the pitch, but his ability to switch and spread the play, much like Schneiderlin is something that allows United a swift transition from defense to attack. And the experience he provides is indispensable.
CAM: Wayne Rooney
It's quite understandable and visible that Wayne Rooney won't be dropped from the United side and what's undoubted is that the number ten is his best position and that of a striker is clearly not. In recent games, the 30-year-old has delivered a lot more assuring performances than before. He's looked good on the ball and his ball distribution and has been impressive too. He picks out players out wide to utmost perfection and is combining well with the likes of Jesse Lingard and Bastian Schweinsteiger.
LM: Jesse Lingard
United may have spent 25 million euros for Memphis this past summer, but it's Jesse Lingard who has outperformed him in every department, despite playing a few number of games. He's got more pace than Memphis and doesn't have that monotonous mentality of drifting inside to score himself, which defenders have figured out already. Memphis is a very good early crosser of the ball and is a decent finisher, but Lingard offers more to United out wide than Memphis does. Lingard also knows how to pass and play together as a team, rather than playing on his own.
RM: Juan Mata
You just can't exclude Juan Mata from a side he plays for can you? He's someone who can pull off moments of magic no matter in which position you play him and if you don't, you'll regret not playing him. He will score for the team and assist for it, whenever he plays. And the best part is- he doesn't get injured often.
ST: Anthony Martial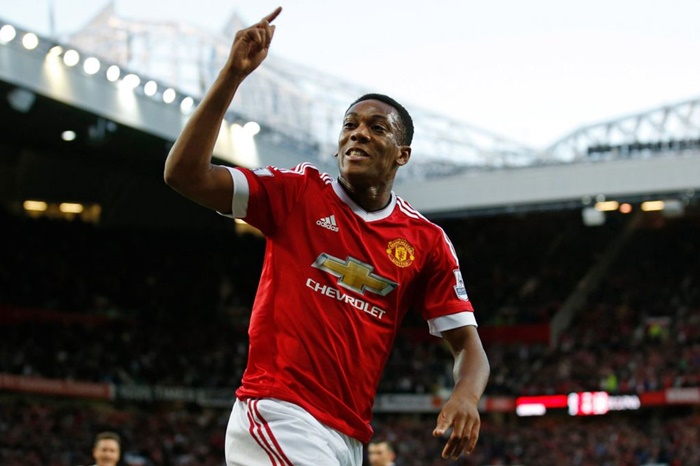 The 19-year-old Frenchman has everything that Manchester United need- pace, strength and an excellent eye for goal. United's highest goal scorer right now, Martial has enjoyed a superb start to the season. He's defied detractors who referred to him as a panic buy and has made Louis van Gaal proud due to it. He can go past players as if they aren't there and has got an immense amount of composure when in front of goal. And rightly so, with Wayne Rooney incapable of playing well up top, he's United's best striker right now.