Arsenal faced Swansea City at the Liberty Stadium on Saturday to stay tied on points with Manchester City at the top of the Premier League table. Manager Arsene Wenger would have hoped that his side would move on from the League Cup defeat to Sheffield Wednesday in midweek and get back to winning ways, prior to the trip to the Allianz Arena in the upcoming week.
However, the first half of the game did not produce much action as it ended with no goals, though there were quite a few good chances to score.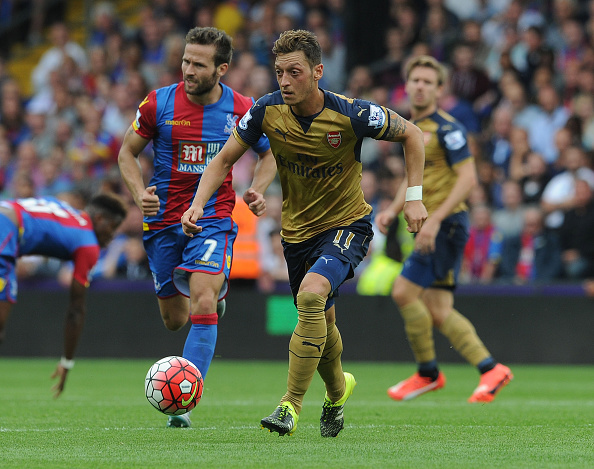 The second half began much better for the Gunners, who took the lead from an Olivier Giroud header, followed by a controversial Laurent Koscielny goal and ended it with a third by Joel Campbell, who had started his first league game this summer.
A perfect night in which the north London side claimed all three points, scoring thrice and the Arsenal fans loved every minute of it.
Here are some of the reactions of both sets of fans after the game:
Superb win away at #Swansea Always a tough venue Well played #Arsenal Precious 3 pts wt almost every British player injured 😃 #afcvscfc

— atul kasbekar (@atulkasbekar) October 31, 2015
FT: #swans 0-3 #arsenal Arsenal stay level on points with Manchester City after impressive win. #bbcfootball https://t.co/iVznsYyct2

— BBC Sport (@BBCSport) October 31, 2015
@BBCSport Wasn't impressive at all, pretty sure I could of ran past our defence today, and I'm fat as fuck.

— Ashley (@Ashley_SCFC) October 31, 2015
@Ashley_SCFC @BBCSport To bad mate arsenal are just to good for you swans

— Moe Staks (@MoeStax) October 31, 2015
@Ashley_SCFC @BBCSport Stephen Hawking could have ran past our defence today.

— Charlie (@StoneColdMonk) October 31, 2015
Yes! Go on Joel! #Arsenal

— Danny Karbassiyoon (@dkarbassiyoon) October 31, 2015
Seems controversial but actually poor keeping from Fabianski and good refereeing #Arsenal

— Scötty Gööner (@sbgoodguy) October 31, 2015
Left the stadium after a brilliant afternoon, looked up & saw this. Got goosebumps! Magnificent isn't it? #COYG pic.twitter.com/AdnZwtsxQd

— Nigel Mitchell (@MrNigelMitchell) October 31, 2015
#COYG we gunned them down again!!! Keep pushing boys! We love @arsenal 🙌🏿 #TagAnArsenalFan pic.twitter.com/7jsQRYpI4I

— Darey #NAKED (@darey) October 31, 2015
Well done @Arsenal good win #COYG

— arsenal Gooner (@goonergang) October 31, 2015
OOOH TO OOOH TO BE OOOH TO BE A GOONER! GREAT WIN LADS! 3 WONDERFUL GOALS! #COYG 💯🙌🏽👍🏽👌🏽❤️

— ❁ diyana (@diyanamir) October 31, 2015
3 points. 3 goals. Clean sheets. #COYG

— ️ (@nazmiazillah) October 31, 2015
BRILLIANT VICTORY!!! 3-0 #COYG

— Ryan Fatone (@rfatone1) October 31, 2015