Paul Pogba became the most expensive player in world football in the summer after completing a £89.3 million pound transfer from Serie A club Juventus to Manchester United, managed by the newly signed Jose Mourinho.
It was a move that was put under the spotlight for a few reasons. Firstly, the fee. It was obvious that a world record transfer fee would bring an immense pressure and Pogba would be expected to perform instantly. Not only would he be expected to perform, but his performances would need to be at the level worthy of the most expensive player in the world – he would need to be a match winner, somebody who controlled games and scored or assisted goals most weeks.
Secondly, it was most unusual because Manchester United had lost Pogba just four seasons ago to Juventus. Manager at the time, Sir Alex Ferguson, was particularly annoyed with Pogba leaving and not signing a new contract, but the truth is he just wouldn't play him. "It is disappointing. I don't think he showed us any respect at all, to be honest. I'm quite happy that if they [footballers] carry on that way, they're probably better doing it away from us." Ferguson said. So from a Manchester United perspective, it doesn't make the best business sense to sign somebody for almost 90 million that they let slip through their grasp just four seasons earlier.
And it has been obvious from the outset that Pogba has struggled under this pressure. It looks like he is trying to do too much at the moment. Trying to justify the hefty price tag, instead of playing with freedom, and just enjoying his football. It is unfair for United to rely on him to turn around their fortunes. The whole team is just as guilty of under-performing. They have tried to have him involved in everything. He started the season as a deeper midfielder, and have only just recently pushed him forward. At Juventus, he played in a structured team who simply gave him the platform to focus on what he is good at.
Before the Manchester Derby – Whoscored put up an interesting comparison between Pogba and Fernandinho. And whilst they aren't the most obvious comparison, it does show that Pogba is better in a more attacking role than the more defensive one he was playing before Rooney was dropped from the team.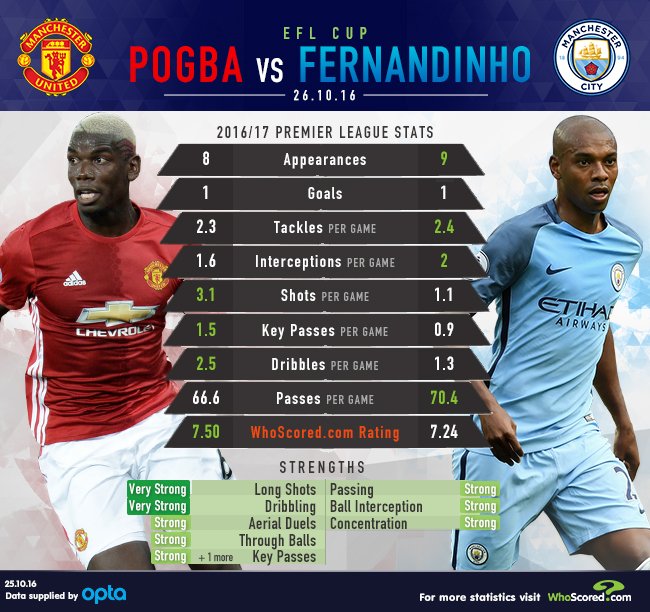 As you can see, his defensive stats are overshadowed by Fernandino who has better tackles and interceptions. His rate for passing is also higher, but these tend to be passes made under less pressure from deep.
Pogba has been more effective in attacking areas, with a higher rate of dribbles, key passes and shots. However, for the number of shots he takes per game, it is disappointing that he is level with Fernandinho with just 1 goal.
Manchester United need to concentrate on just giving Pogba the freedom to be the player he truly is, and maybe then they will start to see the player they spent a world record transfer fee on.