Liverpool are reportedly trying to sign Real Madrid ace Casemiro, who has also attracted interest from Paris Saint-Germain and Chelsea.
Casemiro is one of the first names on Zinedine Zidane's team-sheet and has not been in the best of forms this season despite netting 7 times and providing 3 assists.
The Brazilian has become an important cog in Real's machine, sitting in the middle of the park, and his ability to put in the hard yards and break up the play has been unrivalled. However, do Liverpool need Casemiro at the end of the season?
No doubts about it, Liverpool do need a holding midfielder who can do the donkey work and provide the attackers with the freedom to influence the games. Casemiro has been going about his business for Los Blancos for a number of years now with little fuss.
His ability to sit deep and break up the play has been excellent at Real, which has allowed his team's attackers to do their business.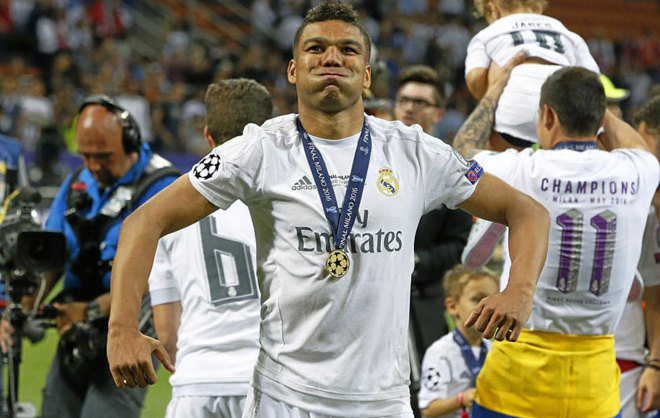 Alongside the incoming Naby Keita, Casemiro will be the ideal player at Liverpool. Keita will join the Reds from RB Leipzig and has shown all the qualities which would see him walk straight into the starting XI.
The Guinean is a midfield destroyer and Casemiro would be imperious alongside him as the Brazilian would provide solid balance to Jurgen Klopp's team.
Strengthening one or two areas is necessary and buying the right players in the summer would set the tone for next season. Jordan Henderson and James Milner have been decent this term but neither is in the same class as Casemiro.
Speaking about Keita, the Guinean will only prosper if he plays alongside a strong and aggressive defensive midfielder. Henderson is good but lacks the aggression and bite needed in a holding midfielder.
The Englishman is capable of doing the job but against big teams, he lacks the ability to dictate the tempo of the game from a deeper position.
Casemiro would not only prove to be an upgrade on Henderson but he would also allow Keita to express himself freely and contribute to Liverpool's attacks more.
Casemiro's tenacity to run for 90 minutes and dynamism in midfield would be perfect for Klopp, who has to replace the departing Emre Can.
However, the main question arrives; why would Casemiro leave Real Madrid? The 26-year-old has tasted rich success at the Bernabeu and is a regular starter under Zidane. In fact, he is one of the most important members, as his presence in midfield helps Real tick in the attack.
Considering this, it would take something extraordinary to lure Casemiro to Anfield. However, Klopp should not lose hope and must go all out for the Real star in the summer.