Manchester City opinion: Should the Cityzens sign Marcos Llorente?
According to a report from Football Espana, Premier League champions Manchester City are keen on signing Real Madrid's Marcos Llorente in the summer. The report reveals that Pep Guardiola is willing to pay a staggering €65million for him in the summer.
Pep Guardiola's side secured their second consecutive league title after a phenomenal campaign this season. The Cityzens were pushed to their limits by Liverpool but Guardiola's tactics proved to be enough for the club to hold on.
Despite their heroics, City once again struggled in the Champions League. A shock defeat to Tottenham Hotspur in the Champions League was the only negative in an otherwise flawless season which saw them win every other trophy up for grabs. City will go hard again next season with the Champions League being a huge priority and for that, they will need to further strengthen their already incredible squad. The biggest area that needs addressing is the defensive midfield.
Fernandinho is entering the twilight of his career and age did catch up to him this season, which saw him miss a crucial part of the season due to injury. City have to bring in a long-term replacement for the Brazilian to secure that position.
Fernandinho has been a pivotal part of Manchester City's squad ever since he joined the club and replacing him will be no easy task.
Pep Guardiola will have to dig deep to find a decent enough player who can fill the Brazilian's boots but is Marcos Llorente the right player?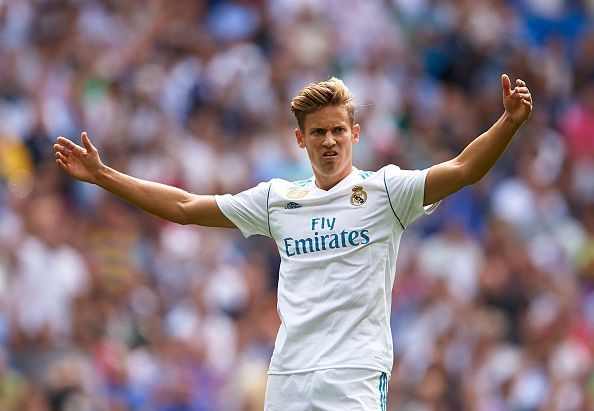 The Spaniard is undoubtedly a huge talent and is highly rated in Spain. However, the 24-year-old has barely featured for Real Madrid, with coach Zinedine Zidane expressing his desire for him to move out on loan to get regular game time.
Llorente has shown real promise whenever he has played in the middle of the park. The Spaniard has all the traits to become a top player in the coming years but the biggest question for Manchester City would be if he would adapt to Pep Guardiola's system.
Llorente's biggest weakness at the moment is his positioning. The 24-year-old has often been caught out during counter-attacks, which would be a huge problem for Guardiola, who expects his players to stick to their areas on the pitch.
City, with all their financial strengths, should move for someone far more established in Europe to fill the space that Fernandinho will leave in a few years.
The Cityzens will certainly find better players for that role and at €65million, Llorente would be a very poor investment.
Read More Man City news, click here: Man City latest news
Conclusion
Manchester City will be making a poor decision, both in terms of quality and finances, if they sign Marcos Llorente in the summer. The Spaniard is far from a finished product and he is not worth €65million at the moment.