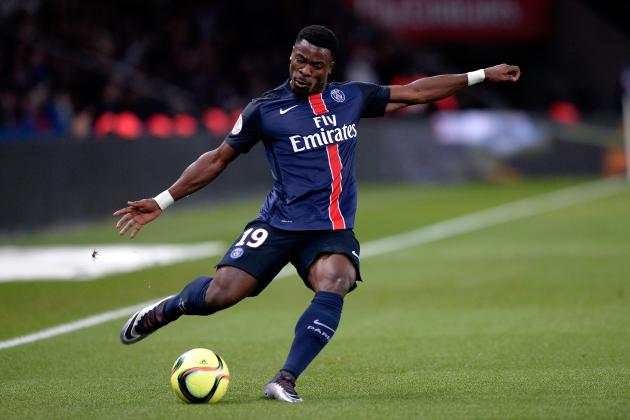 Manchester United will be looking to improve several spots during this upcoming transfer market, as Mourinho's side hasn't been able to find consistency through this first half of the season, and the Portuguese manager need to make some key adjustments if he wants to remain as a competitor for at least a European spot for the next season.
One of the main concerns for the Red Devils is the defensive side of the pitch, as Mourinho isn't pleased at all with Luke Shaw and Chris Smalling. On top of that, Eric Bailly's and Antonio Valencia's injuries have forced him to play Marcos Rojo and Matteo Darmian, a couple of players that still aren't at home with the Premier League.
So, there have been a lot of rumours linking a various players with a move to Old Trafford, but one of the rumours that is getting more and more serious every day is that Manchester United are highly interested in Paris Saint Germain's right back Serge Aurier, but should they actually go ahead and complete his signing? Let's take a look at some facts.
Aurier is a very talented right back and he should be on every single big club's agenda given his outstanding performances at Paris Saint-Germain, and the 23-year-old is one of the most versatile players in the French team, as he can play both as midfielder or full back on either flank with great ease and success.
However, it seems like Matteo Darmian is keen to earn a starting job at Manchester United, and given the fact that Antonio Valencia may be coming back anytime soon, Aurier signing could bring a lot of trouble to an already agitated locker room.
Valencia has had some outstanding performances playing as a right back, so he could be an excellent backup for Aurier if they wind up signing the Ivory Coast international, and he would certainly improve the team's current roster right now, even if there's still a lot to work on at Melwood right now.
Serge is an awesome passer, as he has 3 assists in 9 games so far this season, and he's also an outstanding dribbler. Besides, he has great timing for his tackles and aerial duels, not being known as a dirty player or a liability on defense. However, he often tends to do a little too much in the offensive side of the pitch, something that all the youngs guns are criticized for.
The youngster has also been followed by other great teams such as Napoli and Atletico de Madrid, so Manchester United won't find it easy to complete his signing, as the Spanish team is one of Europe's biggest competitors right now and he could be really tempted to go play at Vicente Calderon for Diego Simeone.
However, it could be really difficult to acquire him during this upcoming transfer window, as Emery's side is currently fighting for the Ligue 1 and the UEFA Champions League, so it's very likely that they'll have to way until the summer to make a run at him.