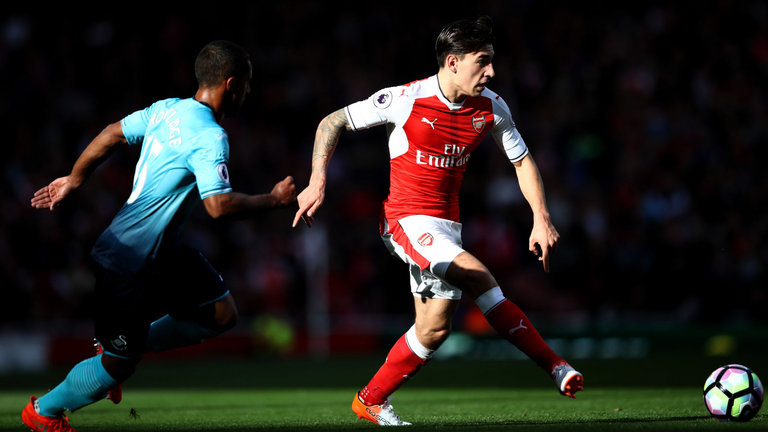 There has been a lot of speculation regarding several moves from the biggest clubs in the world during this next transfer window, and even if some fans have tons of reasons to be excited about this upcoming January, others are just hoping that rumours stay at that level and don't transcend to reality.
With at least a dozen teams looking for a good defender, it's not a surprise that one of the biggest prospects in the world – Arsenal's Hector Bellerin – could be having a very intense month or so when almost every major club knocks on his door to see if he wants to join them in their quests.
Even if Arsene Wenger has made very clear that he intends to keep Bellerin as the right – back of the future for the Gunners, stating emphatically that the youngster will not leave the premises of the Emirates any time soon, several teams are still keen to acquire the services of the Spaniard.
Having said that, the biggest concern and most dangerous frontrunner to sign the young lad is precisely the club that formed him as a player, his native FC Barcelona, who are on the hunt for a nice right back and are more than determined to pull a Cesc Fabregas and take the youngster away from Wenger's lap.
The 21-year-old is a Barcelona native who entered La Masia at a very tender age, and 5 years ago just around his 16th birthday, he was sent to North London in order to continue his developing in Arsenal's academy, where he was eventually sent to Watford in order to earn some competitive playing time.
A couple of seasons later and thanks to Mathieu Debuchy's injury, Bellerin earned a steady starting spot in Wenger's XI and since then, he has been one of the most consistent and reliable players in both ends of the pitch of the Gunners, making it seem crazy that he's just 21 years old.
So, given the fact that Bellerin's best years are yet to come, it has to be a major concern for Gunners that his beloved team, where he walked his first steps in this beautiful sport, is appealing to his emotional side and trying to bring him back home.
Barcelona has had some trouble in the right back position in the past few seasons, and Aleix Vidal just couldn't live up to the expectations that surrounded him when he arrived from Sevilla, partially due to the lack of playing time he had because of Barcelona's sanction, just like the Arda Turan situation.
Even if Bellerin himself has stated that he has no interest in joining Barcelona, we know that the Catalonians won't hesitate in putting up some big numbers and paychecks to convince a youngster to return to his homeland and play alongside Lionel Messi, Neymar and Luis Suarez and more importantly, he has all it takes to actually make it in this club and be a referent for years to come.
So beware, Arsenal fans, you better hope Wenger convinces the youngster to stay for at least a couple of seasons, as you're about to lose one of the biggest talents who has walked through the pitch of the Emirates.