The Gunners are thriving so far this season in all competitions and currently, own a seven-game winning streak after completely thrashing Ludogorets on Wednesday for the UEFA Champions League. Nevertheless, Wenger and his guys are being really emphatic in not getting carried away with the recent success, so they don't come short in the second half of the season like the past few years.
There was a lot of talk about Wenger's lack of signings for this season while every other contender reinforced themselves with some key players, but the French boss is proving once again that he really knows what he's doing.
One of the biggest concerns about Wenger's team was the center of the field, as they had so many guys but neither of them seemed to be capable of staying healthy and consistently help their team's cause.
That was precisely the case with Aaron Ramsey, who suffered an injury while being on international duty with Wales for the Euros and hasn't been able to return to the field yet, spending a couple of months on the sidelines.
Ramsey was one of the best players for the Londoners the past season and he was having an excellent tournament playing alongside one of the best players in the world, Real Madrid's star Gareth Bale.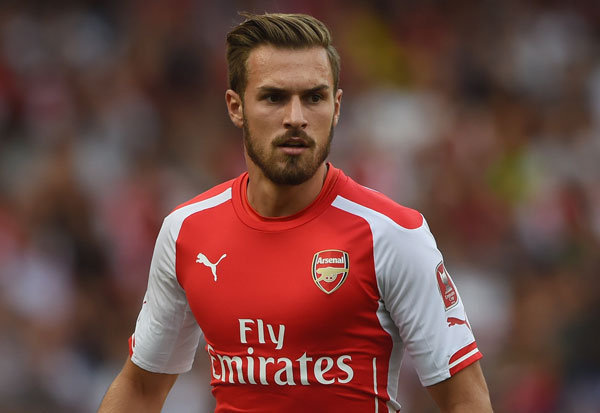 So, when the Welshman fell with injury there were huge concerns for the Gunners, as they were losing yet another key piece for the start of the season and it didn't seem like they would do anything to fill that spot. Once again, they were wrong.
Wenger convinced Granit Xhaka to become a Gunner and the Swiss made an instant impact for his team, showing his defensive skills with his already known scoring and opportunities creating abilities.
On top of that, Ozil's level has been absolutely outstanding, scoring goals at will and setting his teammates up so they can score a lot of goals of their own, desperately asking for a really lucrative deal to continue playing at Emirates Stadium.
Other lads like Elneny, Coquelin and Cazorla have also been pretty good for Wenger's side so far, so even if Jack Wilshere was let go on a loan to Bournemouth, it's pretty difficult to find a weak link in Arsenal's current starting XI to find a spot for Ramsey.
So, What happens to the arsenal lineup as Aaron Ramsey returns to full health? The most intelligent thing to do will ease him back to the field, limiting his minutes while coming off the bench.
Ramsey should contribute from the bench instead of starting right away, as Arsenal's performances have been great so far this season and you wouldn't want to mess with the chemistry of a team that has won the last seven matches and hasn't lost a game since that opening day defeat against Liverpool.
However, being as talented as he is, and considering the long season ahead of the Gunners, there'll be tons of opportunities for Aaron, so he shouldn't get desperate after a few more weeks on the bench.