One of the biggest rivalries in the Premier League is about to set off, but the major concern for Arsenal, apart from Laurent Koscielny's absence due to injury is the conundrum of deciding who is to start at the tip of the attack.
The Gunners haven't seen a glut of goals coming in from their strikers with a lot of criticism being levelled against the Frenchman. Giroud accentuated all that by getting sent off against Zagreb in the Champions League and that opened the door, somewhat for Theo Walcott to take up the mantle of being first choice striker.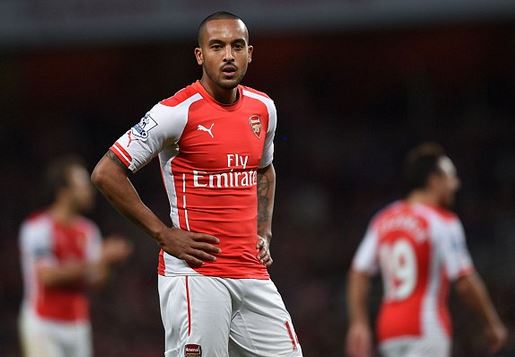 Both players provide a different dimension to the Arsenal attack and the Gunners would want to win against Manchester United but who should play up top?
Pace or aerial ability?
While Walcott has done pretty well since his return from a nasty injury and the most important facet of his game has not changed much, Walcott is one of the fastest players in the league and that would provide the Manchester United defence with a lot of problems.
Walcott also runs the channels extremely well and would allow for a more free flowing Arsenal attack where he could change positions with Sanchez or could do a lot of running and stretch the Manchester United defence which certainly would provide a lot of space for the other Arsenal attackers to exploit.
The problem with Walcott would be the fact that he could get brushed off by the United defence rather easily and that is what Giroud gives to Arsenal. The Frenchman might not have the pace that Walcott does, but he is a greater physical presence for the team and more importantly, he can be a nuisance in the box.
We all know how threatening Giroud is when he is playing in the penalty box and winning headers, this gives Arsenal the chance of crossing the ball into the Manchester United box and giving Giroud something to work with. The criticism that Giroud gets labelled against him is his lack of movement, which still has not been addressed.
Manchester United were leading the table until the victory for Manchester City against Newcastle and they wouldn't need to win at Arsenal, after all they have started the season pretty well. The onus would be on Arsenal continuing their good run in the Premier League and starting with Walcott up top should be the way to go for Arsenal.
The last time they played against Leicester with Walcott up front, they tore the Foxes into shreds and hopefully for Arsenal fans, Walcott and co can accomplish that against Manchester United in what should be a tasty encounter.