Over the past season for Barcelona B, 20-year old Luis Alberto and 19-year old Gerard Deulofeu have struck up a devastating partnership in attack. Alberto scored 11 goals whilst Deulofeu hit 18 as the Catalan reserve side finished 9th in Liga Adelante. They are close friends and next year they will be split apart in Merseyside as Alberto's £6.8 million transfer to Liverpool was closely followed by Deulofeu's season-long loan deal with Everton.
It is a clear antithesis, from close team-mates to city rivals, but what can each club expect from their new signings, we take a look here;
Backgrounds
Having both played in the fertile setting of Barcelona's youth set-up, it is only Deulofeu who has graduated through the whole process of the famous academy at La Masia. Having joined the academy at the age of nine, the striker has been sculptured in the Barcelona model with the focus on control, technique and vision.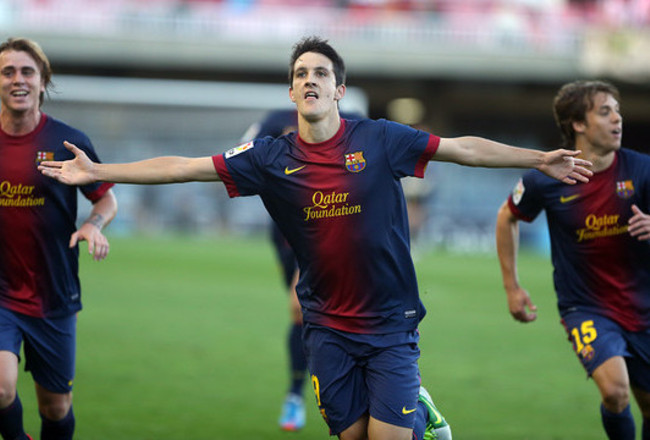 He had to wait eight years to make his professional debut, coming on as a substitute in a 4-1 win at Cordoba with 15 minutes left. From there, he has amassed 68 appearances for the B side, scoring 27 goals. Whilst receiving his education, Deulofeu has made appearances at each level of the Spanish national side, becoming runner-up in the Under-17 European Championship of 2010 as well as winning the under-19 version in 2011 and 2012. He now has 7 caps for the under-21 side and will now focus on breaking into the full team during the country's remarkable generation of personnel.
Luis Alberto meanwhile, received his footballing education in Andalusia with Sevilla, joining the youth set-up in 2004 and waiting five years before being handed his first start for Sevilla B. He spent two seasons with the reserve side, hitting 15 goals in his second, before being handed his first-team breakthrough in La Liga as a half-time substitute in a 1-0 away defeat to Getafe.
Alberto made just seven appearances for Sevilla's first-team in two years and in August 2012, he headed to Barcelona's B team, on loan, in the search of opportunities. In Catalonia, he made 36 appearances, scoring 11 goals and assisting 15 as both sides of his game became apparent. Sevilla were expecting him to return a better player and that is the case, but Alberto had progressed to the extent that Liverpool were willing to spend around £7 million on him.
Whereas Deulofeu remains on the fringes of Barcelona's senior squad under Tito Vilanova, making 6 appearances over two years, he will move to Merseyside for further experience whilst Luis Alberto will become a permanent part of the Brendan Rodgers revolution at Anfield. It is an example of the magnitude of talent that passes through La Masia and another indication of the faith being installed in Spanish football, where English clubs are scouting La Liga talent rather than promoting their own.
Strengths, Style and Weaknesses
Alberto initially progressed as a left-winger, seen as exciting as Sevilla's former right-winger Jesus Navas. However, his lack of pace became an issue and he was moved into the centre where his technique and creative ability became an asset. His move to Barcelona B harnessed this potential, appearing mostly in the "false nine" position which Lionel Messi has made his own in the senior side, his versatility also allowed him to be equally comfortable as a wide attacking midfielder or as a second-striker.
It was his clever movement and ability to time runs to perfection that allowed him to thrive in the role of the "false nine" however, ghosting into goal-scoring positions and making use of gifted close-control to finish chances off. His goal return showed he was adept at a poacher, but Alberto is also talented at holding up the play, controlling the ball with deft touches and creating space for others. It was this selfless style that saw him compliment Deulofeu so well as they created a deadly partnership last term.
Deulofeu's game is also based on movement, but he is more pace-based, preferring to make quick, darting runs across the defenders to latch on to a through ball or to create a decoy run for other attackers to take advantage of. He is constantly on the move, not giving defenders rest when he is attacking or defending, a huge asset to the pressing style that has become natural to Barcelona in recent years.
Unlike Alberto, Deulofeu's main position is out on the left side, using his intelligence to move into the centre or utilising his close control and skill to dribble and beat his man on the wing. His pace is his main attribute, giving defenders a lot to deal with as he makes runs across them and behind them, a feature that saw him score his 18 goals last season; hanging on the shoulder of the last defender, breaking clear and finishing emphatically.
Where both are similar is the lack of top level experience, with each player restricted to just a handful of appearances in La Liga for their respective clubs. There are also doubts, especially in the form of Deulofeu, about the lack of discipline defensively and tactical awareness. There is little doubt however, that both players, so potent together for the Barcelona B team last season, are full of potential. This season will see them attempt to produce this promise at a higher level, on opposing teams, on opposing sides of Merseyside.