(This season has been pretty poor by Ronaldo's standards, and now it seems he is ready to depart Madrid altogether)
While much of the headlines have surrounded Alexis Sanchez going to Old Trafford it is the ex-Manchester United winger Cristiano Ronaldo that has caught my attention, after almost 9 years with Los Blancos scoring 422 in 418 appearances. Despite multiple success on the field, Ronaldo has now called it quits on his time at the Bernabeu, and eyes a return back to Old Trafford.
Real Madrid and Ronaldo have had a pretty torrid time this season, while the Portuguese forward is Real Madrid's top goal scorer he has only netted 4 this season in 16 appearances with Real Madrid sitting in a lowly 4th. A massive 19 points off League leaders Barcelona, and for Ronaldo he has netted fewer goals than the football genius that is Paulinho of Tottenham fame with the Brazilian notching 8 this season for Barcelona.
In short, it is a poor season for Zidane's men, the media that praised him so much for his tactics is now having a field day tearing the Frenchman apart and putting the pressure on the former Real Madrid player.
While Zidane's future hangs in the balance Real Madrid's all-time record goalscorer has decided to depart, Ronaldo who joined the "Madrid Project" in 2009 for a then record fee of £80 million is now in the latter years of his career, and the forward won't be getting any younger and will turn 33 on the 5th of February.
While maybe the reason for his departure could be the fact he isn't scoring much but also the fact he has peaked physically despite keeping in impressive shape, under Zidane he often came off before the end of the game much to the forward's dismay and his blistering pace making him so acclaimed has diminished somewhat over the last few seasons.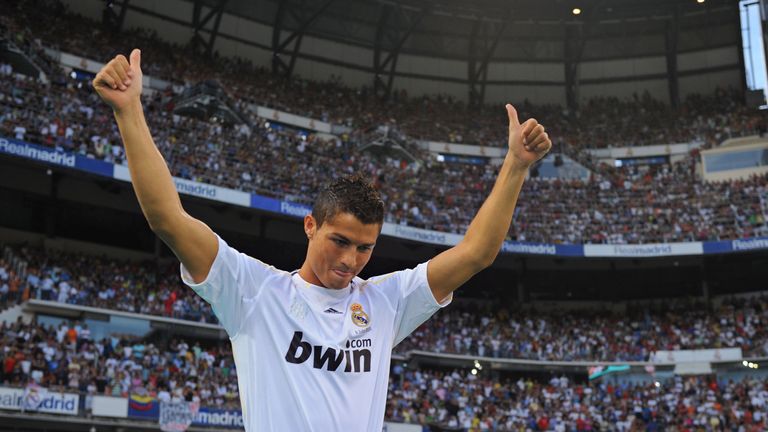 (Mr.Madrid himself being unveiled to the awaiting Los Blancos fans following his £80 million transfer in 2009)
Ronaldo has also been increasingly disillusioned with the Madrid hierarchy, while the relationship between Madrid President Florentino Pérez has always been fragile and even though he was supposedly promised a new contract after the Champions League final in 2016 Ronaldo has not got that deal. And it seems Real don't have any intention of extending the deal as the last contract was signed in November 2016, Ronaldo it seems wants to earn more than fellow winger Neymar following his £198 million transfer.
The deal however to leave will be somewhat complicated to complete should Ronaldo get his dream move back to Manchester, his current deal runs out until 2021 with a £1 billion buy-out clause included in that contract which Real will insist be met. But it seems that Ronaldo has realised the impossibility of a transfer asking Pérez to lower this clause to £100 million, yet it remains a steep price indeed for a player over 30 years-old.
Yet the Euro 2016 winner's wages would not stop there with an almighty net annual salary demand of around £44 million and even this is without mentioning the fee needing to be stumped up to super agent Jorge Mendes.
Taking into account the ludicrous transfer fee and wages there are only two clubs with the sheer financial power to sign the Portuguese forward. Ronaldo himself eyes a return to Old Trafford where he gained international acclaim for his stunning performances, yet should he seal a move to the Red Devils Ronaldo would in effect be playing against his own shadow and there would be no getting away from comparison's to his fruitful 6 years in Red.
Ronaldo is not the same player he once was at Manchester United, his performances of yesteryear described a winger with rapid pace, wicked trickery and deadly finishing, in recent years he has turned into more of a tricky, precise goal poaching forward turning out more performances in the middle of a front three for Zidane's Los Blancos.
(While a dream move back to Manchester is unlikely it could happen with Juan Mata and Zlatan Ibrahimovic expected to leave in the summer)
The problems underlining a return to Manchester are not just limited to a change in position for CR7 with the sheer plethora of attacking options for United also an issue, currently at his disposal Mourinho has to juggle Romelu Lukaku, Zlatan Ibrahimovic, Marcus Rashford, Juan Mata, Jesse Lingard, Anthony Martial and if recent rumours are to be believed, Alexis Sanchez. Ronaldo would not start week in week out or be the main man at Old Trafford, a notion that won't sit well with the 4 time Ballon d'Or Winner.
The only other team in the mix is Parisian club PSG, and following their recent Summer Splurge would have no qualms about paying the ludicrous transfer fee and high wages. With Paris being dubbed "the fashion capital of the world" Ronaldo would certainly fit right in with the French League leaders.
It is no secret that Madrid president Florentino Perez is a massive fan of current PSG starlet Neymar seeing him as the ideal replacement for Ronaldo upon the forward's exit, a long time admirer of the tricky winger Perez was beside himself after losing the race for Neymar in 2014 to fierce rivals Barcelona.
Neymar himself would be keen on the move not enjoying life in Paris as much as he hoped having sealed his £198 million move away, despite notching 11 with a further 9 assists he has regularly clashed with strike partner Edison Cavani over penalty duties and is not a huge fan of away trips outright refusing to go to PSG's recent clash with Claudio Ranieri's Nantes.
(Ronaldo would not be keen being a makeweight in the Neymar deal to Real Madrid, yet PSG may be his only other possible destination and like it or not Neymar is as involved in Ronaldo's transfer as he is)
In terms of Ronaldo the forward would be keen on the move and is in good terms with the French giants' hierarchy, undoubtedly he would be the main man in Paris and the club would have no objections should he demand the Number 7 shirt currently donned by out of favour winger Lucas Moura. CR7 would enjoy, with all due respect a less physical league where he would have the license to roam in any one of boss Unai Emre's front three positions.
For PSG while signing Ronaldo is a good prospect essentially being used as a pawn having spent £198million to prise Neymar out of Barcelona only to have to sell him the next summer would only be a massive failure for the French giants, this was a player marketed as their main man for the next 3-4 years so to only lose him after a season after signing him would be a catastrophic blow to their aims of European glory "Les Parisiens" so desperately want.
After 2 Copa Del Reys, 2 La Liga titles, 3 Champions Leagues, an award-winning movie and countless other achievements at Real it seems Ronaldo is set to depart the Santiago Bernabeu this summer, while a return to England could be on the cards I wouldn't hold your breath Manchester United fans. A deal with cash-rich PSG is more likely, yet Ronaldo himself won't be too happy being a makeweight in a deal for Neymar to Madrid. But as is Ronaldo's nature wherever he goes whether back to England, in France or remaining in Spain he will score goals and make himself known one way or another.