The transfer window opened on July 1st, but some of Serie A's biggest clubs have already made an impact. New managers have been brought in and some deals to acquire players were finalised last month. Three of those teams are Napoli, Roma, and Inter.
Inter Milan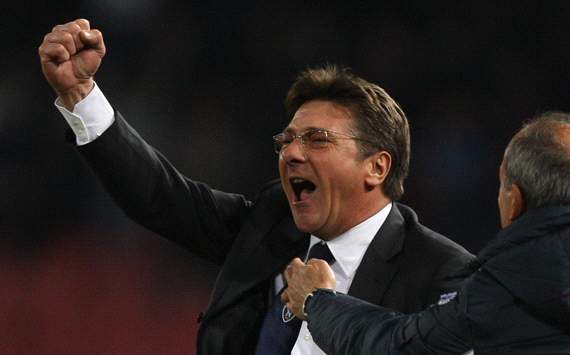 Following a disastrous 2012/13 campaign, Inter are once again starting from square one with their sixth manager since the summer of 2010 in Walter Mazzarri. The Italian tactician enjoyed successful stints at Sampdoria and Napoli, culminating in a second place finish with the Partenopei. He led the Neapolitans to their first Champions League campaign since 1991 when they participated in the 2011/12 edition. They qualified for the round of 16 where they fell to eventual champions Chelsea in extra time.
Now, however, Mazzarri has a massive mountain to climb. The expectations at Inter are much greater than in Naples. The Azzurri supporters expected a fair amount out of Mazzarri in the latter portion of his stint, but were nowhere near the level that he'll have to accomplish with the Milanese side.
One of Mazzarri's former players, Hugo Campagnaro, was brought in on a Bosman to shore up the defence. The 31-year-old was arguably the brightest performer for Napoli at the back, and should be a reasonable option. Ishak Belfodil and Mauro Icardi were also recently acquired by the club.
The latter two signings signals a youth movement within the squad, but also indicates that the team wasn't good enough last season. When injuries pillaged the Nerazzurri, they had to quickly go out and bring in the likes of Tommaso Rocchi. Now if someone like Diego Milito or Walter Samuel are unavailable, there are younger, more capable players to take over and effectively contribute.
Inter may still have a few gaps in their starting eleven, but are so far making the correct signings, at least on paper. The intriguing part of the Mazzarri appointment is, in fact, the players that are arriving. Mazzarri tended to avoid giving any opportunities to his youngsters, even homegrown Lorenzo Insigne, so to have an Icardi or Belfodil around makes it all the more interesting to see what Mazzarri does this upcoming season.
President Massimo Moratti not only wants to get into the Champions League in 2014/15, but, with the help of director Marco Branca, realises that youth is the right method to attain that status. Why they're purchasing players when Inter has one of the best academies in Italy is beyond understanding, but the correct signings are being made. However, not only does Mazzarri have to carefully formulate the right system to accommodate the squad, but he may also have to start the youngsters.
It'll be a very interesting campaign for Internazionale this year, as it usually is, but it'll be even more important for Mazzarri. Can he finally silence his critics and prove that he's a top manager in Serie A? That'll be answered starting on August 25th.
Napoli
Due to Mazzarri's departure, Napoli president Aurelio De Laurentiis had to start an extensive search for the successor. Considering the club's second place finish, De Laurentiis needed the right manager to continue the progression, or else the team risked falling behind again. The wait was over and they eventually agreed to a deal with former Liverpool and Chelsea boss Rafael "Rafa" Benitez.
Benitez has garnered a lot of criticism, with the bulk of it describing him as an "old school coach" who "has fallen behind with the modern game". However, his Europa League success last May proved that he's still an excellent manager in cup competitions, and even though Chelsea slipped down the Premier League table, they secured a berth in the Champions League and will compete in yet another European Super Cup.
That's what Napoli desperately need help with. They failed to properly balance the Serie A and Champions League a couple of years ago and as a result of fatigue, they couldn't snatch consecutive finishes in the top three in the domestic table. Benitez can help solve that.
The Dries Mertens signing indicates that Benitez will most likely use a 4-2-3-1, but with Edinson Cavani destined to leave the peninsula, the influx of cash could strengthen the squad. Real Madrid's Jose Callejon could add some quality depth in attack, plus another holding midfielder can be brought in to create an influence going forward, and defensive help can be acquired as well.
The latter will be Napoli's biggest concern heading into the new campaign. While the 36 goals they conceded was second only to Juventus' 24 allowed, there are still lingering issues at the back. Morgan De Sanctis has proven that he isn't up to a Champions League and Scudetto winning standard, hence why the Neapolitans have been linked with goalkeepers in this transfer window.
Since the back four may be deployed, that also means at least another fullback and centre back must be signed as well because Christian Maggio and Pablo Armero would both struggle.
All of this combined with Napoli having to compete with improving AC Milan and Fiorentina sides puts Benitez under the microscope. If he expects to compete equally in the Champions League and Serie A, he'll have to contend with some very strong teams.
Roma
Just like Inter, Roma have gone back to the drawing board. This time former Lille boss Rudi Garcia has been handed the task to revitalize the Giallorossi and establish them as one of the top teams in Italy.
While at Lille, Garcia won the domestic double in 2010/11 with a young squad on a smaller budget. Considering all of the young talent in the Roma squad, it won't too different of a squad for Garcia to manage, but there's one major difference; the expectations and supporters.
Roma is arguably the most scrutinised team in the country, and for a side that's won three Scudetti since 1942, it's mainly uncalled for. Since the club is based in the capital, media and fans expect the best out of La Magica. Now without European football next season, they have a fantastic chance yet again to sneak into the top three.
Garcia will most likely use a 4-3-3 system, but must demonstrate tactical flexibility. Zdenek Zeman's stubbornness in sticking with the same formation was one of the deciding factors in his sacking this past February, so it's crucial that Garcia expands on his tactics just in case it becomes predictable or it becomes ineffective.
The last objective for Garcia is to cure the mentality of the Roma players. Their mistakes at the back can come down to a weak state of mind, and their struggles in scoring in some matches despite several shots is due to the same reason. The Giallorossi can defeat the big clubs, but usually struggle to break down the provincial sides, even though they usually dominate the games.
If Garcia can tweak all of that, all Roma needs is an extra defender and a starting goalkeeper. Once those two signings are made, they could be a strong contender for a Champions League spot this season.