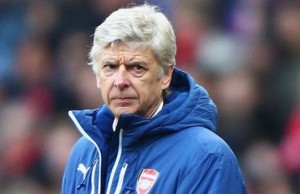 Arsenal fans have been left frustrated after seeing their club fail to sign a world class striker since the departure of Robin Van Persie. With Giroud struggling upfront to find any sort of consistency that frustration has only grown over the course of last season and is reaching a tipping point. This summer Wenger himself realizes the need to bring a striker who can guarantee 20 goals in the domestic season. Though many forwards have been linked with the Gunners over the past 2 month, the French manager has been considering either signing England international Jamie Vardy or Spaniard Alvaro Morata.
The North London team will be looking to get off to a flying start come August 13th when they meet Liverpool at the Emirates Stadium but in order to do that, Wenger must make sure that he filled all the gaps that were visible in the team last term. With Welback injured and Giroud struggling upfront, it's the centre forward position which is in urgent need of reinforcements. Wenger will be under severe pressure this summer after he became the only only manager across Europe's top five leagues to fail to sign an outfield player in last summer's window, which resulted in the title slipping away from their hands at a time when other big teams across England were going through a lean period themselves.
Though Vardy and Morata play in the same position, it is a bit difficult to compare the two, given that both of them play in different leagues and the Spanish striker was also involved heavily in Europe last term. However they are two completely different type strikers and will each bring something special to the team. 29-year-old Vardy scored 24 goals to help his team lift the Premier League title against all odds. He also claimed a total of 6 assists, along with that he proved to be a great threat to defenders across the League. The former Fleetwood Town man made his international debut recently and quickly found his scoring boots, more recently against Wales in the Euro. The English striker has been brilliant over the past year and has seen is stalks rise rapidly amongst the football fraternity.
Vardy is a hardworking player and who loves to make run on and off the ball in order make that extra bit room to get his shot away. His composure in front of goal and finishing is excellent, something which will go a long in improving Arsenal's season, if indeed the deal does go through. Morata, on the other hand, is an immensely talented 23 year old striker and has already had the experience of playing big clubs like Real Madrid and Juventus. Although his form dipped slightly over the course of last year, nonetheless the former Real Madrid striker possesses great passing ability and dribbling skill which makes him a nightmare for the opposition team. He doesn't shy from fulfilling his defensive duties, which in present time is a plus point for any striker.
Although Vardy has proven himself in the Premier League with a tremendous season, his style is tailor made for counter attacking teams, which might make it difficult for Wenger to get the best out of him. Six years younger to Vardy, Morata would be the perfect long-term signing capable of producing brilliance for many years to come.