Goalkeeper: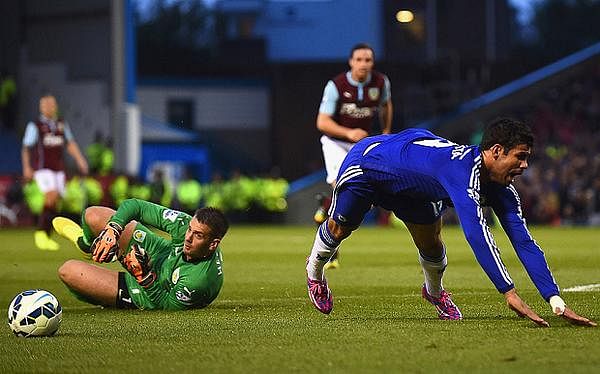 Tom Heaton – Burnley kept a clean sheet at the weekend, laying the foundations for their first win. Although he didn't have much to do, he was good when called upon and looked to have good control over his area at set pieces. He has looked like a goalkeeper with real quality when he has been called upon this season and his performances will be crucial if Burnley are to stay up.
Defenders:
Branislav Ivanovic – Another good showing from the Serbian, as he was dominant in the air, and dangerous when going forward. Alberto Moreno didn't know what to do with him at times. His main strength is that the opposition are too worried about Eden Hazard, Oscar and Diego Costa, that the full back gets a lot of time on the ball in the final third. His strength and power make him a problem, especially when he is running with pace at the back four. He is also excellent at the back, making him the perfect full back for Jose Mourinho
Jason Shackell – The Burnley centre half was excellent on Saturday as his calmness at the back was key in Burnley's first win of the season. He certainly led the side well from the back, making a number of crucial tackles and interceptions. One tackle was superb as he ran back towards his own goal and made an excellent challenge to stop Abel Hernandez going through on goal. Burnley have looked solid for most of this season and Shackell is a big reason for that.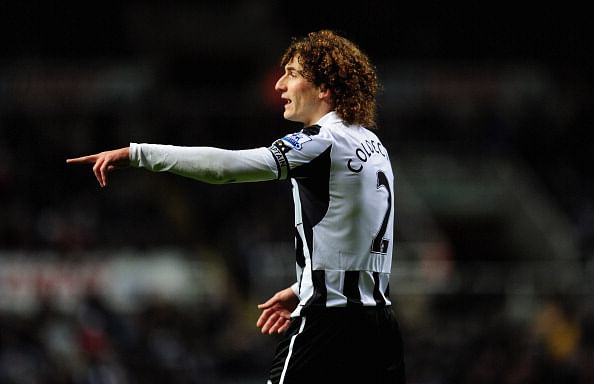 Fabricio Coloccini – Newcastle's resurgence continues and the return to form of captain Fabricio Coloccini is the main reason for that. The captain was criticised by many of the fans at the start of the season as they thought he looked disinterested and had lost a yard of pace, but now he looks back to his old self again. He was crucial in stopping Saido Berahino at the weekend. Also the Argentine managed to get a goal himself with a brilliant header, it was his first goal in over three years.
Luke Shaw – Many have criticised Luke Shaw since making the move to Manchester United, but he was really good on Saturday. He was excellent in his own half, letting very few players beat him, which is an achievement given some of Palace's best play comes from their wingers. In the opposition half, Shaw was dangerous, making many runs forward and giving the home side another weapon in attack.
Midfielders:
Sebastian Larsson – Sunderland have been inconsistent this year, looking like a side that could be dragged into the relegation fight once more, but a draw against Everton was a great result. Sebastian Larsson was solid in the middle of the park, making some key interceptions, while his passing was excellent as always. The Swede is always calm on the ball, plus his free kick to give his side the lead was superb, it's a skill he has in his locker, but perhaps doesn't show enough.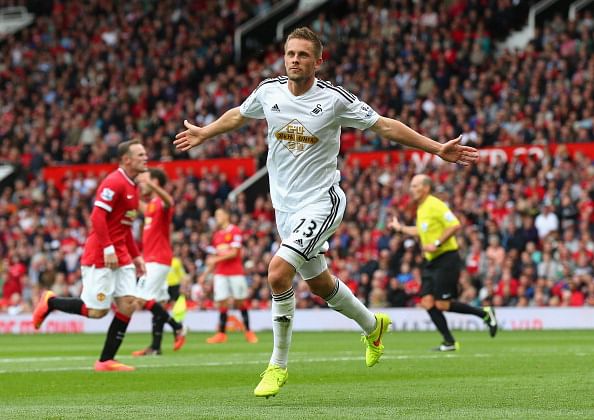 Gylfi Sigurdsson – Spurs are struggling to find any consistency in the middle of the park, it's amazing they allowed Gylfi Sigurdsson to leave, the midfielder was never given a fair chance at North London. He is once again proving his class in Wales with Swansea, and he could turn out to be one of the signings of the summer. His all around play is fantastic as he got stuck in against a talented Arsenal midfield, while his attacking play is excellent, as he creates a lot for his team mates. The Icelandic international showed his quality from a brilliant free kicks to equalize.
Emre Can – Although Liverpool lost, Emre Can was excellent as he was given the chance to start in the Premier League. He provided drive and hunger in the midfield, which has been lacking this season. He looks to offer a lot more than Joe Allen has in recent weeks.His goal may have been fortunate, but at least he has some attacking drive, it's something Liverpool have lacked. Emre Can needs to start for Liverpool at the moment, he seems to have some desire that some of the squad don't.
Forwards:
Bojan – There were a lot of doubts around Bojan when he joined Stoke. Why was a Barcelona wonderkid joining Stoke at such a young age. The forward has yet to live up to his potential, but a smaller club may be what's needed to take the pressure off Bojan. He was excellent against Tottenham, as his direct running and skill on the ball caused them all sorts of problems. His goal was expertly taken and showed the quality he possesses in the final third.
Ayoze Perez – Ayoze Perez was making a name for himself last season in the Segunda league in Spain, with the likes of Porto, Real Madrid and Barcelona keeping tracks on the forward, but he turned up at St James' Park. Not many in England knew much about the forward leading to him being written off when he started to get starts for Newcastle, but he has shown his class in England already. His goal on Sunday was ridiculous, a finish only the most talented players in the world could pull off. It's not just the skill, but the confidence to attempt it in a big game. His general play was excellent and he could have had a second. Newcastle have a real player on their hands.
Charlie Austin – QPR are starting to show that they have genuine quality in their ranks and that they have a great chance of surviving in the league. They managed to get a point against Manchester City and many will argue they could have won the match. Charlie Austin was brilliant up front, he created a lot of issues for the City back four while he showed his class in front of goal, getting another goal, he could have had two more, but they were disallowed. He must be on the brink of an England call up.