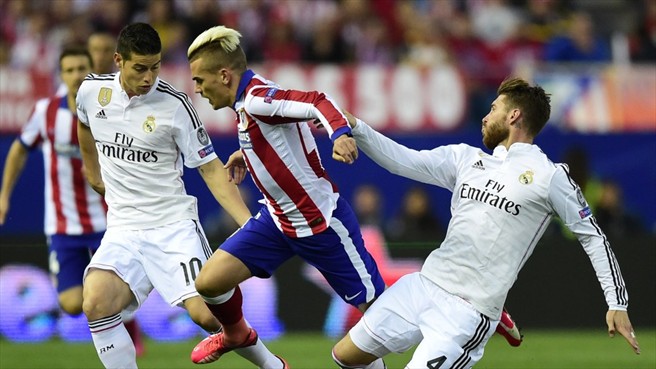 Jose Mourinho is desperate for attacking additions this summer as Manchester United need some top class firepower if they are to competing with the best next season. They have been looking at the biggest names in world football and one name that has forever been linked with the Red Devils is that of French star Antoine Griezmann. Standing as one of the best strikers in the world at the moment, Griezmann is currently settled at the Vicente Calderon and recently revealed that he is happy with his current situation but latest reports suggest that Manchester United are ready to break the bank to try and lure him to the Old Trafford this summer. So how will the 25-year old fit in under Jose Mourinho? How will Manchester United lineup if they sign £85 million Rated Antoine Griezmann this summer?
The Ibra Factor
The current top scorer for United, Zlatan Ibrahimovic will become a free agent at the end of the season and Manchester United are yet to persuade him to sign a new deal. He could well be on his way out of the club this summer and Griezmann would be the perfect choice to replace him and lead the attack. Though he has never played in the Premier League before, Griezmann has the attributes that could see him enjoy his football in England. Anthony Martial could continue his progress on the wing while Henrikh Mkhitaryan, Juan Mata, and may be another summer signing could fill in the other two spots in the attacking quartet for Mourinho. This would surely be one of the most formidable attacks in the league.
However, if Manchester United are able to keep Zlatan at the club for another season, it will make their team even stronger. The French star can be pushed onto the wing, similar to Lionel Messi at the Camp Nou. However, Griezmann is more of a target man and is more productive from a slightly central role. Zlatan, at 36, might not play every game next season and this would see Griezmann leading the attack for quite a few games next season. But with Zlatan in the team, Griezmann will have to find a new position.
A Positional Shift?
Playing two strikers in the first team has never been Mourinho's forte so it is hard to see him shift to a 4-4-2 formation having Griezmann and Ibrahimovic leading the attack. So he might push one of them back and the Atletico Madrid man seems to be the best option. While Zlatan will act as a target man and dominate the penalty box in the air, Griezmann will send nightmares to defenders with the ball at his feet, playing a number 10 role. His ability on the ball, his creativity and vision, combined with his passing skills will make Manchester United much more effective in front of goal.
Griezmann should start in a slightly deeper role but Zlatan, who has shown during his time in Paris that he is also capable of dropping deep and linking play, can sometimes drop behind the front line, thus leaving space for Griezmann to run into and work with. It is a system that can work wonders in the future but it will depend on whether Mourinho is able to lure the French star to Old Trafford this summer.
How do you think Manchester United should line up with Griezmann in their side next season?