Premier League season is well and truly under way. We are only a few weeks from the rigorous Christmas schedule and more than one team are embattled in the race to the championship come May.
While Liverpool are having a stellar season under Klopp, Antonio Conte's Chelsea have gained a great momentum over the last few weeks. Manchester City under new boss Pep Guardiola are there and thereabouts along with Arsenal. Rivals Tottenham seem to be struggling for momentum while Mourinho's United are still a long way away from title contention.
Almost one-third of the season through, and there have been some magnificent performances by players for their teams. Coutinho has led from the front for the Reds, along with the likes of Adam Lallana and Sadio Mane. Sergio Aguero and Raheem Sterling are hitting good form along with Kevin De Bruyne for Man City while Mesut Ozil is working his magic in North London along with Alexis Sanchez who has surprised one and all in his new role as a striker.
Here we take a look at five early contenders for the prestigious PFA Player of the Year Award based on the performances till date:
Phillipe Coutinho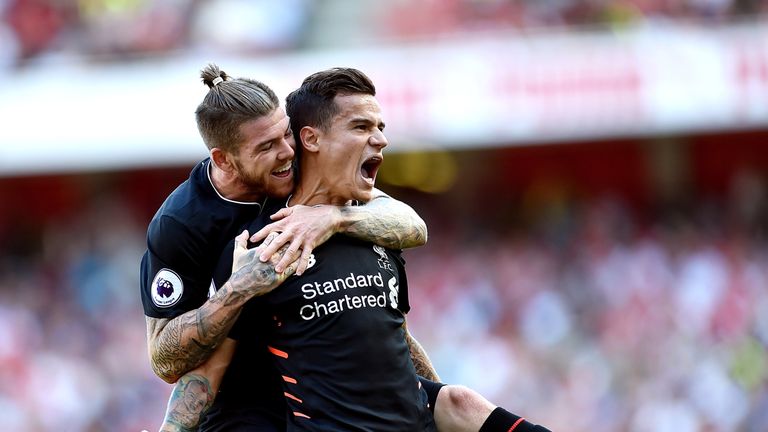 The Brazilian playmaker has been at his imperious best for Liverpool this season, with five goals and five assists so far in 12 appearances in the Premier League. His inter-link play with fellow Brazilian Firmino and new signing Sadio Mane has been a feast to watch for everyone. The Liverpool No.10 has shown time and again that he possesses the ability to change the course of the game with a single moment of brilliance.
His performances have resulted in rumours linking him with a move to Barcelona, but for now, Coutinho remains a Kop favourite and judging by his form, he will be right up there when the season ends.
If he continues playing in this manner, there's no doubt the 24-year old playmaker will be challenging for the PFA award.
Eden Hazard
The 2014-15 PFA Player of the Year is back and how. Eden Hazard is back to his best for Chelsea this season after an ill-fated season last year where he struggled endlessly.
Under the new management of Antonio Conte, the Belgian has looked unstoppable. Given a free reign by the coach in his 3-4-3 system, Hazard is making the best of it and has had a major contribution in Chelsea's top of the table position.
Hazard has already eclipsed his goal tally from 2015-16, having already racked up 7 goals and a sole assist in 12 appearances in the League and if Chelsea wants to be anywhere near the top come May, he will have a huge role to play.
On his current form, the 25-year old will be a major contender for the prestigious accolade at the end of the season.
Kevin De Bruyne
Another Belgian on the list, Kevin De Bruyne has had a great start to life under new boss Pep Guardiola at Manchester City. The former Chelsea player has been City's most impressive player in attack already racking up a very high 8 assists along with 2 goals of his own in 11 Premier League games.
His range of passing, excellent vision and the turn of pace he possesses make the 25-year old a great asset for the Citizens and if Guardiola is to taste success in his first year at the Etihad, De Bruyne will need to be at his best.
No doubt that KDB is another player who will be a challenger for the PFA award.
Alexis Sanchez
Alexis Sanchez has adapted brilliantly to the role of the leading striker for Arsenal this season taking many by surprise. He has led the line admirably for the Gunners, contributing with 6 goals and 4 assists so far having played all 12 games.
The Chilean's emergence as a striker has also brought out the best in fellow Gunner Theo Walcott who has started the season very well. Their link-up play along with Ozil and Iwobi has more often than not left opponents dumbstruck.
Alexis has gone on record in the past claiming he is no less to Messi or Ronaldo and judging by his performances this season, he is not far off with his comments. And come the end of the season, he will be another serious competitor for the PFA award.
Sergio Aguero
It would not be wrong to say that Sergio Kun Aguero is currently the best striker in the whole of the Premier League. The Argentine after moving from Atletico has achieved legend status at the Etihad having scored 150 goals in 224 appearances for the Citizens.
And he has started this season on a similar note, already amassing 14 goals in all competitions, 8 of which have come in the Premier League. On his day, the 28-year old makes goal-scoring look as easy as child's play.
If Aguero manages to stay injury free for the length of the season and continues in this rich vein of form, both he and City will be at the top of the goals chart and the Premier League table respectively, making him another major player in the PFA awards race.
Other Notable Mentions:
Apart from the above-listed players, there are several other players that stand a chance to win the prestigious award. Sadio Mane for Liverpool, Mesut Ozil for Arsenal, Romelu Lukaku for Everton have all had a strong beginning to the season along with the likes of Juan Mata, Diego Costa and Fernandinho and will all be in serious consideration for the big prize at the end of the 2016-17 season.