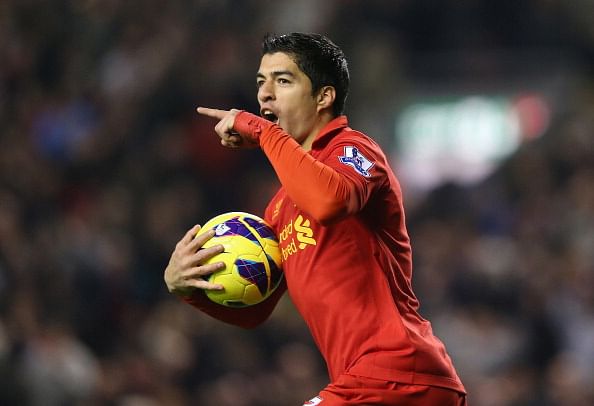 A Luis Suarez double and a Raheem Sterling finish took Liverpool to the top of the EPL Table after the early kick off encounter at Anfield here on Saturday. The home side  raced to a 3-0 lead in the first half as they were all over the travelling Cardiff outfit. The visitors though, did manage to pull one back in the second half as Liverpool went off to sleep, albeit poor marking from set pieces to allow Cardiff a ray of hope. However in the end it was too much for the  Malky Mackay's side as the Reds from Merseyside ran out 3-1 winners.
Simon Mingolet: The Belgian shot stopper could have done very little to stop Mutch's header as Cardiff scored in the second half. The away side had some to Anfield to contain the Reds but at the end their approach ensured a backlash.
Rating: 3/5
John Flanagan: What a performance from the youngster. Flanagan yet again was deployed on the left back role and my word, he made an impression. Tireless in attack up front front and tracking back at will shows what a great future is in store for the born and bred Liverpudlian. Was unlucky not to score in the first half. Was subbed off in the 56th minute to be replaced by Martin Kelly.
Rating: 3.5/5
Sakho: The Frenchaman as usual, lived up to his reputation and billing, being the epitome of toughness and no nonsense at the back. A performance worthy of calling him the beast, even though it was against less fancied opponents,  as he allowed no space, no time and went straight into clattering challenges. A beast! If there was only one aberration, it was his marking when Cardiff scored.
Rating: 3/5
Martin Skrtel: Ridiculous performance! Did collect a yellow in the first half for a rash challenge. Demonstrated his bad habit pulling the shirts of the opposition players during setbacks. If the referee had spotted it, there should have been two penalties given, the Slovakian didn't even look at the ball. Unbelievable!
Rating: 2/5
Glen Johnson: Was sublime in both going forward and tracking back. The whole Liverpool defence looks unreachable at this moment and Johnson is in the heart of every move whether overlapping the wingers or providing crosses in the penalty box.
Rating: 3/5
 Joe Allen: Did put in a determined shift tracking back and barging forward, but lost possession inexplicably on a number of occasions. His overall game has improved but he needs to keep working hard.
Rating: 2.5/5
Lucas Leiva: Again a very assured performance from the Brazilian in front of the back four. Picked out his passes with ease and is slowly finding his rhythm once again.
Rating: 2.5/5
Jordan Henderson: Perhaps Steven Gerrard's injury is helping Henderson to a great extent. He looks outstanding every moment, picking out passes, providing assists and tracking back to protect his back four. What an inspired improvement!
Rating: 3.5/5
Raheem Sterling: He looks like a revelation given the last two games and seems to play with great confidence. His blistering pace rocked the Cardiff's defence time in and time out, but the Englishman was guilty of spurning a one on one when he was clear en route to goal.
Rating: 3.5/5
Phillipe Coutinho: Yet another scintillating performance from the young and dynamic Brazilian. Coutinho was efficient playing in between the channels and time and again linked up with Suarez and Sterling to give the Cardiff defence real headaches.
Rating: 3.5/5
Luis Suarez: What a week for the Uruguayan. I am out of words for him!
Rating: 4.5/5
Watch the highlights here: