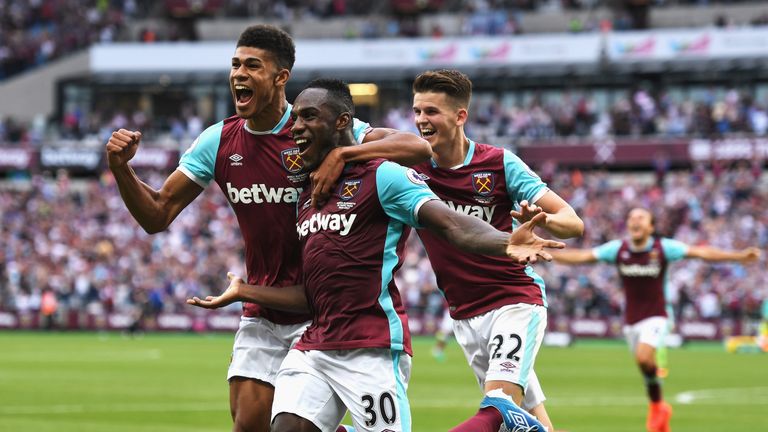 To say West Ham have failed to live up to any expectations and become very woeful wouldn't be farther from the obvious truth.
The Hammers currently lie a point above the relegation zone – a position many don't expect them to be after their heroics and wonderful performances that saw them finish 7th in last season's campaign.
To an extent, an injury depletion from pre-season till date has eaten through their ranks and subsequently reducing their overall quality as a unit, but that's no excuse to stare at relegation in the face when just 6 months ago they were 3 spots away from Champions League football.
However, through all their poor form and underwhelming run of games, there has been a standout performance from the unlikeliest of sources. And it's not from regular suspect Dimitri Payet.
Right-back turned winger Michail Antonio, has been extraordinary for the London club since getting his position changed on matchday 2, and has remained the shining light in the gloomy squad.
Michail Antonio: Has now scored more headed goals (12) than any other player in Europe's top 5 leagues since the start of last season

— WhoScored.com (@WhoScored) November 19, 2016
His goal against Tottenham during weekend's derby saw him take his season's tally to 6, and it can only be imagined just where Slaven Bilic's men would be on the log if everyone performed nearly as excellent as the England international.
He has scored 46% of all West Ham's goals this term as the club has just 13 in 12 Premier League matches. Moving the 26-year-old further up the pitch might have seen him get more chances at goal, but his consistent quality has always been there as he scored 8 goals in 26 EPL games last season as a full-back.
Antonio's strength in front of goal is to outjump opposition defenders despite standing at just 5 ft 11 inches to score powerful headers. All his 6 goals of the season are headers and adding to the 6 he also scored with his head last season, he is the only player across Europe's top 5 leagues to have scored most headed goals since the start of last season.
The player with a Jamaican descent isn't only excelling in the final third, he has been quite the complete package since arriving from Nottingham Forest last summer.
Against Tottenham, his defensive capabilities came to the fore as he made 3 interceptions and 5 clearances. No player completed more dribbles (4) than he did, while he also had most shots (3) and shots on target from open play (1).
Since the start of 2016-17, Antonio has appeared in every league game for West Ham, creating 12 chances and averaging 3 defensive actions per game. He averages 73% pass accuracy and has completed 221 passes already.
The winger has completed 36 out of 59 of his attempted dribbles, won 14 of his 33 tackles, averaged 3.1 shots per game and recorded 43% shot accuracy.
West Ham might not be the high flyers they were the last term, but they do have one in Antonio; who is unarguably their best player of the season. With the likes of Ayew and Carroll attaining full match fitness and ready to offer their 100% soon, they sure would add more verve to an attack that has lacked one since the season began.
The team sure will pick up steam as time goes on, but for now and until they start to, Antonio remains their most inspired player, and no one in that team has been better than him. West Ham have the English forward to thank as they would sure have been much worse without him in such fine form.