Claudio Ranieri's men edged closer to their first Premier League title with a controlled 1-0 victory over Watford on Saturday. Riyad Mahrez scored the only goal of the game as the Foxes took full advantage of Tottenham and Arsenal's 2-2 draw to move five points clear at the top of the table.
Leicester have continued to defy the odds over the course of the season and are now within touching distance of the crown. Plenty of fans have played down their chances but a title success is finally starting to feel like a genuine possibility.
Without a doubt, Ranieri's side deserve to be at the top of the table and Foxes supporters would be extremely disappointed if they let the title slip through their clutches – although a top four place would still be a phenomenal achievement.
If Leicester can win their next six games, the title might already be sewn up by the time the Foxes have to play Manchester United, Everton and Chelsea. The title race is certainly far from over and Leicester fans are kidding themselves if they believe they have already done the hard work.
Neutrals will be hoping Leicester secure a dramatic, last-day victory over the current title holders but Ranieri's men will be desperate to get the title won sooner rather than later. If you want to place a bet on Leicester to win the Premier League, you can find out more news and odds at Bookies.com.
Throughout the year, Mahrez and Leicester striker Jamie Vardy have been central to their title aspirations, however it might be defensive midfielder N'Golo Kante who deserves the majority of the plaudits.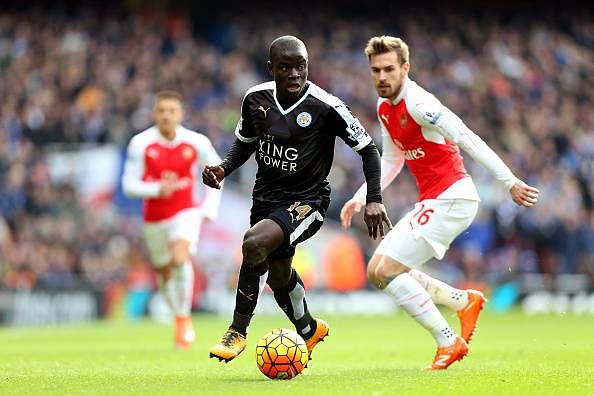 Leicester's unsung hero has been a rock in front of the back four and has made the most interceptions and tackles in the Premier League. If nothing else, Kante, who signed from Caen in the summer, should be rewarded internally for his efforts throughout the season.
Many fans will now be sitting nervously on open bets for Leicester to win the title but it's not too late for you to get involved either. You won't get anywhere near the 5000/1 that Leicester were quoted as before the start of the campaign but they're a good bet to include in an accumulator. If needed, you can work your winnings out with an odds calculator at Bookies.com.
Will Leicester City hold on and win the title? Only time will tell – but they certainly stand a good chance on current form. With both Manchester clubs struggling, Arsenal and Spurs slipping up and Chelsea well out of contention, the onus is on Ranieri's men to take the bull by the horns and break the current monopoly's control on the Premier League title.