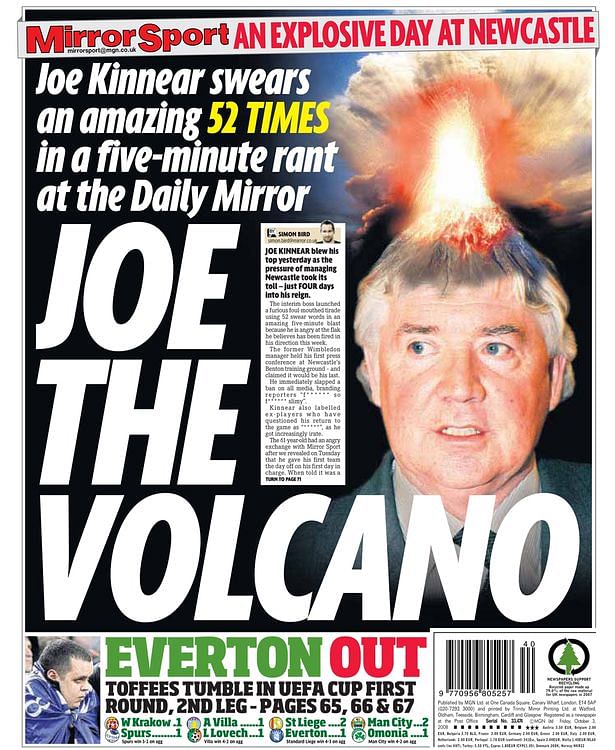 The appointment of Joe Kinnear as director of football at Newcastle last week will surely send the football world rushing online once again to see his foul mouthed rant at journalists while in charge of the Magpies during the 2008/2009 season. Apart from the joy and laughter that viewing will bring, the only other effect that Kinnear's appointment will cause is paranoia for Alan Pardew who will rightly feel undermined by being presented with a new boss.
It comes at a time when Pardew is already trying to plot a season in which he and his squad can achieve a top ten finish, knowing that this outcome will be the only chance he has of keeping hold of his job and trying to see out his eight year contract.
The former Nottingham Forest and Wimbledon manager said that he wanted to impart some of the wisdom he has gained from his years in the game onto Pardew, which is laughable when you consider that the 51-year-old has had spells in charge of Reading, West Ham, Charlton and Southampton.
Pardew is a well-regarded and respected manager who is too big to be taken under the wing of his new director of football so any attempt by Kinnear to mollycoddle him will create a very uncomfortable situation.
Kinnear spoke to the press about his new role and said that he and Newcastle owner Mike Ashley have signed contracts and handed the 66-year-old power over transfers and in charge of the acclaimed scouting network, with no mention of having consulted the current manager.
Chief scout Graham Carr will also feel as aggrieved to have Kinnear at the club and will not want to have to answer to the new recruit. Carr is revered in England and Europe for being one of the best scouts in football and he will be wondering why he has to explain himself to a man who embarrassed the club almost five years ago.
Directors of football at English clubs have seeped into the game steadily over the last decade, coming as a very unwelcome concept for many in football management who are much more comfortable with the British tradition of making managers the main man.
At Newcastle particularly the role caused huge problems when Dennis Wise was given the job in 2008. It caused issues for Kevin Keegan when he joined the club, and when he eventually quit his job he said he believed "a manager must have the right to manage" and that the sale of James Milner by Wise made his position untenable.
Newcastle fans will be hoping that this time Joe Kinnear will keep his opinions to himself about the state of English journalism, and that if he is to be of any assistance at all then he will look to work with Pardew rather than fighting his plans behind closed doors.