Luis Enrique's team fought a great fight this Saturday as they traveled to Mestalla to face a struggling Valencia team that was really desperate for points, but eventually fell short against Messi, Neymar and Luis Suarez, losing at home 3 goals against 2.
The Blaugrana team hit first at Mestalla, with a beautiful strike from Lio Messi that was set up by Ivan Rakitic at the 22 minute, but eventually, Valencia would take a 2 – 1 lead after goals from former Barcelona forward Munir El Haddadi and Rodrigo. In the end, Luis Enrique's men found a way to take back the lead with beautiful goals from Luis Suarez and a late penalty goal from Lio Messi in the fourth minute of injury time. So, let's take a deeper look at Barcelona's overall performance and player ratings from this exciting match.
GK Marc-Andre Ter Stegen – 6/10
The German goalkeeper didn't have much responsibility in both of Valencia's goal and didn't have much of an impact in the game overall. However, he did manage to block a couple of shots from a Valencia team that only had 6 shots in the game.
RB Sergi Roberto – 7/10
The young Spaniard is currently one of the most consistent players in Luis Enrique's team, quietly doing his job and becoming one of the Spanish boss' favorite choices on a weekly basis and this time wasn't the exception.
CB Javier Mascherano – 6/10
Mascherano is becoming slower and slower and it looks like his great years are quickly coming to an end. He could be held accountable for one of Valencia's goal, where he failed to get in position to prevent it.
CB Samuel Umtiti – 6/10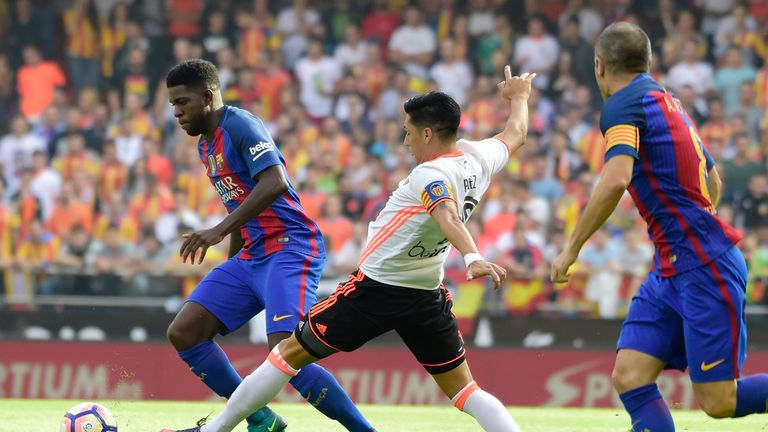 The young French defender had a decent game overall, but didn't have much participation and lost a pair of key balls that luckily didn't end up in a Valencia goal.
LB Lucas Digne – 5/10
This one was another horrific performance by the French left back, who's making Barcelona fans miss Jordi Alba even more. He did manage to block a dangerous shot from Munir, though.
CM Sergio Busquets – 7/10
The Spaniard was once again one key piece in Barcelona's game plan, making a lot of key interceptions and finding an open teammate every time he had the ball on his feet.
CM Andre Gomes – 5/10
This was one of the poorest performances of the season for the Portuguese, who never looked comfortable on the pitch and lost the ball a couple of times before being substituted at the 71st minute.
CM Andres Iniesta –  5/10
Surprisingly Iniesta had a bad game, which I guess that proves that the guy is actually human. However, he only stayed on the pitch for 14 minutes, as he had to leave early with an injury.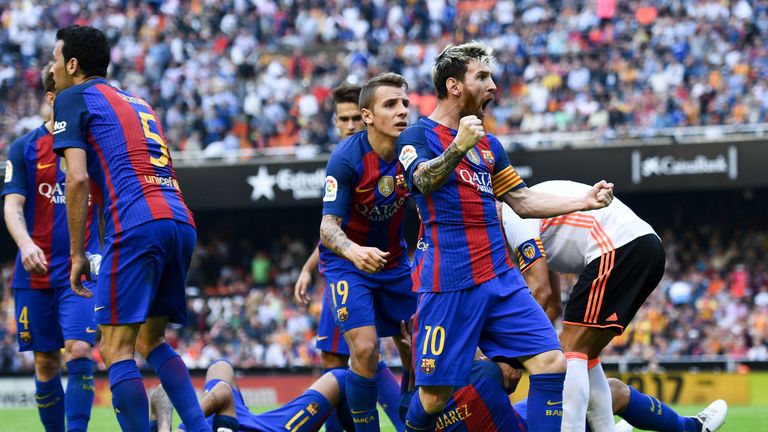 AML Neymar – 8/10
The Brazilian had another outstanding performance but failed to score this time. However, he did help Messi and Suarez get a ton of nice looks at the opposite goal.
ST Luis Suarez – 8/10
Lucho continued his amazing streak by scoring the equalizer just 5 minutes after Valencia had taken the lead, and he could have a bigger night but was denied a couple of times by Diego Alves.
AMR Lionel Messi –  9/10
Messi was once again the man of the match after scoring the pair of goals that gave Barcelona another three points. The Argentinian was everywhere and just couldn't be stopped. Another day in the office fo Messi.