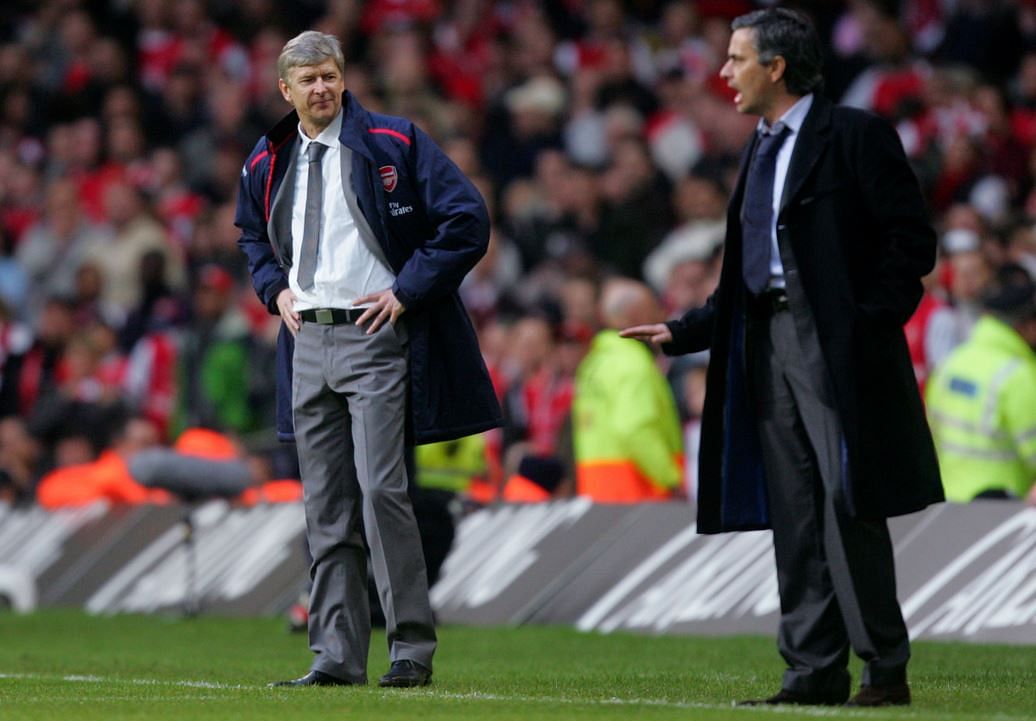 This past month has been eventful  for football fans, made more so by the verbal "firefight" the media painted out between Arsene Wenger and Jose Mourinho.  From what one could read in the newspapers and on the Internet, you would be forgiven for thinking both had insulted each other's mothers,  stepped on pet kittens and thrown petrol bombs at each other on the streets  of London.
The Summary
In a press conference that the Arsenal manager now probably regrets not spending more time clarifying on, Arsene Wenger was asked why he thought other managers were playing down their respective chances of winning the Premier League. After considering the most open title race in the history of the Premier League, Wenger replied that perhaps it was a fear of failure that prompted them to do so, seeing that things were quick to change in the topsy-turvy landscape of the top four teams fighting it out.
"You cannot lose the race if you aren't in it."
Jose Mourinho, as we all know by now, responded by famously labelling Arsene Wenger a "specialist in failure" and claiming he would be sent packing if he stayed eight years at Chelsea without winning a trophy.
The Case
Jose Mourinho. The self proclaimed "Special One". Two time winner of the Champions League, winner of domestic  league titles in four different countries, making his name by guiding FC Porto to European glory, achieving success  with Chelsea, a treble with Inter Milan and a league title with Real Madrid, breaking the dominance of probably the best team in Barcelona's history. If there a man who knows how to win things, he is very much it. The acknowledged master of a results business, he has every ounce of experience and know how to declare if he thinks a team is competitive enough to challenge.
Arsene Wenger, the Arsenal monolith, a man synonymous with the club he manages, longest serving current manager in the Premier League and Arsenal's longest serving manager of all time, winner of four FA Cups and three Premier Leagues, builder of what is frequently described as "the most devastating team ever seen in the British Isles" in the Invincibles side of 2003-2004, going a season without losing a single game has been without a single major honour  since Patrick Vieira's spot kick in the FA Cup penalty final shootout of 2005. He has endured a period of barren form and several near misses, thwarted year after year by losing his star players, often to rival teams. This is a man who has finished in a Champions League spot every year for the last 15 years.
Here we see the issue from alternating blinkers based on our allegiance to our respective football clubs. Chelsea fans, particularly those used to the success that the club has achieved with the arrival of Roman Abramovich in 2003, will find it inconceivable that a club of the stature of Arsenal can let their manager go that long without an honour (seeing especially their high manager turnover rate).
Arsenal fans while frustrated with the lack of trophies would disagree, specifically those who understand the unique circumstances under which Wenger has been forced to operate, showing patience with him, albeit patience that wears thin every consecutive day without a trophy.
Therein lies the difference. Jose Mourinho with his variegated CV, plying his trade in a multitude of leagues across Europe, each time signing on with an expectation of titles and financial support to back the ambition is the product of the modern corporate spectacle that is club football. Oligarch owners, heavy mortgages and increased commercialisation have made the concept of a one club manager or player and the possibility of self sustained transition seem old fashioned and out of sync.
Arsenal, a club steeped in tradition and history, sometimes too much for their own good, entrusted Arsene Wenger with the responsibility of guiding a club through a period where their  financial might was more comparable to the likes of pre- Sheikh Mansour Manchester City and Everton rather than Chelsea, Manchester United or even Liverpool. Wenger in this period pursued a policy of recruiting young and moulding players to play the Arsenal way, often  paying the price for his trust by players who developed fully and then lost patience with the product. What certainly didn't help was these players choosing to join domestic rivals. From Ashley Cole to Samir Nasri and Adebayor and more recently Van Persie, Arsenal has often ended up strengthening rivals and shooting themselves in the foot.
In this period of enforced austerity, a staggering debt of over 500 million pounds and sponsorship deals that resulted in meagre yearly payments, accepted for the pressing need for immediate money to offset some of the debt ended up crippling Arsenal. The consecutive finishing in Champions League spots guaranteed an important source of income while providing an attractive proposition for players looking to make the step up from other clubs. Without a top four finish, would Arsenal have managed to land Mikel Arteta, Samir Nasri, Andrei Arshavin or Mesut Ozil? One need only look at the trouble Liverpool have while trying to attract established names to see the importance of the top four finish.
Unfortunately for those hungry for trophies this often meant prioritising the Premier League to make sure the spot wasn't lost. As a result, Gooners worldwide had to endure several ignominious FA Cup and League cup exits, often to opposition that really should've been beaten, facing an Arsenal XI that was usually made of fringe players and promising youngsters.
And yet in these eight years, Arsene Wenger has provided plenty of moments that Arsenal fans will cherish for a long long time. Beating Barcelona, beating Bayern Munich in their own backyard, Arshavin scoring four at Anfield, Julio Baptista scoring four at Anfield, going mighty close to the Premier League crown with a team of young ones in 2007-08 until fate cruelly intervened on a cold evening in Birmingham when talismanic goalscorer Eduardo da Silva had his leg snapped in two, one mesmerising season of a masterclass in striking by Robin van Persie before he decided the climes of Manchester suited him better than the club that had been his home for the previous eight years, the joys of attacking players like Cesc Fabregas, Samir Nasri, Andrei Arshavin and the aforementioned van Persie and the road to the Champions League final of 2006 where Arsenal with the inspiration,n of a teenaged Fabregas and a sublime Thierry Henry beat Juventus, Real Madrid and Villarreal en route to the final without conceding a single goal in the competition before finally capitulating to Barcelona after being reduced to 10 men.
Arsene Wenger may not have won any trophies in the last eight years but he has definitely won the hearts of more than a few football fans with his refusal to change his philosophy or prioritise a player or himself over the club. He could have left in 2008 for Real Madrid or in 2012 for PSG but chose to eschew all offers, endearing himself to fans who already have the utmost respect for him, albeit tinged with more than a hint of frustration.
He has brought Arsenal trophies, he has introduced the Premier League to sublime players in Henry, Pires and Fabregas, he has brought out the absolute best of legends like Tony Adams and Dennis Bergkamp when they were deemed past their prime and he has ensured stability in times of economic strife that see Arsenal in a commanding financial position and challenging for trophies again.
It is a point of view that Liverpool fans still recovering from the damage wrought by Kenny Dalglish and co.'s regimes and a reeling Manchester United coming to grips with life without Sir Alex Ferguson will wholeheartedly agree with. Arsene Wenger  has built a legacy for himself that arguably surpasses that of Sir Herbert Chapman and possibly might never be equalled by another Arsenal manager. For eight years of "trophylessness", this is something Jose Mourinho with his club hopping, the immense pressure to win placed on him by his employers and the near limitless financial backing cannot comprehend.
Jose Mourinho is a born winner, a master tactician and a proven collector of trophies but even he has to realise that success, like many things in life is less easily definable than one can hope for it t be.