PERFORMANCE ANALYSIS OF MAROUANE  FELLAINI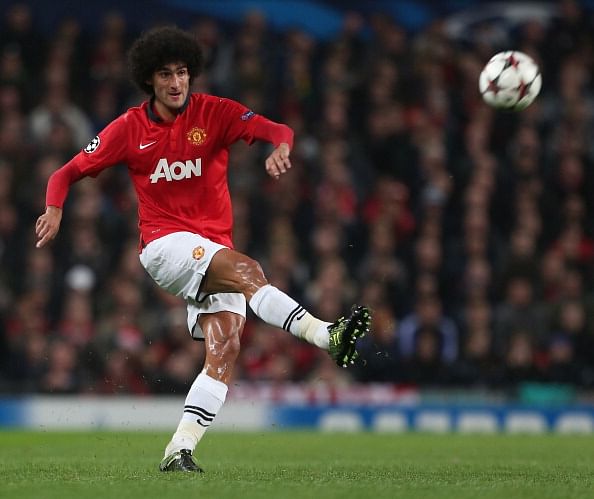 In the summer of 2013 Marouane Fellaini was one of the most sought after midfielders in world football. He was the perfect blend of technique, physicality and vision. He had all the attributes to develop into a world class midfielder but his time in Manchester United has regressed his game. Despite some promising performances this season against West Brom and Crystal Palace Fellaini is yet to live up to his £27.5 million price tag.
David Moyes must take majority of the blame for the way he managed Marouane Fellaini as he was consistently played out of position. Fellaini is an attacking player by trade but he was usually used as a box to box midfielder or in a deeper role, thanks to David Moyes's mid table tactics. Though it is every manager's dream to have a highly physical and technical midfielder in the center of the pitch, Fellaini doesn't have the ability to control the tempo of the game or make those probing passes to start an attack. Moyes utilised Fellaini very well during his time at Everton as he was played in the space between the midfield and the attack with Phil Neville and Leon Osman shielding the defence. In Manchester United, Moyes played him deeper and he acted as a box to box midfielder which has clearly affected his game.
Despite a poor season Marouane Fellaini is still an excellent player when played to his strengths. This was clearly evident in the game against West Brom where his goal saved Manchester United from blushes after coming on as a substitute.  Let us analyse the WhoScored stats of Fellaini starting from his last season at Everton to the current season and see how Louis Van Gaal can get the best out of him.
As we can see from the WhoScored stats, there are many talking points when we compare Fellaini's excellent season at Everton to the disastrous one at Manchester United and all of this relate to his inability to play as a box to box midfielder. A box to box midfielder is essentially recognised by his strength and technique to retain the possession, his ability to tackle and the vision to initiate an attack. It was logical to start Fellaini in the box to box role as he was one of Everton's best tacklers in the 2012/13 season and he has good technique to retain possession yet he miserably failed in that position at United which is quite surprising.
When we look at Fellaini's defensive stats we can find out that Fellaini has considerably improved in the defensive side of the game in 2013/14 as compared to 2012/13 season. He fared better than Yaya Toure who is one of the best box to box midfielders in the Premier League.  Fellaini has become a better tackler as compared to his time in Everton, in the 2012/13 season,  Fellaini made 2.6 tackles per game whereas during his time at Manchester United it has risen to 2.8 tackles per game. In the same time, Yaya Toure made only 1.5 tackles per game which is probably due to the presence of a mainstream defensive midfielder like Fernandinho behind him. Fellaini also made more clearances (3.3) as compared to his time at Everton (2.1). Fellaini's interceptions per game have also improved from 1.2 to 1.9. Thus, we can see that Fellaini has had to do a lot of defensive work due to the absence of a defensive midfielder which has clearly hampered his attacking game.
Fellaini has massively regressed in his attacking game as compared to his time at Everton and when compared to other top box to box midfielders like Yaya Toure and Jordan Henderson. The number of key passes by Fellaini is merely 0.3 which is very poor compared to his previous season (1.3), it is also very poor compared to Toure( 1.2) and Henderson(1.8).  Fellaini is not a great dribbler so it has stayed almost the same compared to his previous season (0.6) but its way lesser than Yaya Toure (1.2). Fellaini's shots per game were an impressive 2.9 shots per game at Everton but it greatly reduced to 1.7 shots per game.  Fellaini was essentially bought to be an attacking threat from the midfield but Moyes never played him to his strengths and he was shunned deeper which regressed the player.
Though the 2014/2015 sample space is a bit small to make accurate predictions, we can see that his defensive stats is less impressive as compared to 13/14 season which is mainly due to Van Gaal pushing him up the pitch. Fellaini's work rate upfront has helped United to press further up the pitch as seen in the Manchester City and West Brom match. As Fellaini's defensive contribution has reduced we can see that the key passes per game have significantly improved to 0.7 and his shots per game have also slightly improved from 1.6 to 1.7.
Fellaini has certainly showed us that it will be naïve to rule him out after hard working performances against West Brom and Manchester City but his main problem is the plethora of midfielders available to Manchester United. Angel Di Maria, Juan Mata, Herrera, Blind, Carrick etc play in and around the central midfield position which has given Louis Van Gaal a huge selection headache. Though Fellaini offers power and work rate he lacks the intelligence, leadership and vision of Di Maria, Rooney and Mata which unfortunately will result in Louis Van Gaal playing him deeper in the long run
. At present, Fellaini offers a different dimension as compared to other midfielders and can succeed as an impact sub but it will be difficult for him to get into the starting line-up as the attacking midfield is occupied by talents like Juan Mata and Angel Di Maria who are way more creative than him. Squad depth is certainly a necessity for United as their players seem to be made of glass so the presence of a physical and technical midfielder who certainly hasn't played his best game yet is a bonus that Louis Van Gaal shouldn't throw away.
Fellaini has all the attributes to turn into a fantastic midfielder like Yaya Toure but if he has to realise that potential then it is extremely important for Louis Van Gaal to buy a defensive midfielder in the mould of Mascherano or Matic to remove the defensive burden from his shoulders and maximise his attacking potential.