Three straight wins have catapulted Manchester United into fourth spot in the Premier League. The Red Devils will be looking to extend that run with a win against Stoke City, who have lost their last two games and won just once in the last five. Although they lost to Liverpool last weekend, they were victorious on their last trip to Manchester as they beat City 1-0.
Here are the three key battles that will decided the outcome of this game
Robin Van Persie vs Ryan Shawcross
Over the last few weeks, the Dutch striker has been maligned in the press and there have been doubts about whether he can still perform at the highest level. Saturday's performance against Hull should give Van Persie a lot of confidence and the Dutchman will be looking to add his tally of four League goals this season. While he may not have the pace he once had, he is still lethal in front of goal and poses a formidable threat for the visitors.
Rumours linking Shawcross to Manchester United wouldn't have pleased Mark Hughes as the manager will be looking to hold onto his best defender and captain for as long as possible. Shawcross will have to be on his A game on Tuesday, if he is to not just keep Van Persie at bay, but also limit the number of chances that are created.
Chris Smalling vs Mame Diouf
At the start of the season, there were many questioned whether Smalling was good enough to be a regular in the squad, let alone start every game he is available. But after a bad start, that included a stupid red card against Manchester City, the Englishman has shown plenty of composure in his last two games. Against Arsenal, he brilliantly marshaled the three-man defence and although he didn't have too much to do against Hull, he displayed his positional discipline and ability on the ball. The former will be crucial when he comes up against Diouf.
Because if there is one thing that defenders hate, it is fast strikers as it not only drags them out of position, but also leaves the side exposed at the back leaving room for others to join in. The former Manchester United man will be keen to make his mark on the club that let him go and show that he has what it takes to survive in the Premier League. Stoke's joint-top scorer will be looking to add to his tally of three League goals and halt his former side's progress.
Juan Mata vs Bojan Krkic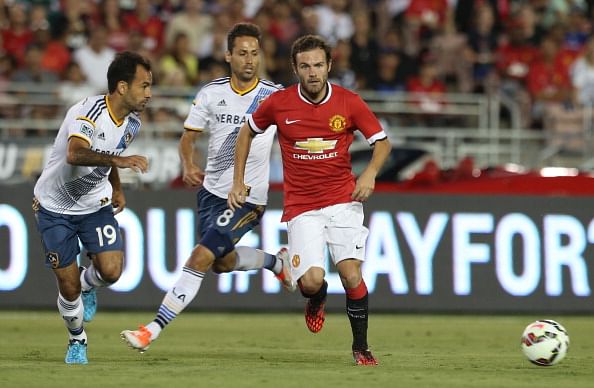 Injury to Angel Di Maria means that Juan Mata will certainly start against Stoke and that pits together a fascinating clash between two brilliant playmakers. Both players started out in Spain and both will be looking to orchestrate the attacks of their respective teams. Bojan Krkic and Juan Mata will both know all about each other from their Barcelona and Valencia days and it will certainly be interesting to see who comes out on top in this battle of two magicians.
Although Bojan only has one goal and an assist to his name this season, his performances have been much better than that. The Spaniard has established himself as the link between midfield and attack and will be key especially in a game in which Stoke won't have too much of the ball. Mata has always done well for United, but such are the plethora of attacking options available at United that he hasn't always had a run of games in the starting line up. With Di Maria, the Spaniard should finally get that opportunity and the home side will be hoping that he continues his bright start to the season.