David De Gea vs Thibaut Courtois : A Comparison of two young superstars
David De Gea has been in the news for his great form and contribution to Manchester United's victories this season. With a poor defence due to injuries to key players, Man Utd are often left open at the back but their acrobatic goalkeeper De Gea has saved them from over-conceding and has thus emerged as one of the best keepers not only in the Premier League, but also in the world. Thibaut Courtois on the other hand has been playing with a top notch Chelsea defence which has been unlucky or unfortunate to concede 11 goals this season. Courtois has been consistent with his displays but the team showed a tendency to concede late goals as the focus dropped. Both are key members of the team and are two of the best keepers in the world. Here is a comparison between the two, and also world's best keeper Manuel Neuer is considered as a reference point.
How Goalkeepers work:
Goalkeepers of top teams are usually not involved in the game for long durations of the play. But they have to be of the finest caliber and composure when their opponents come with shots out of the blue. Out of the world Manuel Neuer saves an astonishing 7.67 times before conceding a goal while Thibaut Courtois and David De Gea save 1.9 and 1.8 respectively. While this season has seen an upheaval of saves made by David De Gea, Thibaut Courtois has edged him in the saves per goal category. Chelsea's overall domination in the game has been strong meaning Courtois is often left alone at the back, and has shown the composure to stop at a better rate than De Gea even when we consider that aspect.
But, De Gea has 27 saves in comparison to Courtois' 19. That's a healthy number of saves which makes the stats latent as higher number of shots against the team, which leaves the keeper with an obviously higher chance of conceding goals, as the game against Leicester alone cost Man Utd 5 goals thus disrupting De Gea's stats. Courtois has 38 catches to his credit whereas De Gea has 28. While the stats really don't matter to that extent that we start detailing on every aspect, we just need to understand that De Gea is an acrobatic keeper while Courtois is a traditional one. Plucking the ball from mid air is Courtois' specialty while depending on reflexes to make an instinctive save is De Gea's. When we add the number of catches and saves, which account to goalkeeper's main actions, both De Gea and Courtois accumulate similar numbers.
Who's in better form?
Obviously, David De Gea. While Courtois has been consistent and no-nonsense in his comfortable Chelsea life, De Gea has been the 'backbone' of Manchester United wins, even more influential and decisive than record signing Angel Di Maria. His saves have often been the reason why Man Utd could grab some crucial points to be at a stage where they currently are. His crucial saves against Arsenal, Chelsea, Man City and Everton have been important to the points gathered in these tough games.
Who's better, then?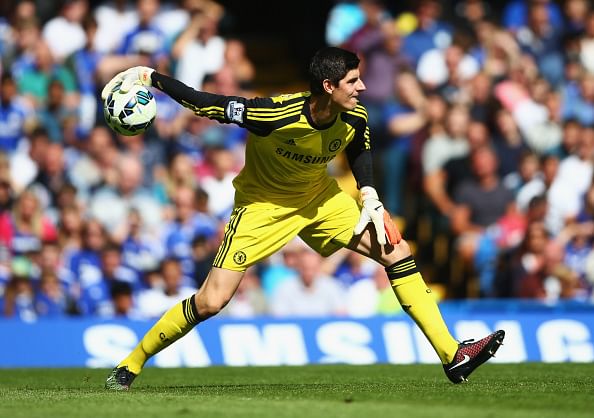 Undoubtedly, the Chelsea star. He has proved himself against the best of attackers last season against Messi, Ronaldo etc when he played for Atletico Madrid on loan. It is interesting to note that De Gea used to play for the same team before joining Man Utd, but Atletico Madrid showed sheer resilience at the back in Courtois' time as they went on to win the league and finish runners up in the UCL, something which didn't happen when De Gea was in the club. Secondly, Courtois' style is based on reading the attack and positioning himself to save or catch. David De Gea is more of an instinctive goalkeeper who enjoys his best as the ball is shot at him multiple times in the game. His focus was never a strong point in his keeping style as despite having good distribution stats, his clearances and passes under pressure have been poor. In the very basic aspect of the composure, De Gea is slightly behind Courtois. In the battle between the acrobatic and the traditional keeper, the Belgian orthodox edges with a slight advantage of being consistent in the past few seasons.