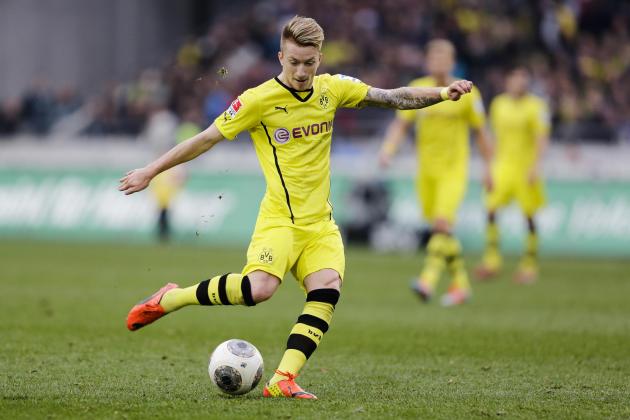 It finally looks as though the end is nearing for Marco Reus at Borussia Dortmund. Although the attacking midfielder still remains an integral part of Jurgen Klopp's team, his contract runs out in 2016 and he is yet to put pen to paper on a new deal with the club. While that alone isn't particularly bad news for Dortmund, the fact that the 25-year-old has a £20 million release clause which is activated in 2015 means that the club will once again be left powerless should the influential Reus leave the club.
While Dortmund might not be able to stop him from moving away from the club, they might certainly be able to ensure that he does wind up at Bayern Munich unlike Mario Gotze and Robert Lewandowski. While the duo left Dortmund for Bavaria, Reus has a lot more options available to him, should he decide to leave the club.
With a whole host of Premier League clubs, clamoring for his signature, it wouldn't be a surprise to see the German international wind up in England in the not-too distant future. While there are plenty of clubs that want him, where would be the best place for the attacking midfielder to go? Let us take a look at who his options are and where he will be at home.
Arsenal
The Gunners are long-term admirers of the German playmaker and would certainly welcome him to the club. But the problem for Reus comes from the fact that the Gunners already have plenty of players who can not only play in attacking midfield, but also in his preferred position on the left side of midfield, cutting in. Although he is injured, Theo Walcott once he regains full fitness will be the first-choice to play on the right side of the pitch leaving the likes of Alexis Sanchez, Santi Cazorla, Ox and Lukas Podolski to fight for that left-sided spot and any move for Reus will be dependent on either selling anyone of the above mentioned players, which seems unlikely or moving him into a more central position. So a move to the Gunners seems pretty unlikely.
Chelsea
The Blues have suddenly emerged as the front-runner for Reus with Jose Mourinho reportedly interested in offering Andre Schurrle as a part of a swap deal. While that would no doubt interest Dortmund, it is very likely that the move might not be of much interest to Reus. Although he can play anywhere in attack, Reus' proclivity towards the left flank, which is currently occupied by Eden Hazard means that unless the Belgian leaves, the German international will have to play in a position that he doesn't particularly prefer. Not only that, Mourinho's preference for discipline means that Reus will have to defend from the front and stay in shape and that might end up hindering his creativity going forward.
Liverpool
Arguably the side that has been interested in signing the German playmaker right from the start has been the Reds. While they have consistently maintained an interest in Reus, their dismal record so far this season might prompt the midfielder to think twice before choosing to sign for the Reds. Having already splurged a lot of money in the summer of 2014 buying plenty of attacking players, it would certainly be a surprise if they add another. And not only that, a move to Liverpool, who aren't Champions League regulars and aren't likely to compete for the title each season might seem like a step down for the 25-year-old, who will be looking to challenge for trophies in his next club.
Manchester United
Already this season, the Red Devils defensive deficiencies have been clearly highlighted. But that certainly isn't going to stop them or Louis Van Gaal from going for one of Europe's best and most versatile playmakers. While the Red Devils certainly have the money, in Angel Di Maria and Juan Mata, they already have two world class attacking midfielders and unless they decide to sell Mata, Reus is going to be an expensive bench warmer, much like Shinji Kagawa was during his time at United. But if he does arrive, he would certainly be a marked improvement on their current wingers and his versatility means that he fits in perfectly with Van Gaal's vision for a more dynamic United.
Manchester City
Of all the clubs in the list, if there is one club that has the money and has a definite place for Marco Reus in the starting lineup it is City. Not only do they not have a genuine left-sided attacker, the club also have the squad to challenge for trophies both domestic and in Europe. Reus would add pace, dynamism and versatility to the flanks for City, which they have certainly been lacking this season. Although David Silva has been deployed on the left, the arrival of Reus might force the manager to go with a five-man midfield with the Spaniard and the German interchanging positions and creating havoc on opposing defenders.