When you look back at the pages of history from the memoirs of Manchester United, one would most certainly find Paul Scholes at the top of the list of the greatest players to have played for Manchester United. As I write this, my hands have a certain numbness and I do have a faux pas regarding Paul Scholes.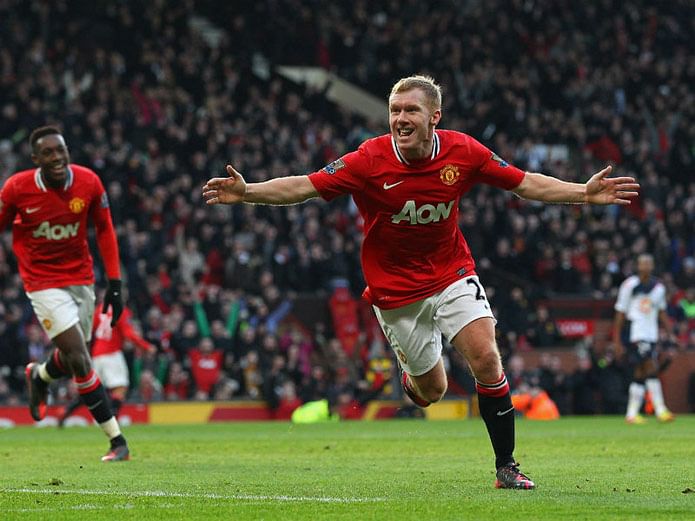 Of all the players that have left United, the one person whom we United fans miss the most is Paul Scholes. Ryan Giggs may have been the player with most appearances and the longest serving player but no matter what, Scholes will always remain the best of the class of '92.
Describing Scholes with words would not be enough, Scholes was a class act. His touch was golden, he had the ability to run the game in a way no one else could. In a nutshell, Scholes was the greatest player ever to have come out the United academy. I could continue with such praises but let's stop and take a look at 5 facts about Scholes you potentially didn't know.
Paul Scholes bought boots from a local store for Manchester United comeback
When he knew he was going to make a comeback for United in the FA Cup match, he had a plethora of problems. While the more important ones like his fitness were sorted out, he didn't have boots to put on and play.
So, what would a normal footballer have done? He would have called up his sponsor and made the request. Scholes, who had always chosen to play down things went up to the local store and purchased a new set of boots for £40.
And indeed, he wore the same while making his return against Manchester City in the FA Cup. Now, that's Paul Scholes for you!
He has been booked more times than he has scored.
Every great player has a flip-side. For everything that Scholes represented, there was always a negative. It was his tackles. Cannavaro was famous for his perfectly timed tackles. Scholes was famous for his perfect miss-timed tackles.
And what a record he had. For a player of his caliber, his bookings count outnumbered that of his goals. He is the third highest booked player in the Premier League with 99 tackles and he ended his career with a fitting swansong, a final yellow card on his last appearance.
Zidane has said that his greatest regret was never playing with Paul Scholes
When Zinedine Zidane speaks highly of you, it certainly means you are a great player. When he says his greatest regret was never playing alongside you, then you are something special.
And no denial, Paul Scholes was something special. "One of my greatest regrets is that the opportunity to play alongside him never presented itself during my career.", said Zidane. Now, that certainly asserts the fact that you were no ordinary player.
Scholes became the first and last England player to be sent off in an international match at the old Wembley Stadium.
The old Wembley stadium in England was built in 1923 and destroyed in 2000 for it to be reconstructed. That legendary arena had bore witness to a plethora of events across those seven decades.
While football was the primary, there were a lot of other events too. However, Paul Scholes remains the first and last player to have been sent off at the Old Wembley Stadium in an international match. Having performed another of his infamous tackles, he was sent off and remains the last player ever to have been sent off on that iconic ground.
Paul Scholes was once out of the team because of blurred vision
The thought of Paul Scholes clouds your minds with visions of those famous diagonal passes and stunning long range goals. Scholes, to his credit was like an eagle. His balls would rise in the air and swoop down to the leg of the intended target.
What if I were to say that a man with such an eye was once on the doctor's table for blurred vision? Well, that's true. In 2006, the second half of the season Paul Scholes had developed blurred vision and was ruled out for a good four months.
Thankfully, he got his sight back!
Courtesy of Paul Scholes