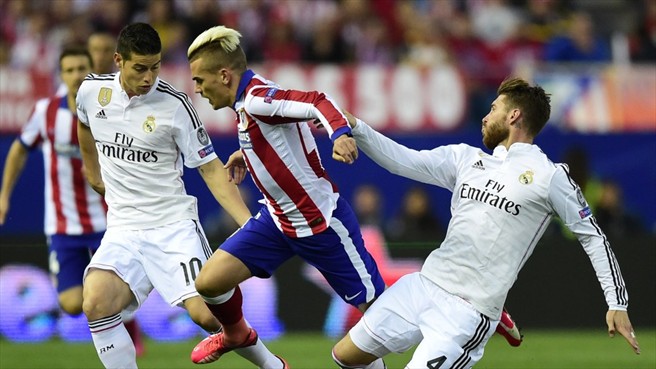 Contender teams are always looking for ways to improve their rosters in order to stay relevant for years to come, so even if there's still more than half of a season left, it's already time to start to think in the future, and try and figure out where some stars could wind up if they decide to leave their current teams.
One of the most desired players in the world right now is Antoine Griezmann, as the french forward has been getting better and better as years go by ever since he started to show what he was capable of during his stint at Real Sociedad.
Now under Simeone's command at Atletico Madrid, Griezmann has become a steady frontrunner for the Ballon D'Or award, scoring goals at will while also having the ability to create spaces for his teammates and make everybody around him play really better.
So, there's no surprise that the greatest teams in the world are going to be in the hunt for the talented striker, although he has committed to stay with Atletico Madrid for the time being, but you can easily tell he's more than ready for a bigger challenge with a better team, and a move to the Premier League could provide the boost that he needs in order to finally be considered the best player in the world.
The 25-year-old has been linked a couple of times with Manchester United, and given the fact that some of his teammates from the France national team (Paul Pogba, Morgan Schneiderlin and Anthony Martial) are already having a nice time at Old Trafford, it wouldn't be a surprise if they manage to recruit the talented youngster.
However, Chelsea has reportedly emerged as a strong contender to acquire the services of the speedster as well, and it wouldn't be shocking either to see him land at Stamford Bridge.
So the only question left to ask right now would be: Should Griezmann choose Manchester United or Chelsea, only and only if he decides to leave Atletico Madrid?
Actually, both choices would be great for the French, as a guy as talented as him could easily shine whenever he decides to go, but let's take a look at some details that shouldn't go overlooked.
He could have less competition for a starting spot if he decides to move to Chelsea, as Diego Costa is always rumoured to leave the club every now and then and Michy Batshuayi hasn't been able to live to the expectations, so he would continue to go as a backup if Antoine winds up as a blue.
If he decides to go to Manchester United, he could be playing out of position, although he's shown great ability when playing as a winger instead of a "pure" striker. However, this situation could change if Ibrahimovic doesn't renew his contract with the Red Devils, something very likely considering how poorly he's performed this year.
Griezmann's a very quiet and calm guy, and the 25-year-old could enjoy a best time playing under Conte's command than for Mourinho's team and given the different personalities that both managers have, I think we could all chose the Italian in the blink of an eye.
On top of that, playing at Chelsea could ease a lot of pressure from his shoulders, as playing alongside Eden Hazard and Willian, a couple of speedsters, could make a mess of opposing defences if they combine well with Griezmann.
If he chooses to play at Old Trafford instead, he'd be asked to contribute right away and after a couple of lousy seasons, you know fans aren't going to be patient with a guy that could be as expensive as 80 million.
Having said that, we firmly believe that Chelsea would be a much better choice for the Frenchman, but it's going to take a lot to convince the talented forward to leave Diego Simeone and his Atletico.