Final Score: Liverpool 5-0 Swansea City
Liverpool thrashed a hapless Swansea City side 5-0 and scenes of jubilation engulfed Anfield as a sea of happy Reds received the perfect Christmas gift on Boxing Day. This victory will further solidify Liverpool's chances of a top-4 finish and the 3 points came at quite an important time. Goals from Philippe Coutinho, Roberto Firmino, Trent Alexander-Arnold and Alex Oxlade-Chamberlain ensured Klopp's men came out with a stunning victory.
However, this puts further stress on Swansea but the home side deserve full credit for their splendid performance. Here's a look at how each Liverpool player fared.
Liverpool Player Ratings
Simon Mignolet – 7/10
Mignolet literally did not have much to do throughout the game since Swansea barely showed any signs of attacking.
Trent Alexander-Arnold – 8/10
He scored his first goal at Anfield and made a magnificent finish to see the ball in. His passing was top-notch as well.
Andy Robertson – 6.5/10
Faced some trouble from Routledge but he made a couple of important clearances quite well.
Ragnar Klavan – 7/10
After months of backlash from fans, Klavan did admirably well tonight. He looked physically imposing and stuck to the basics and made some convincing blocks.
Joel Matip – 6.5/10
Matip seemed a bit rusty and failed to keep McBurnie away from the goal. He was lucky that Swansea did not have a threatening attack.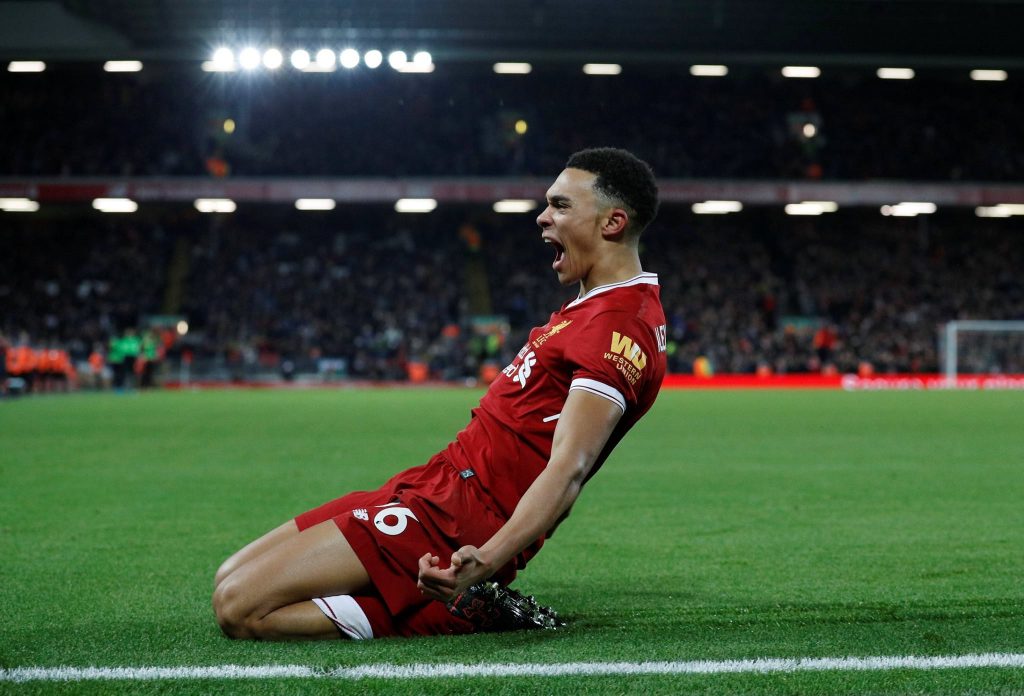 Emre Can – 7/10
Can lay really deep and did decently enough but he lacked speed on certain occasions. Arguably, it was not needed in this game but that is something he will need to work on in the upcoming games.
Georginio Wijnaldum – 7.5/10
He used his physical strength to burst on to the scene with energy and established a strong dominion in the middle of the park. Provided a lot of support to the attackers.
Alex Oxlade-Chamberlain – 7.5/10
Oxlade-Chamberlain scored a stunning goal and was more influential as the game was drawing to a close. He did have a few shaky moments but that goal outweighs it all.
Philippe Coutinho – 10/10
Coutinho seems unstoppable when it comes to scoring goals and he did it again. He was a delight to watch against Swansea and displayed some beautiful skills near the Swansea box.
Roberto Firmino – 9.5/10
Firmino boasted of a crazy work-rate in this game and it reflected in his performance. He scored 2 goals but should have ideally netted some more.
Mohamed Salah – 9/10
Salah displayed excellent flashes of being a team player as he unselfishly created and set up opportunities for the likes of Coutinho and Firmino. He continues to be a lethal attacker for the Reds.
Subs:
Adam Lallana – 6/10
Lallana was decent and did his duty well while sticking to the basics.
Dominic Solanke – 7/10
Solanke got close to scoring and is likely to be dejected to have missed out but his performance was quite encouraging.
James Milner – 6/10
Came on quite late to man the left-back area but he put up a good show.