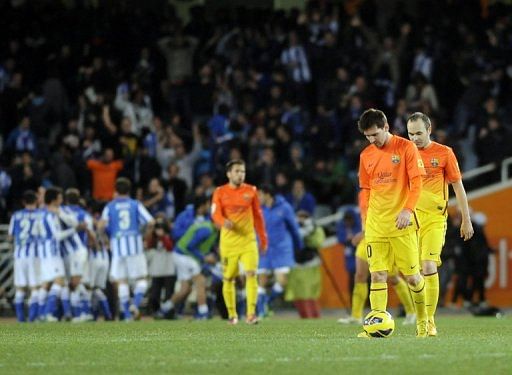 Maldita Anoeta. Cursed Anoeta. Real Sociedad's stadium may have some special antidote against the mighty Barcelona as the Blaugrana haven't won here since May 2007. Despite La Reala didn't play in the Primera Division for three years (2007-2010), Barça have not managed to get more than a draw in the last four meetings held in Donostia : last season, in January 2013, they ended here their run of 19 games without losing and just over one year later Blaugrana experienced another blow, losing 3-1.
However, while in the last campaign Barça were comfortably at the top of La Liga – Real Madrid had already given up the race and Atletico Madrid were well away from being title's contenders – the defeat may pay its high price. Real already took advantage, beating Elche at home 3-0, however Atletico suffered an embarrassing defeat at the hands of Osasuna. The Colchoneros's defeat means a life line to the Catalans who are now level on points with them and lie second in the table – 3 points behind Real Madrid. A gap that may require special efforts to be reduced : in other words they have to win against Real and Atletico and both games will be played away. Not the easiest task to complete.
The unexpected defeat came just four days after Barcelona's escape from Eithad Stadium with a massive 2-0 win at Manchester City's expense. Tata Martino decided that he could give some players a rest and from the Champions League's clash Dani Alves, Cesc Fabregas, Javier Mascherano, Alexis Sanchez and Xavi all were sitting on the bench while Jordi Alba did not make the squad because of an injury. Barça had several choices and understandably Martino thought that a turnover might have been the right decision. But eventually it wasn't a good one.
An uncommon midfield 
Alex Song replaced Xavi forming a double-pivot with Sergio Busquets in front of the back-four. But the technical skills of the former Arsenal player are not the same as of the Spanish maestro and the build-up was slow, predictable and gave Real Sociedad time to organize themselves. Moreover, Busquets' job was not only to shield the defense –that he does magnificently – but he also had to set the tempo.
On the other hand, Real Sociedad were not just good defensively. They took advantage from Barça's uncommon midfield to play their own game with Carlos Vela, Canales and Antoine Griezmann willing to raiding through the visitor's defense.
Old mistakes
The bad day for Song coincided with an own-goal that gave the hosts the lead, but the loss is not just his fault. Barça has recently conceded goals easily from corners, set-pieces or lateral crosses and this trend seems not coming to an end.
The first goal came shortly after a corner, the second after a long ball played directly from Real's keeper Claudio Bravo, and the third after a delicious cross from Griezmann, whose ball cut Barça's defense to find Zurutuza in the box. Marc Bartra may be guilty for missing a clearance in the second goal, but who has to marshal the department, Gerard Piqué, appeared to be in one of his lazy days – they are rare but systematically occur – when he looks constantly sloppy and opponents pass him as he'd be a Sunday league player. And even Victor Valdes, another from whom is expect to give security to fellow mates, did not perform as his usual standards.
Tardive changes and Neymar's poor contribution
Martino made his changes with his team already trailing 3-1. Fabregas replaced Song and later on Sanchez took Montoya's place but Barcelona weren't able to make any sort of comeback. Indeed, La Reala were closer to score the fourth rather than Barcelona to reduce the gap, when Vela hit the post in the last minutes.
In attack Andres Iniesta and Leo Messi were fine. They didn't play bad, Iniesta offered his usual generous performance while the Argentinean scored a fine goal for the short-lived 1-1. But with Pedro lost on the right wing, Neymar complete out of action and with the build-up too slow, spaces for breaking into Real's defense were limited.
The Brazilian starlet came on the pitch in the final minutes at Eithad in midweek but when called to act as titular he missed a good chance to shine. The last match he started was against Villareal on December – when he scored twice- and since then Neymar played just 60 minutes in more than two months, coming as substitute against Elche, Atletico Madrid and Rayo Vallecano. While his overall contribution so far has been sufficient, he still needs to improve further his game. At the moment he looks like to be a good reserve but it's clear that he's not just a good reserve : he's the future of both Barça and Brazil and he need to show all his abilities that make him a football star.