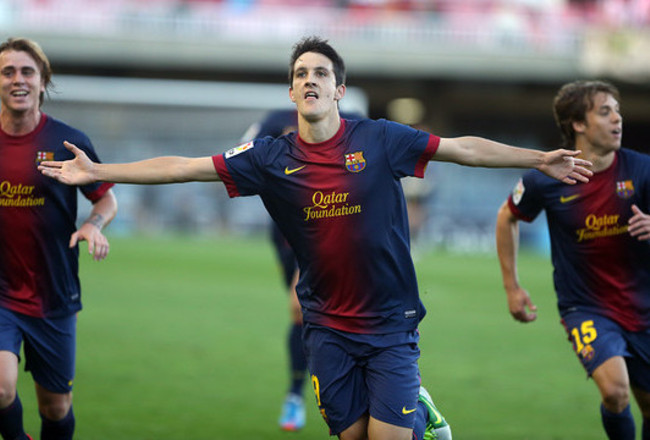 Liverpool do not have a huge budget this season and if rumours are to be believed Brendan Rodgers has been handed a slim £20million to bring in suitable players to Anfield. However, this scenario may soon change if the club decide to sell Luis Suarez to Real Madrid for a heft cash and hence feel the utter need to buy a star player.
But till then what Brendan Rodgers would be trying to do is scout for the most talented youngsters from across the globe, sign them for a very nominal fee and try to improve them on a long term basis. Judging by all these, one player who fits the bill perfectly at Liverpool now is current Sevilla midfielder, Luis Alberto, who is with Barcelona B on a loan deal.
 Alberto, according the Daily Mail, is reported to be close to a £5 million transfer to Liverpool , in a deal which could rise to £8 million.
Alberto who is now a part of the Catalan B side mainly plays as a central midfield, a very vital position in Rodger's preferred style of play. He can operate as a winger too but from the centre of the midfield he has showed his real capability. He has turned everyone's head with his ball control and his precise passing and it has been established that Alberto is ready to play for a bigger club.
The Liverpool team now boasts of a number of talented players and Alberto would certainly be one excellent addition. Although it might be difficult for him to break into first team at once, gradually Alberto can develop as one of the most competent midfielders of the Premier League.
The most important reason as to why Rodgers is chasing Alberto is because of the price that Alberto would command. He has been priced at £5-8m and Liverpool will be hoping that with Alberto also, they will be able to make the same kind of business as they did with Coutinho. Although this is just a rumour at this stage, but still the Kop fans will be pretty optimistic if Liverpool finally manage to bring Alberto to the Merseyside.
If Liverpool do manager to lay their hands on Luis Alberto, it surely does not mean the job is done, but it sure does start their Transfer window. Rodgers have once again vowed not to make the same mistakes in the transfer market as Liverpool did in the previous seasons and has mentioned that he looks to add another 20-goals to the team and fight for the top-four berth.
'I'm looking to bring 20 more goals into the team,' said Rodgers. 'I'm looking at another offensive player to give us a real threat on goal and another attacking midfield player. We definitely need to do that, especially if we're going to put some young ones out on loan to gain experience.

'But it's not easy when you can't make mistakes. We want to keep the acceleration and pushing on, so this is a very important window for us in the summer. We have to do our best to make it right, because the players who need to come in have to be effective right from the off.'

'I'm not here to be comfortable, to sit and earn the money and just enjoy being the Liverpool manager,' Rodgers explained. 'There's a pressure that comes with (the role). And I believe we're in a much better place to do that. What we showed last season was promise.

'There were moments of disappointment and moments of delight but when I look at the reality of it, we scored 47 goals last year and this time got 71 — and we hope to add to that amount. Defensively for a team that was supposedly very strong last year we've only conceded three more goals.

'So in terms of numbers, and performance wise, then we have improved. I believe we will improve again and we have to because we want to sustain a challenge. I think we can do but it will be a tough ask because as we improve other clubs will have masses more money to improve also.

'But I believe we have built a real good base this year. It's not my job to look for excuses, I have to find the solutions to try and push us in there and I believe we won't be too far away.', concluded the manager.