For the 1st time since early May of 2014, Merseyside giants Liverpool went top of the league following weekend's emphatic 6-1 thrashing of Watford.
The win is Liverpool's 8th of the season, and after 2 draws and a loss, Klopp's side has accrued 26 points. But how do they compare to Brendan Rodgers' Liverpool of 3 seasons ago?
Liverpool were close to grabbing their first ever EPL title with 2 weeks to the end of the season at the time, but a draw and loss in their last 3 fixtures saw them finish as runners up behind Manchester City, coming just 2 points short.
This term, their early fine start has risen hopes once more, and many already tip them to emerge title champs. It was the same feeling in 2013-14, and here is how Jurgen Klopp's Liverpool compare to Brendan Rodgers' Premier League runners-up.
Position after 11 games
In the 2013-14 season, Liverpool were 2nd on the log, 2 points behind Arsenal at this stage of the season. After 7 wins, 2 draws and 2 losses, Rodgers' charges had acquired 23 points.
They had scored 21 goals – 1 less than Arsenal and conceded the same number of goals (10) as the Gunners.
This time around Liverpool have scored 9 more goals than they did 3 seasons ago, and have conceded 4 more.
While they have become more slick and lethal in the final third, questions have been raised about their defensive capabilities.
And the calls for such concerns would probably be addressed as the season goes with the manager keen to make necessary adjustments in the team's pursuit of glory.
Starting XI
Back then, Rodgers' side boasted of being 1 of the best squads at the time. With the defensive quartet of Flanagan, Sakho, Skrtel and Johnson all in their prime providing cover for Mignolet, the rearguard was more than assuring.
In a midfield of 4, Gerrard played at the base of midfield, and was flanked by Henderson and Coutinho by the right and left respectively. Raheem Sterling played in a number 8 role behind the striking duo of Suarez and Sturridge.
Under Klopp, there has been massive changes, with Mignolet behind Karius in the pecking order, while Matip and Lovren have replaced the former centre defensive duo.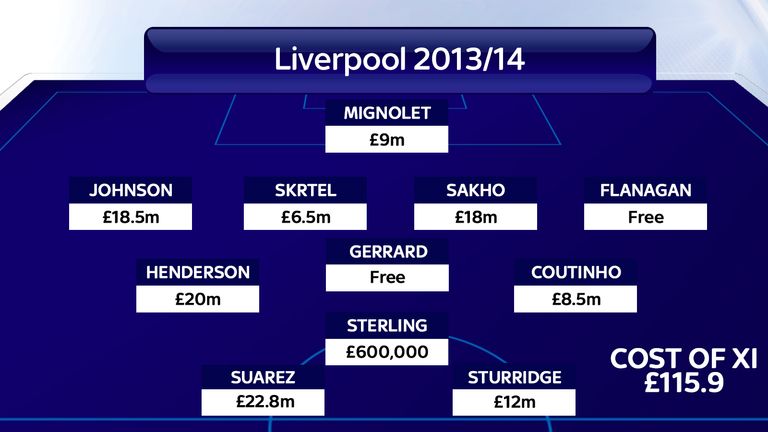 Clyne and Milner play as the full backs cum wing-backs, providing more attacking firepower to the midfield trio of Lallana, Henderson and Wijnaldum.
Sturridge hasn't been able to stake down a starting berth upfront, with Firmino being deployed as a makeshift centre forward, while Coutinho and Mane take up the left and right wings respectively.
Squad cost
Under Rodgers, the squad cost £115.9 million with Suarez being the most expensive at £22.8 million, while Sterling – the least expensive cost £600,000. Gerrard and Flanagan were the only Liverpool Academy products within the starting XI.
At the moment, the squad costs £180.7 million with summer signing Sadio Mane, the costliest at £36million. German goalie Karius arrived for £4.7million, with Matip arriving on a free this summer, while Milner arrived last summer on a free from Manchester City.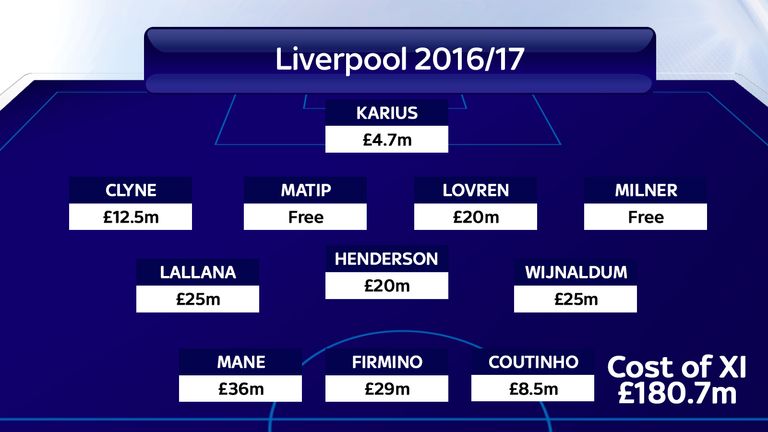 Major goal providers
Liverpool relied heavily on their striking duo for the goals under Rodgers, with Suarez bagging 31 league goals, while Sturridge provided 21. The 2 were responsible for more than half of Liverpool's total goals (101).
After 11 games in 2013-14, only Gerrard, Victor Moses and Martin Skrtel had joined the aforementioned duo on the scoresheet.
But the team has a lot of goalscoring threats this term, with only Clyne the only 1 of the regulars not to have found the back of the net. The sole goal providers are the team's attacking trio who have bagged 16 strikes in between them already. Accounting for more than half of the total.
Similarities
Liverpool have kept only 1 clean sheet this term, and if there is anything they have in common with Rodgers' side, it's their defensive shortcomings.
Despite scoring freely at the time, a draw at Selhurst Park where they gave up a 3-goal lead within 9 minutes jeopardized their slim chances after the 2 – 0 loss against Chelsea in the penultimate game of the season.
Similar paths are being threaded this term, and history almost repeated itself at Crystal Palace home some 2 weeks ago. Would their lack of steel at the back haunt them once again?