Liverpool vs Manchester United: The Best Combined Playing XI 
In a battle where sparks fly, tempers rage, red cards rise and a team prevails, England will once again be the centre of attention of the world of Football as Liverpool host their most bitter rivals Manchester United at Merseyside. While the game provides many mouth-watering clashes, one of the top amongst them is the tactical battle as the king from Manchester will be ready to gain the upper hand over the newly arrived of Merseyside. In simple words, Louis Van Gaal will take his side to Liverpool to outwit Jurgen Klopp's Liverpool and Manchester United will have all their eyes set on a possible double over their hostile foes.
Both the teams are experiencing hard times with injury stricken teams so the tactical battle will be the key here over the star-studded line-ups.
Now let us take a look at how the best combined playing eleven would be.
Formation: 4-4-1-1
Goal Keeper: David De Gea
Anyone who wants this man to not start would surely be deluded. Shot-stopper and one of the most promising talents in Europe, David De Gea is the heartthrob of several Mancs and playing him here is the best as he can pull off some stunning saves. It is also justified because Liverpool have been having problems in the Goal Keeping sector with both Bogdan and Mignolet committing errors before.
Right Back: Nathaniel Clyne
The young English right back who announced himself at Southampton has been promising so far for Liverpool. Silent but still Clyne has been an important player in this Liverpool squad by not only maintaining the defence on the right side but also progressing forward to add to the attack.
Centre Backs: Smalling & Blind
Having maintained clean sheets for a long time at the start of the season and considering Liverpool's injury woes at the back Chris Smalling and Daley Blind are the ideal centre-backs for this match.
Left Back: Ashley Young
With both Luke Shaw and Marcos Rojo out for United and Matteo Darmian not promising at the left back position, I would still prefer Ashley Young ahead of Alberto Moreno because Moreno can be quite vulnerable and he has been beaten several times while on the contrast, Young has been a vital part of defence and his crossing ability as well as the nature to rush forward cannot be neglected.
Central Midfielders: Bastian Schweinsteiger and Lucas Leiva
Both these Central Midfielders can prove to be really solid in the possessive play. While Bastian can move a little forward and provide penetrating passes, Lucas can cover up the defence as well as win the balls back at crucial moments. The Intercepting ability of both the players is outstanding!
Right Winger: Roberto Firmino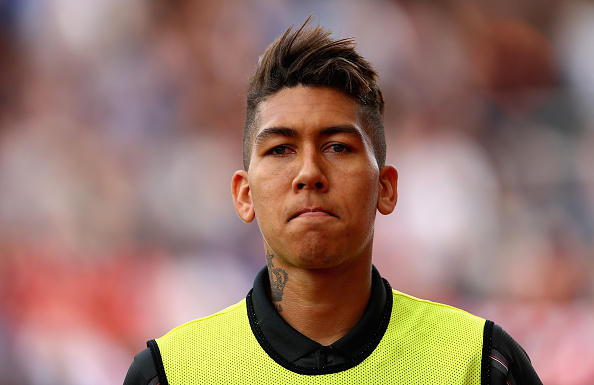 Scoring two massive goals against Arsenal and considering that Manchester United has never had a pure Right Winger after Nani's departure and also keeping in mind Valencia's injuries, Roberto Firmino is a must play here. His ability to tear forward and also play selflessly is an essential feature that tilts in his favour.
Left Winger: Jesse Lingard
The young starlet of Manchester United has been so promising this season. His adorable take-ons, crosses are one you just can't resist as a striker. One of the key features of Jesse Lingard is that he is a complete team player.  His passing at important times and also an eye for players makes him an ideal player to join this eleven.
Centre Forward: Wayne Rooney
As they always say, Form is temporary and Class is permanent. Wayne Rooney returns to Merseyside having scored 3 times in his last 3 games which includes two clinical penalties and a gorgeous goal. Regulation of the play, Clinical finishes, passing. Well, you name it and there is nothing that "Wazza" can't do on a football pitch. The name itself cannot be neglected and Rooney as a centre forward behind a striker has seen a nod of approval from many pundits.
Striker: Anthony Martial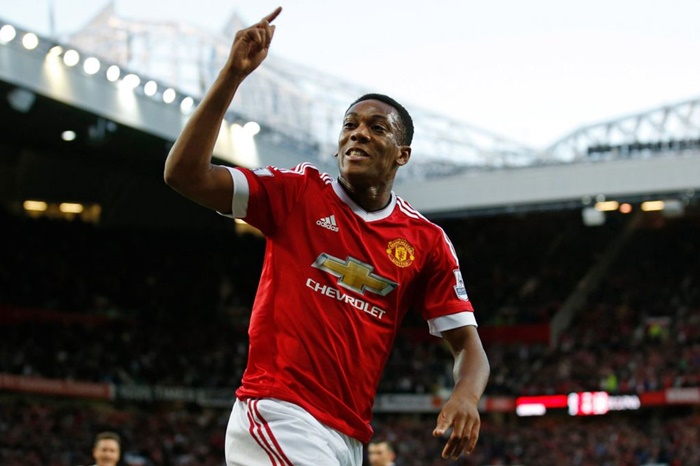 Well well well, who can actually forget the way the lad announced himself against Liverpool themselves? Anthony Martial is on a dream run. Scintillating with his feet and blistering with pace, the lad can do the unpredictable whenever he gets inside the box. Ahead of a below par Christian Benteke, Martial is sure to catch all attention in this playing eleven at the top half of the pitch.