Champions League is a serious business and the Liverpool management would do themselves a favour if they get the drift early. Their squad needs adequate strengthening and they must have backups for all positions. That does not exclude their much talked about strike force SAS, which have been a menace to all the teams in the Premier League this season.
Luis Suarez is fighting an injury after a very successful campaign and he underwent an operation yesterday. Although it is expected that he would be back in time for the World Cup slated to start in less than a month, these injuries always take a toll on the players and their forms and nobody knows what his exact condition will be. Daniel Sturridge, on the other hand, is an injury prone player and depending on him as the lone striker of the team is never a wise decision.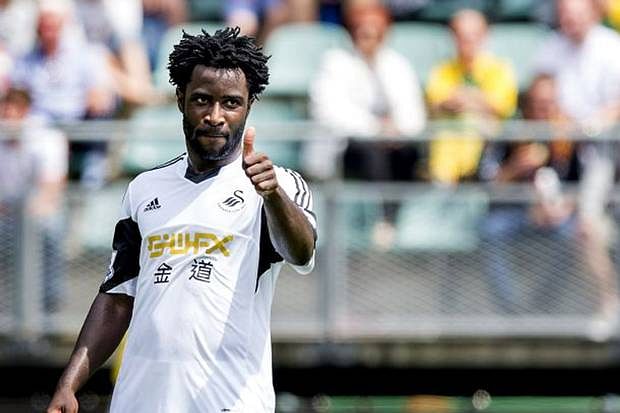 In this scenario, it would surprise none if Liverpool go for that additional striker to increase their squad depth and cover up for the injuries. They certainly have a couple of names on mind with QPR player Loic Remy one of them. But as per sources, they have already made a bid of £18 million for Swansea man Wilfried Bony to lure him to Anfield.
Bony was purchased by Swansea last season from Vitesse for a fee of £12 million, which is the club record. He was supposed to be the star man for Michael Laudrup in a rejuvenated Swansea after their impressive showing a season before. After making the move, Bony has so far played 34 games for the Swans and scored 16 goals in the league, impressive by the standards of a player dealing with the hustle and bustle of the Premier League for the first time.
The 25 year old has shown great physical strength, bullying the defenders with his pace. He has also been accurate in front of the goal and his long range shots have been tough to deal with for the goalkeepers. Liverpool, who at times lack the utter physicality in their squad, a primary reason being the age of most of their midfield, could use a player like Bony in their ranks quite well. He would add to that extra factor that they have been missing this season and times and because of which they have faltered against lower ranked oppositions.
Bony is a regular for his nation Ivory Coast and playing alongside the likes of Yaya Toure and Didier Drogba has made Bony an even better player. His team would depend on him in the world cup and a lot of their good showings in the cup would depend o whether Bony remains in his top game.
It is true that Liverpool have Fabio Borini in their ranks who have been extremely impressive for Sunderland this season, but Borini is still an unfinished product and relying on him to deliver in the Champions League could prove costly. In that respect, Bony could prove to be a vital asset for Liverpool and they should grab him at the earliest.