As we've discussed in previous posts, the major title contenders will be looking to improve their already great rosters in a couple of months in order to have a major chance to compete for every single competition they face, especially the English Premier League, that has at least five different teams fiercely fighting for some silverware.
Teams like Chelsea, Manchester City, Manchester United, Tottenham Hotspur, Arsenal and Liverpool are going to be on the hunt for some talent during this January's transfer window, but owners won't let them have their key players the easy way, so expect some jaw-dropping big expenses in a couple of months or so.
The team that's probably looking for more pieces to improve an already scary offensive side of the pitch is Jurgen Klopp's Liverpool, who's already been linked with Italian roadrunner from Napoli Lorenzo Insigne, but also has a big interest in the Spanish youngster from Athletic Bilbao, Iñaki Williams.
Klopp's run and gun offense featuring Sadio Mane, Phillippe Coutinho, Adam Lallana and Roberto Firmino would be vastly reinforced by the hypothetical arrival of Lorenzo Insigne, who would be fighting for minutes with Divock Origi, Danny Ings and Daniel Sturridge, who might even leave the club during this transfer period.
If you add the young striker from Athletic to that mix, we could be looking at the most crowded offense in the entire league (and probably in Europe) and even if you might think that these signings are quite unnecessary, with such a long season ahead of them, it's only natural to think that those guys need to look for even more depth of their squad.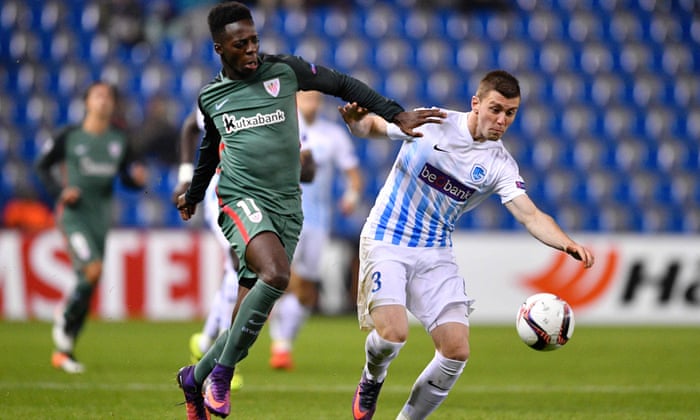 So, how could Iñaki Williams fit in Klopp's plans? He's known for caring more for what players can do on the pitch instead of their big names, fame or nationality, so if he feels that the unknown 22-year-old can help him, he'll get as much minutes as he can handle for the Anfield side.
The Spaniard is exactly the kind of forward that fits Klopp's game scheme, as he can play both inside the box or constantly moving around the offensive front to distract opposing defenses, such as other guys that have played for Jurgen in the past years, like Pierre – Emerick Aubameyang and Robert Lewandowski.
Of course, the youngster isn't as talented as those two, but he can basically put the same kind of stuff into the table, so we definitely think that he can provide a reliable backup for Firmino as the false 9 for the reds.
However, the young forward isn't having a great season, scoring a lone goal and recording a pair of assists in 13 appearances so far for Athletic Bilbao and the little categories of Spain after 906 minutes of action.
Nevertheless, there's a bright future ahead for the Ghanese – Spaniard player, but he's going to have to improve his performances in this couple of months if he wants to go to a better team in January.