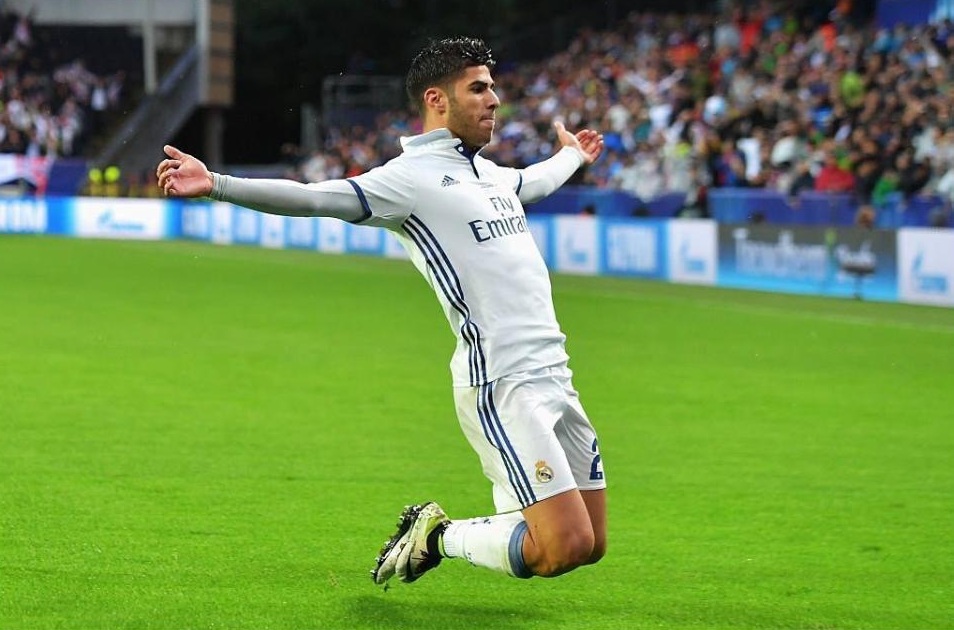 Manchester City Would Be The Ideal Destination For Marco Asensio If He Leaves Madrid And Here's Why
In a team containing a galaxy of stars, it's often hard for young talents to make a breakthrough – just ask any of Chelsea's multitude of youngsters currently spending time out on loan in various clubs around the globe.
At times, though the talent is unquestionable, it fails to get enough opportunities or make an impact on the first-team. In that case, Marco Asensio is indeed a wonder kid and is not a player rising from obscurity anymore.
The 21-year-old, signed from Mallorca in 2014, has been all over the back pages this week for scoring a thunderbolt in Real Madrid's 3-0 win over Las Palmas, thereby ensuring that the gap with Barcelona remains at 8 points. The win also handed their manager Zinedine Zidane a bit of respite after consecutive losses.
However, it has been reported by the media that Asensio could be on his way out of the Santiago Bernabeu if he is not provided regular first-team football. The young Spaniard believes he should be ahead of the star attackers in the pecking order of Zidane's side and has warned club president Perez regarding the same.
According to reports, Asensio, who has signed on for six more years at the Bernabeu after a dazzling performance in his first full season, has a reported release clause of €500m, and is being targeted by the likes of Manchester City, Manchester United, Liverpool and Paris Saint-Germain.
Asensio, considered as a player who'd one day be in Ballon d'Or contention, has turned into one of the most sought-after young talents in Europe since making his Real Madrid debut. He spent a season on loan at Espanyol in 2015/16 before graduating to the first-team last season, with fabulous results. The attacker has gone from being a young backup option to pushing for a place in Real's starting XI this season.
Currently, with things not going well in the Madrid camp, Manchester City could dampen the mood further by luring away Asensio, who is being admired by Pep Guardiola. Also, Guardiola won't face much of a problem in triggering the playmaker's reported release clause of €500m, given that he is backed by super-rich City owner Sheikh Mansour.
Guardiola's City have been playing the best football in the Premier League as well as in the Champions League, and are yet to taste a defeat across all competitions. They are on top of the league, with 31 points in 11 games, having scored 38 goals.
While the front line swirls with exciting, youthful attacking promise, it is really hard to omit the defence on which Guardiola spent huge money in summer to solidify it. Also, City has the pure class of David Silva and De Bruyne, both of whom have been masterly since the start of the season.
However, Silva is 31 and at most, he could offer top quality creativity for a couple of more years. The Spaniard is one of the best players in the league and has shown no signs of slowing down so far. This is the time when Guardiola should think of getting a replacement for Silva and interestingly, he can target Asensio.
Asensio's pace and vision already makes him one of the most lethal players in world football during counter-attacks. In Asensio, Guardiola would get an attacking, young player with top potential. He's played at the highest level for a season under the revered Zidane and could be a blockbuster signing for City.
For now, Asensio should continue doing the good work and who knows, he could even replace the injury-prone Gareth Bale on the left-hand side of Zidane's attack by the end of the campaign. And with his overall development, the 21-year-old attacker looks like the best possible Cristiano Ronaldo replacement right now – and perhaps even a commendable successor of the Portuguese ace in the future.